Essity Earns Leadership in Sustainability Award for Water Use & Quality from American Forest & Paper Association
Essity Earns Leadership in Sustainability Award for Water Use & Quality from American Forest & Paper Association
Friday, October 29, 2021 - 9:00am
NEENAH, Wis., October 29, 2021 /3BL Media/ — Essity, a leading global hygiene and health company, is proud to announce that it has received the Better Practices, Better Planet 2020-2021 Leadership in Sustainability Award for Water from the American Forest & Paper Association (AF&PA). As the national trade association for the paper and wood products industry, AF&PA advocates for a strong and sustainable industry for all of its manufacturer members.
Essity was honored on October 28 at the AF&PA 2021 Presidents Forum for its efforts at its Wisconsin manufacturing sites—its paper mill in Menasha and converting facility in Neenah—to reduce water use and significantly improve the quality of water that is discharged back into the environment, known as final effluent. The sites manufacture professional hygiene products sold by Essity's Tork® brand, including paper towels, napkins and toilet paper.
According to Don Lewis, President, Essity Professional Hygiene, "We all recognize that our industry relies strongly on natural resources—including water—so extra consideration for how we affect the environment is critical. I am proud of our teams for being good stewards of our natural resources—not because we have to, but because it's the right thing to do."
In 2017, Essity's Midwest Operations Environmental team began an effort to reduce phosphorus and total suspended solids (TSS) in the final water effluent at the Menasha paper mill. The improvements led to a 55% decrease in total phosphorus discharged and 35% decrease in TSS discharged. The team also worked to improve water use at the Menasha mill, which will now be able to recycle up to 30% of otherwise discharged water.
At the Neenah facility, the team cut water usage down by over 52% from a record high in 2017, and by 20% over their 2014 baseline, by rebuilding equipment. The site also rerouted all non-contact cooling water away from direct discharge to the river, which eliminated any source of potential thermal impact.
"Our Neenah and Menasha teams have worked tirelessly to achieve Essity's Sustainability Goals and to maintain our high standards for water use and effluent quality," said Rob Harvey, Essity regional site manager. I'm thrilled that their dedication to this project is being recognized by AF&PA and our industry."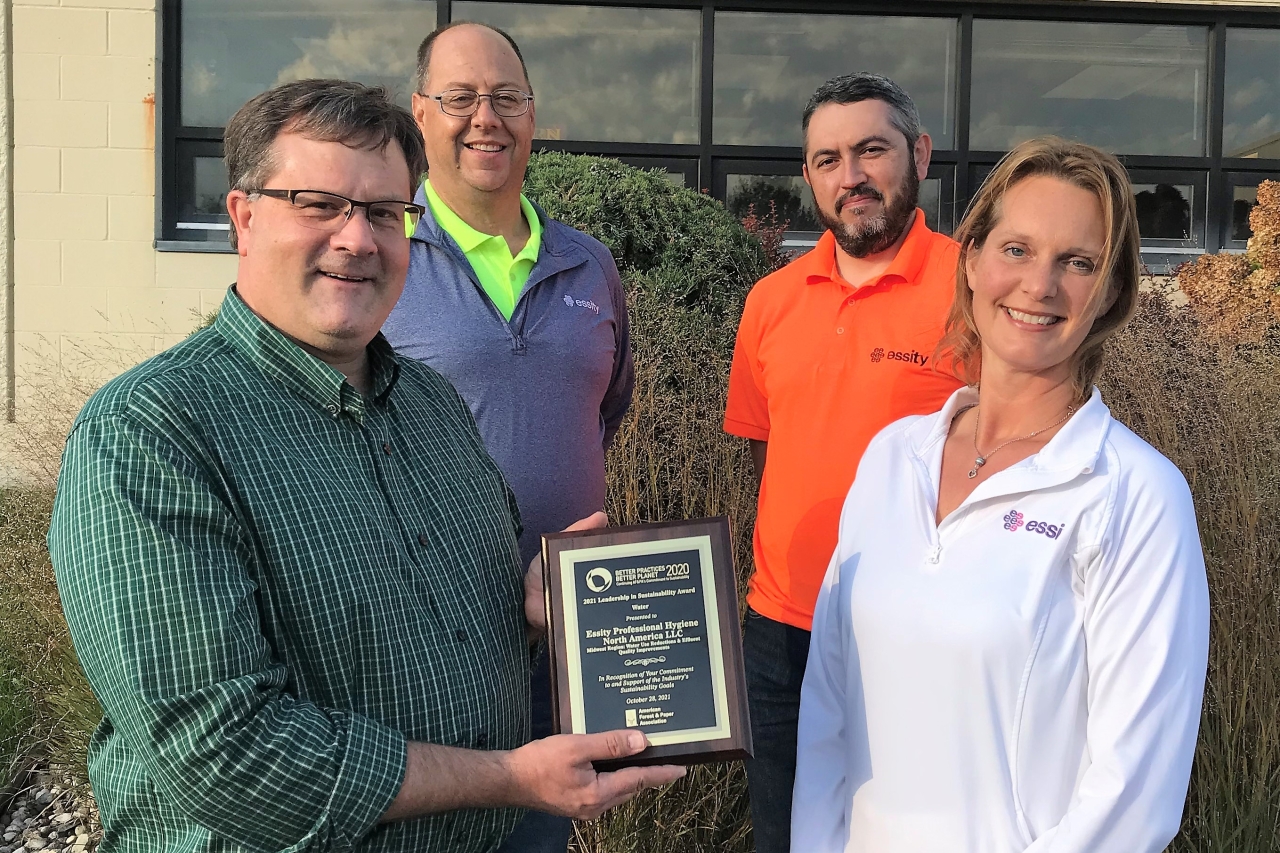 About AF&PA
The American Forest & Paper Association (AF&PA) serves to advance U.S. paper and wood products manufacturers through fact-based public policy and marketplace advocacy. AF&PA member companies make essential products from renewable and recycle resources, generate renewable bioenergy and are committed to continuous improvement through the industry's sustainability initiative—Better Practices, Better Planet 2030: Sustainable Products for a Sustainable Future. The forest products industry accounts for approximately four percent of the total U.S. manufacturing GDP, manufactures nearly $300 billion in products annually and employs approximately 950,000 people. The industry meets a payroll of approximately $60 billion annually and is among the top 10 manufacturing sector employers in 45 states. Visit AF&PA online at afandpa.org.
About Essity
Essity is a leading global hygiene and health company. We are dedicated to improving well-being through our products and services. Sales are conducted in approximately 150 countries under the leading global brands TENA and Tork, and other strong brands, such as JOBST, Leukoplast, Libero, Libresse, Lotus, Nosotras, Saba, Tempo, Vinda and Zewa. Essity has about 46,000 employees. Net sales in 2020 amounted to approximately $13.3 billion. The company's headquarters is located in Stockholm, Sweden, and Essity is listed on Nasdaq Stockholm. Essity breaks barriers to well-being and contributes to a healthy, sustainable and circular society. More information at www.essityusa.com.
Essity has approximately 900 employees in the Fox Cities in Wisconsin, including over 700 between its Menasha mill and Neenah converting facility and nearly 200 at its Service Excellence Center in the town of Menasha. In addition to Wisconsin, Essity has U.S. operations in Alabama, Kentucky, Ohio, Oklahoma, New York, North Carolina, Pennsylvania, Texas and Washington.