Ericsson's Responsible Management of Suppliers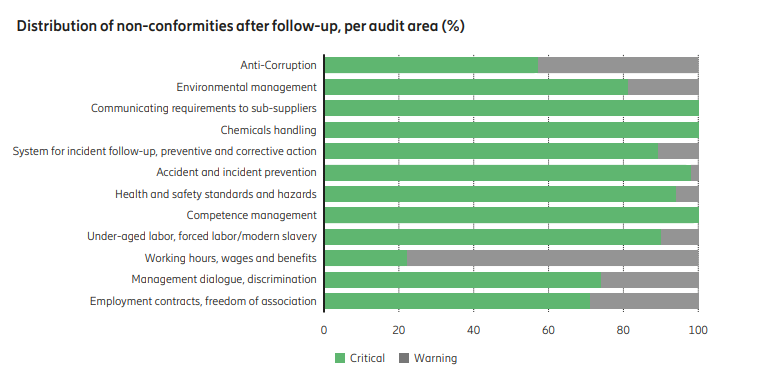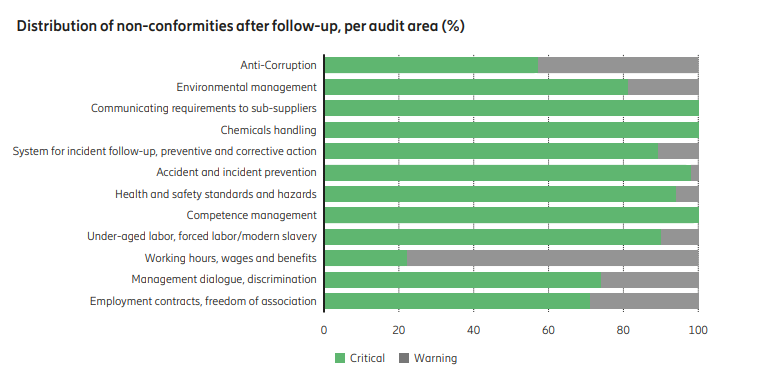 Originally published in Ericsson's 2021 Sustainability and Corporate responsibi…
Managing the social, ethical, and environmental impacts of Ericsson's supplier base is part of the Company's value chain approach and aims to meet increasing regulation and stakeholder expectations. Ericsson is working with its suppliers to create sustainable business value through integrating responsible business values in sourcing processes, tools and culture.
The Code of Conduct for Business Partners
Ericsson's Code of Conduct for Business Partners (CoC) is the basis for Ericsson's Responsible Sourcing program and is part of its standard supplier contract. It covers four main areas: environmental management, human and labor rights, occupational health and safety and business ethics and anti-corruption. Suppliers not adhering to the CoC may be subject to termination of their contracts. Ericsson offers free online training on the Company website for business partners that cover the CoC in general as well as additional focus training on anti-corruption, conflict minerals, occupational health and safety and climate action.
Risk assessments, audits and compliance
Every year Ericsson performs a risk assessment of its suppliers as input to planning due diligence activities for responsible sourcing. The assessment focuses on the largest suppliers that together make up 90% of Ericsson's purchasing spend. This represents approximately 2,000 suppliers out of Ericsson's close to 18,000 tier one suppliers. Among the 2,000, Ericsson assesses risk based on three criteria – country, time since last audit and type of service or product provided. In 2021, 99% of Ericsson's suppliers were assessed through this approach.
Ericsson audits its suppliers both using internal auditors and a third-party auditing firm to assess its suppliers' compliance with the CoC requirements. In 2021, 124 audits were performed on suppliers located in 40 countries. The choice of suppliers to audit is based on the risk assessment along with other business considerations. Ericsson views each audit as an opportunity for improvement, and suppliers are to address identified findings. During 2021, most of the major deviations concerned working hours and wages and benefits while most of the minor deviations were in hazards and health and safety. Ericsson is a member of the Responsible Business Alliance (RBA) and is working to have its suppliers join the organization to make further use of the RBA audit program and other RBA assets.
Due to the pandemic, audits have been delayed or postponed. Where on-site audits were not possible due to travel restrictions, Ericsson performed remote initial audits and then arranged for on-site audits as a follow up. The remote procedure has been satisfactory and will continue. However, they are not fully able to replace on-site audits, which are more comprehensive and are planned to be re-started when travel returns to normal.
Business ethics and anti-corruption
In 2021, Ericsson completed the global roll out of an enhanced Third Party Management (TPM) Program, which was supported by a robust training and communications initiative. The enhanced program is designed to secure effective identification and management of potential bribery and corruption risks in the supply chain and in sales. The Program introduced new or improved procedures and guidance documents clearly defining the process and roles of employees and functions to ensure a comprehensive and consistent approach to third party due diligence. The enhanced TPM Program also features new tools to assist in risk-ranking, tracking, processing, monitoring and documenting third party relationships. In addition, the Company expanded its team of specialists conducting due diligence and assessing third party risks.
Under the enhanced TPM Program, Ericsson continues to automatically screen its suppliers on a regular basis. The screening covers corruption, regulatory, financial, environmental, social and labor issues through the review of adverse media coverage and watchlists that include politically exposed persons, sanction lists and state ownership. A dedicated team assesses the alerts identified in the screening process. The Company continues to improve the TPM Program based on stakeholder feedback, risk assessments and testing.
Environmental management
Ericsson has environmental requirements for its business partners that cover manufacturing, transport, energy use, greenhouse gas emissions, chemicals in manufacturing, product chemical content and water and waste management. The most significant environmental aspects identified in the supply chain are associated with suppliers' carbon footprint and the generation of waste.
Ericsson has a Supplier Climate Action program aimed at having around 350 high emitting and strategic suppliers, together covering 90% of Ericsson's supply chain emissions, set their own 1.5°C-aligned climate targets. Suppliers are engaged through seminars, one-on-one meetings and in writing. By the end of 2021, 121 out of the suppliers in scope, have committed to setting such targets, see page 13. Ericsson is one of the founders of the 1.5°C Supply Chain Leaders to drive climate action in global supply chains. Within this initiative, the Company was part of the creation of the Supplier Engagement Guide, released at COP26 in Glasgow, which aims to help businesses take 1.5°C aligned climate action in their supply chain.
Human and labor rights
The most relevant risks identified in the area of human and labor rights, include forced labor, living wage, working hours, non-discrimination, occupational health and safety (OHS), conflict-related impacts such as sourcing of conflict materials, freedom of association and the right to collective bargaining. During the year an assessment of all supplier categories was conducted to better understand the level of forced labor risk for each respective category, and if the risk is for direct suppliers or sub-suppliers.
The main high-risk categories continue to be within suppliers manufacturing, logistics, site services and facility management, with the understanding that there are several other categories that may hold high risk of forced labor. Due diligence activities for human and labor rights are based on the risks identified and assessments made.
Focus during 2021 has been on collaboration and dialogue. Internal and external seminars and workshops have been conducted on the area of Worker Management Dialogue, Code of Conduct and the impact on suppliers coming from planning and forecasting a supply demand. A workshop has been held with second tier suppliers on the topic of human rights due diligence and dialogs have been arranged with peers, suppliers, customers, and NGOs for sharing information and for collaboration. Further due diligence activities for human and labor rights are described in Ericsson's Modern Slavery and Human Trafficking Statement available on the Company website.
Occupational health and safety
The Company believes that OHS incidents are preventable. The suppliers that are most exposed to OHS risks are field operators within the Sourcing Site Services category. To further strengthen Ericsson's sourcing process and ways of working OHS training has been implemented as a mandatory step during onboarding of new Site Services suppliers. For current suppliers a new competence program has been deployed both for supplier management teams and employees
The Company's consequence management program applies to Site Service suppliers and aims at strengthening compliance and improving safety standards, as well as encouraging and facilitating reporting of non-compliance. In 2021 the most frequent findings and violations regarding Site Service suppliers were related to lack of risk assessment and incorrect use of personal protective equipment. More information on pages 24–25.
Raw materials sourcing due diligence
Ericsson's approach to sourcing of minerals and metals is in line with the OECD Due Diligence Guidance for Responsible Supply Chains of Minerals from Conflict-Affected and High-Risk Areas (OECD Guidance). In addition to tin, tantalum, tungsten and gold (3TGs), cobalt has been added to the list of minerals for which Ericsson requests information from suppliers. There are often several tiers of suppliers between Ericsson and smelters or refiners of minerals, and Ericsson does not normally have a direct purchasing relationship with them. As a member of the Responsible Mineral Initiative, the Company has supported the system for certification of smelters and refiners (RMAP). To increase transparency, Ericsson is reporting reasonable country of origin of conflict minerals in its Conflict Minerals Report prepared under the US Dodd-Frank Act available on the Company website.