Environment and Sustainability: Drivers of Opportunity | Q&A With Karen Clarke-Whistler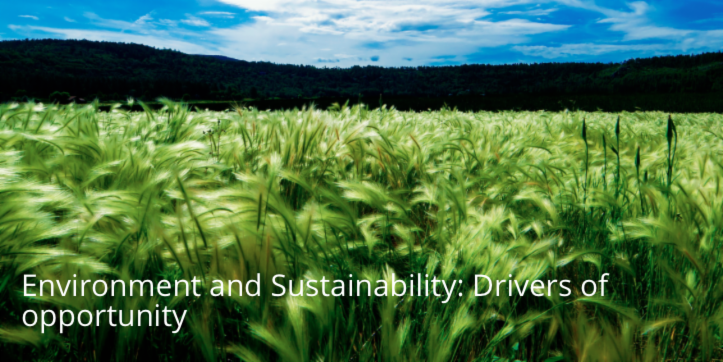 Photo courtesy of TheFutureEconomy.ca
Originally published on TheFutureEconomy.ca.
TheFutureEconomy.ca: What has changed in the corporate world in terms of sustainability over the last decades and how can Canada strike a balance between being resource based and developing our economy sustainably?
Karen Clarke-Whistler: 30 years ago, sustainability was seen mostly from the point of view of regulation, risk and cost of compliance. People used to speak of a choice between jobs or the environment. Today we see that environment and sustainability are really drivers of opportunity; they are drivers of increased market share, of reputational benefit, and I think very importantly of innovation. So we have gone from a risk-based approach to much more of an opportunistic and forward looking approach.
We are in a transition to a low carbon economy that will play out over the next 30-40 years. From the Canadian perspective, while there is still growing global demand for energy, I think in the short term we have a unique opportunity to set the standard for how to develop resources in the most environmentally and socially responsible way. Technology is very much making that possible and from a market competitive perspective this should be a huge advantage for us. For example, when we look at the fact that the majority of suppliers of oil in the world are state-owned companies, from parts of the world that are not known for having high environmental standards, surely there should be a way for Canada to help set a standard for the rest of the world, because we have the technology, the resources and the know-how.
In the early 1980s, Canada set the standard for how to do environmental impact assessments and that is the basis for the international standards that are still being used today. So looking at the economy through that lens, Canada should aim to set the gold standard for sustainable resource development.
How do you assess the market for sustainable development and the collaboration opportunities between government, industry and other key stakeholders?
I am a great believer in market forces and what I see in the corporate world is that companies understand that looking through this environmental lens is a real driver of innovation. Companies are recognizing that we are in a transition to a low carbon economy and no responsible company is going to sit on its hands and do nothing; I see a lot of innovation happening within both large and small organizations.
In general, the private sector aligns to federal policy so how can policies be put in place to even better enable development of innovative technologies? I think that is where the environment and the economy connect – improving sustainability has to be done in a way that is going to increase economic productivity for everyone and part of that means increasing Canada's competitiveness as well. The risk we face is putting policy in place that does not help us with that; then we could see society resisting our transition to a low-carbon economy. I am always in favour of industry taking the lead and government enabling.
In terms of collaboration, I still think things are still quite siloed, so there is a missed opportunity here. For example, how do we create mechanisms that enable better industry and academic collaboration, to bring the best that they have to offer to the table? I think we are starting to see some examples of that; for example, Canada's Oil Sands Innovation Alliance (COSIA) provides a very strong link between industry and academia and there is government enablement there too. There is also the work that Canada's Ecofiscal Commission is trying to do to bring an academic view to solving a practical economic problem. So I truly believe in the need for – and power of – collaboration, and I try to position TD as being an enabler of that type of collaboration.
How much value do you see in developing Canada's cleantech sector?
I see that clean-tech and environmental services are great opportunities for Canada. But, in order to seize those opportunities, we need to stop viewing clean-tech as its own sector, developing in isolation from the rest. TD Economics has published some work on this called "The Greening of the Canadian Economy" and pointed out how we have 'green technology' happening in every industry, so there really isn't a brown sector and a green sector. Instead, every major economic sector is undergoing a green transformation through technology. I like that approach because I often see clean-tech start-ups struggling; we know they struggle for financing and we know they struggle for customers. It is a more sensible approach to line up value chains within sectors as much as possible, so that companies are developing products while already knowing who their customer is, and at the same time working with that customer to meet their needs, as opposed to developing the perfect mousetrap and then looking around for someone to buy into it. I know it is a subtle difference, but as someone who deals with a lot of start-ups, I do think it is an important one. The IT sector has been very smart about this, and we see a lot of IT start-ups who know from the beginning that they will aspire to either be a 'Google' or sell to the Googles of the world. I think we have to adopt more of that approach in the environmental sectors and always think of our potential customer.
TD Bank positions itself as an environmental leader in the Canadian banking industry. What does that entail?
Starting with me, I am a scientist and the Chief Environment Officer at TD, and I report to the Senior Executive Team, and that is a unique position within the North American banking sector. From the time I was hired – 10 years ago – my mandate was to understand how the environment aligns with the bank's different businesses. We began by asking ourselves what the biggest issues of the next 10-20 years were going to be and identified climate change. So we have been building out our learning, our testing and our implementation of a low carbon strategy, starting with being the first carbon neutral bank in North America way back in 2010. We did that because we needed to figure out how carbon worked, so what better way than to try to be carbon neutral ourselves? That certainly helped us understand green buildings and renewable energy, and over time, as we learned and studied these fields, we were able to apply them internally and bring products out to the market.
More recently, TD was the first Canadian commercial bank to put out a green bond in 2014, and just this month we issued our first green bond in the U.S. that was upsized to $1 billion based on investor demand. This really shows the confidence that we have – and investors have – in the low carbon economy, and how the financial industry can play an instrumental role in supporting low carbon projects. It is a very progressive approach, and in fact the meeting I just came from today was about sitting down and mapping out questions like, 'Do people understand what is a low carbon economy?' 'What will the economy look like in 2030? 2050', 'What are the key steps on the road to it?', 'How will we know we're succeeding?' and 'What will be the trade-offs and the things that we have to consider?' For us, it has always been a very focused approach and we review our strategy every 5 years. So this is a thoughtful and progressive build out of something that we are in for the long term.
With regards to our financing, we work with many clients in the energy sector for instance, but like many other banks, we have standards around who we will finance and under what conditions. We know that there are some challenging issues there. Where those challenging issues occur, what we hope to do is use our convening skills to bring people together and to provide thought leadership on how we can solve them and move forward in a sustainable way. For example, TD has now participated in three important studies on how to implement Free, Prior and Informed consent on the ground.
Another thing we started almost five years ago is to try to understand the concept of natural capital valuation. Simply put, it is a way to put a financial value on ecological benefits and services. So in a way, carbon pricing is a form of natural capital and we can put a value on carbon. Our first work has been on the value of forests, because they really serve as air quality treatment plants and flood control structures – and so much more – , and all of those benefits can have a value placed on them.
The reason we wanted to do that is that we see so much pressure on land development and urbanization, and natural spaces are often seen to have no value other than aesthetics. But our thesis is that these natural assets are actually very important, not only for spiritual and quality of life reasons, but because they actually provide very important ecological services that have a real value. If we can put a value on a water treatment plant, we should be able to put a value on the flood mitigation service that a forest provides. I would say we have been one of the early leaders in trying to bring in this notion that we have to consider the value of natural capital when we are looking at development. It is also something that we have applied for quite some time to carbon, and so for our green bond, we report every year on the natural capital preserved from the low carbon projects we financed to highlight the additional value they bring.
How do you envision Canada's economy 20 to 30 years from now?
In terms of the sectors, I still see that in 20-30 years we will be quite strongly resource-based because we have the resources that other people need. So what I would want to see is us being that gold standard of resource development and us completely embracing technology in all aspects of our lives because that will greatly increase our productivity. I think if we are successful, all aspects of our economy will be moved by smart technology. There are some great moonshots that we are aiming for such as artificial intelligence.
Within Canada our greatest opportunity is being Canadian and our greatest challenge is being Canadian, because we have all the ingredients but we are quite timid and often argue among ourselves. I guess my greatest fear is that we cannot come together as 'Team Canada' and really see our potential, and fast enough.