Engineering Impact: Global Healthcare Access
Engineering Impact: Global Healthcare Access
Excerpts from the 2021 Medtronic Integrated Performance Report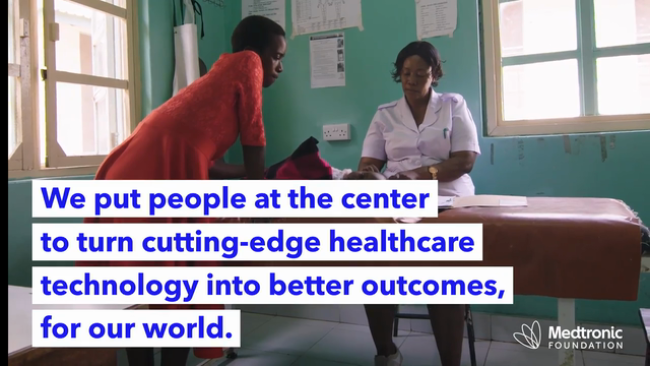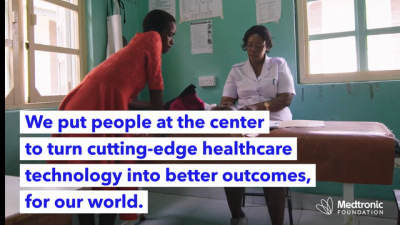 Tuesday, November 30, 2021 - 2:15pm
We are committed to improving access to vital treatments that deliver better clinical, economic, and societal outcomes. By expanding our range of products and services, as well as access to them, we maintain and enhance our financial, intellectual, and social capital.
As we engineer extraordinary medical discoveries, we also develop new ways to expand their reach. These innovations transform standards of quality care, drive economic value, and dismantle structural and social barriers to health equity.
Technology innovation
We continuously look for opportunities to harness technology's power to improve lives. For example, we:
Monitor trends and turn insights into action in areas such as artificial intelligence, data analytics,
advanced sensors, miniaturization, connectivity, and automation
Leverage emerging technologies, such as visual computing and 5G communications
Investigate the potential of innovations in areas including battery power, biomaterials, intelligent systems, minimally invasive solutions, and surgical solutions
In the spirit of continuous innovation to benefit more patients around the world, in early FY22 we set two new performance targets. By FY25:
Twenty percent of Medtronic revenue will flow from products and therapies released in the prior 36 months; in FY21 this number, known as our vitality index, was 17%.
Eighty-five million patients will be served annually through our increased access strategies; in FY21, this number was 72 million.
We are also evaluating future access targets focused on healthcare professionals trained and patients served in emerging markets.
Our current focus areas include data analytics, artificial intelligence (AI) and machine learning, simulation and modeling, and robotics. In addition, we remain focused on remote and virtual innovation in the wake of the COVID-19 pandemic.
In FY21, we received a Product Development and Management Association (PDMA) Outstanding Corporate Innovator (OCI) Award — recognizing sustained and quantifiable business results from new products and services.
Research and clinical trials
We take potential new treatments through a rigorous process of design, development, and testing. Predictive engineering helps us look at how a product will work in the field, supported by advanced statistical methodology and modeling simulations.
The most promising innovations progress through systematic preclinical or clinical trials. We prioritize safety, effectiveness, patient experience and diversity, and clinical outcomes throughout development.
FY21 R & D highlights include:
Completing development of our HugoTM  robotic-assisted surgery system, which we plan to roll out globally in FY22, with the aim of reaching 4 million patients over the next 10 years
Launching our new Technology Development Centers, bringing scientific and technical teams together to facilitate innovation and helping us stay nimble and focused on customer needs
Opening an expanded Engineering and Innovation Center in Hyderabad, India — the largest Medtronic R & D center outside the United States
Creating a virtual solution for hands-on device research and world-class medical training at our U.S.-based Physiological Research Laboratory
Using 3D printing to create realistic models of human organs — enhancing the work of our activities in research, testing, medical education, and sales and marketing Current clinical trials include studies on new treatments for brain aneurysms, chronic subdural hematomas, and advanced-stage superficial venous disease, as well as a pre-market study of a revolutionary extravascular implantable cardioverter-defibrillator.
New products
In FY21, we released 225 new products. Some highlights include:
The MiniMedTM 770G pump system with smartphone connectivity for people with Type 1 diabetes. The system enables caregivers and care partners to see user data remotely on their smartphones (with internet access), with proactive in-app notices sent when sugar levels are out of range. This is cited by the FDA as the first automated insulin delivery and monitoring system for use in young pediatric patients.
The EmprintTM Ablation Catheter Kit for use with the Emprint™ microwave generator and Medtronic lung navigation platform. The kit provides a minimally invasive, localized treatment of malignant lesions in the lung. It is a CE marked device approved for use in Europe and Hong Kong.
The CarpediemTM system provides continuous renal replacement therapy (CRRT) over an extended time period, compared to traditional dialysis sessions that run three times per week. It is intended for pediatric patients weighing between 5.5 and 22 pounds (2.5 to 10 kilograms).
Partnerships for innovation
Partnership is an important foundation for innovation and enables us to increase access to healthcare solutions matched to local needs.
In FY21, we participated in several new partnerships, including:
Partnership between our Structural Heart business and The Foundry — an incubator for MedTech startups — for rapid development of a unique, minimally invasive repair technology for mitral valves (one of four valves in the heart)
Collaboration with Amazon in the United States to pilot the delivery of PillCam™ SB capsules directly to patients for at-home administration during the COVID-19 pandemic
Partnership with Apollo Hospitals Group in India to integrate AI into stroke management, reducing diagnosis time from one hour to two minutes
We also increased access by investing in innovative companies.
Affordable, sustainable healthcare
Our pricing approach
Affordability is vital to making our products and solutions more widely available to patients globally.
We have designed our Mission-driven pricing programs and policies to account for local circumstances and market dynamics, as well as the product's value to the healthcare system. Offering a range of price points across a given therapy category enables us to match different affordability levels and willingness to pay. Our pricing models are based on the principles of fairness and sustainability, aligned with the local market environment, and include:
Volume pricing or rebate options for hospitals
Adaptive pricing for treating long-term conditions
Programs to assist new and existing patients
Our Healthcare Economics Policy and Reimbursement (HEPR) function operates across all our portfolios to oversee our reimbursement strategy and systems. HEPR ensures close coordination and cooperation across business units and markets, which allows us to adapt to local needs.
Value-based healthcare
Healthcare leaders are facing increased pressure to improve clinical outcomes and reduce costs. Yet traditional systems of payment for a volume of product or therapy do not incentivize value and tend to be based on short-term transactions rather than long-term results.
The transition to value-based healthcare (VBHC) models offers an opportunity to integrate products and services into solutions that improve patient outcomes while reducing the cost of care. The COVID-19 pandemic has stretched care systems globally, emphasizing the need for models that elevate both clinical and economic outcomes.
Our VBHC collaborations enable practitioners at healthcare systems globally to apply the right therapy at the right time to patients who will benefit most.
For example, in FY21, we announced a VBHC collaboration with Spectrum Health, based in Grand Rapids, Michigan. The initial focus is on patients who receive our cardiac resynchronization therapy device with the AdaptivCRT™ algorithm. The algorithm adjusts the device's therapy according to minute-by minute evaluations of a patient's heart rhythms. This technology has been shown to reduce the likelihood of 30-day heart failure hospital readmissions, reduce the risk of atrial fibrillation, and improve patient survival.
In FY21, the World Economic Forum named the Netherlands-based Medtronic Diabeter clinic as a Global Innovation Hub, a best-in-class example of a proof of concept for VBHC. In addition, Diabeter was awarded the Prize for Innovation in Pediatric Diabetes Care by the International Society for Pediatric and Adolescent Diabetes.
Addressing healthcare disparities
We work to reduce the disparities across healthcare systems, enabling more people to access care. We develop and scale programs to expand access to our products and services in underserved communities, focusing on the prevention, detection, and treatment of noncommunicable diseases.
Medtronic Care Management Services
Medtronic Care Management Services (MCMS) offers at-home remote patient monitoring — combining patient engagement technology, care management services, data analytics, and reporting. Patients are enrolled in MCMS programs for chronic conditions or post-procedure recovery. They complete routine health checks from home, answer condition-specific symptom questions, submit vital signs, and receive education to support self-management where relevant.
MCMS clinical monitoring software analyzes the securely transmitted patient-submitted data, alerting the care team if the data falls outside of established thresholds. The program gives insights into patient health over time, allowing providers to identify trends and intervene if needed, including via video visits with the patient. MCMS patient engagement technologies include tabletop-style devices and an application that can be used with MCMS tablets or personal devices.
In FY21, MCMS supported customers, patients, and employees with solutions developed to monitor COVID-19 symptoms at home. MCMS served more than 96,000 unique patients and processed more than 1 million COVID-19 monitoring transmissions. Meanwhile, the MCMS core remote patient monitoring business continued to support some of the largest home telehealth monitoring programs in the United States for chronic and high-risk patients.
The demand for virtual care in the past year has accelerated the MCMS vision to improve millions of lives by redefining the healthcare experience. Going forward, MCMS will continue to develop a suite of modular, personalized telehealth products — integrated into patients' everyday lives and providers' workflows.
Patient access acceleration
In developed and emerging markets, we are identifying barriers to access and quantifying treatment needs using our Patient Access Acceleration (PAA) methodology.
This data-driven approach guides our market development strategy and helps identify investment opportunities to remove barriers to access. For example, access may be improved by generating more evidence or expanding economic coverage, capacity building, training and education, or disease and therapy awareness. Each year, we combine data from thousands of PAA assessments across countries and therapies. We use our learning to improve planning and reduce risks associated with future market development investments. Specifically, we are integrating machine learning models to help predict how many patients could be treated by our therapies and technologies.
Our Patient Access Insights (PAI) consulting service identifies local needs and barriers to access. Around the world, we partner with hospitals to apply PAI to specific services and pathways of care, helping them develop appropriate solutions based on our findings.
Capacity building
Healthcare systems, treatments, and technology are evolving rapidly. Patients and healthcare professionals must stay up-to-date to seek and provide the most effective products and services.
We build healthcare capacity by training patients and medical professionals and contributing to better patient outcomes, greater access to healthcare, and more efficient health systems. We have dedicated global Innovation Centers to provide specialist training to healthcare professionals wanting to expand and update their skills and knowledge. In FY21, more than 18,600 healthcare professionals participated in training at our Innovation Centers or with selected partners — a decrease from last year due to COVID-19 restrictions impacting onsite training activities.
To support customers during the COVID-19 pandemic, we launched our COVID-19 Recovery Resource Center (RRC) in May 2020 to connect U.S. health system leaders with best practices, industry resources, and Medtronic solutions to help them adapt to the rapidly evolving realities of patient care. The RRC content is organized around key health system needs during pandemic recovery, including patient engagement, hospital productivity, virtual care, and financial solutions.
In FY21, we also supported the American Heart Association (AHA) and the American Stroke Association's (ASA) public health campaign Don't Die of Doubt to educate Americans on the risks of delaying critical or emergency treatment for signs of a heart attack or stroke.
Medtronic LABS
With more than 100 employees working across the globe, Medtronic LABS is an independent, public benefit corporation funded by Medtronic that creates healthcare solutions for some of the world's most disadvantaged communities. Working with local partners, Medtronic LABS removes barriers to quality healthcare such as cost, access, and social isolation. Digital technology is at the core of these healthcare solutions, which can be scaled up for maximum impact and efficiency. Solutions are built on five principles:
Design with, and for, communities to address local barriers across the care continuum
Employ evidence-based practices and protocols for uncompromising clinical excellence
Address the social determinants at the root of poor health
Integrate digital and product technologies for high-tech, high-touch models of care
Innovate operational models that enable efficiency at scale
In FY21, Medtronic LABS continued building its three current programs, focusing on refining operational capabilities, preparing to scale, and developing local private and public partnerships.
At times COVID-19 lockdowns disrupted Medtronic LABS activities, limiting our ability to see patients. Despite these interruptions, Medtronic LABS achieved revenue growth of 39% in FY21. COVID-19 also led to program modifications, including virtual patient monitoring and support groups, many of which will be retained post-pandemic given their success. Because the Medtronic LABS model for diagnosing and treating chronic conditions has proven successful, we plan to scale programs in FY22 and beyond into new countries and clinical spaces.
Partnering for impact
Advocating for increased access
We work with peers and partners to advocate for public policy that enables increased access to vital treatment. The COVID-19 pandemic has emphasized the need for policies to enable equitable access to respiratory technologies.
Medtronic was instrumental in the creation of the Global Respiratory Infection Partnership (GRIP), a collaboration between the World Health Organization (WHO) and the healthcare technology sector. Omar Ishrak, former Chairman and CEO of Medtronic, co-chairs the group with Dr. David Nabarro, WHO Special Envoy for COVID-19 response. The GRP joins stakeholders across the medical, humanitarian, and private sectors. It advocates to advance solutions for equitable and ethical access to critical biomedical technologies during the COVID-19 pandemic, as well as future outbreaks.
In FY21, we accelerated our dialogues and cooperation with governments and international organizations to address medical equipment procurement needs. In the United States, for example, modernization of the healthcare fraud and abuse laws have set new parameters to protect value-based arrangements which generally exclude medical device manufacturers except under narrow conditions. We continue to advocate for the removal of this exclusion to safeguard our future value-based healthcare agreements and to ensure more patients get access to our life-improving technologies.
Public-private partnerships
Every culture, community, and health system has unique challenges and opportunities. We partner with local governments and health systems to understand patient needs and expand access to healthcare knowledge and technology. We develop long-term, public-private partnerships to create sustainable, scalable projects in four areas:
R & D
Manufacturing for market access
Clinical training and education
Health system strengthening
Our Public-Private Partnership Council guides our efforts. In FY21, the Council began using a United Nations Economic Commission for Europe (UNECE) self-assessment tool for "people first" public-private partnerships. Aligned with the UN Sustainable Development Goals, the tool will help us evaluate our partnerships against key issues, such as access and equity, fiscal and environmental sustainability, replicability, and stakeholder engagement.
In FY21, we began piloting partnerships to develop cardiac and general surgery capacity and skills in sub-Saharan African countries. The pilots are part of an overarching arrangement with a major international organization, which leverages our infrastructure and education expertise to scale training in some of the area's least-developed countries.
For example, in Rwanda, we partner across the health system to accelerate the country's transition to minimally invasive surgery. We contribute surgical equipment and laparoscopic trainers to teaching hospitals. For surgeons, our Guided Learning Pathway training curriculum builds skills to help improve patient outcomes. And for patients, our partnerships with all stakeholders lift financial burdens and make the future of minimally invasive surgery more effective and accessible.