Engineering Impact: Employee Stories
Engineering Impact: Employee Stories
Excerpts from the 2021 Medtronic Integrated Performance Report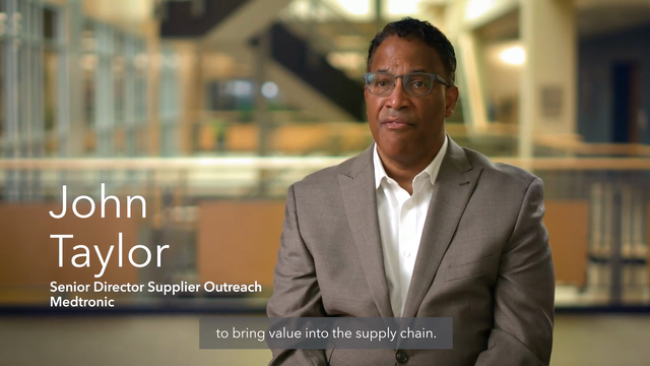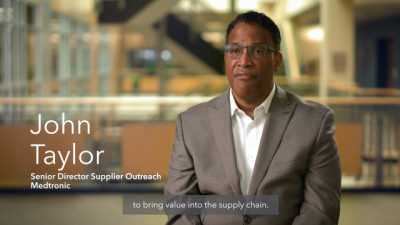 Tuesday, November 2, 2021 - 2:15pm
Our business success and impact on society stems from our 90,000+ passionate employees — each with a relentless drive to help others and fulfill the Medtronic Mission. Hear from employees leading the charge to advance positive impact.
Expanding opportunities for diverse suppliers
John Taylor, Senior Director of Supplier Outreach, sums up the importance of supplier diversity. "This is a business imperative because supplier diversity drives better business results."
Our Supplier Diversity program engages with businesses at least 51% owned and operated by one or more members of an ethnic minority or other historically underrepresented group, including women, veterans, LGBTQ+, and people with a disability. In FY21, our spend with U.S. small and diverse suppliers was $2.4 billion, totaling 35% of our U.S. supplier spend.
Taylor's team helps diverse suppliers:
Get listed in our supplier registration platform
Navigate our supplier standards and expectations
Be considered for contracts
Our FY21 Supplier Diversity Economic Impact Study, covering the United States and Puerto Rico, found that the program supported more than 27,000 jobs, with a combined $1.6 billion in wages and benefits, and generated $1.4 billion in local, state, and federal taxes.
In FY21, Taylor helped launch our International Diverse Supplier program. He is growing spend with suppliers owned by historically underrepresented groups at a rate of 5% year over year.
Driving equitable healthcare
Maribel Baker's passion for bridging socioeconomic disparities in healthcare access comes naturally.
Her parents were tireless advocates after doctors recommended amputating her leg to treat a life threatening infection during her childhood in Panama.
Baker's parents convinced the medical board in Panama to issue a grant allowing Baker to have surgery in the United States. "I have both legs today because of their persistence," she says.
Today, as Director of Healthcare Equity and Community Programs for Medtronic Diabetes, Baker is well aware of Medtronic studies showing that African-American, Latino, and Asian patients are up to three times less likely to use diabetes technologies than non-minority patients. Using her parents' brand of persistence, she coordinates efforts to raise awareness of diabetes technologies among communities of color and their healthcare providers.
In FY21, the Diabetes Health Equity Task Force, led by Baker and the T1D Exchange Research Collaborative, launched a 10-month quality improvement pilot at several U.S. diabetes sites.
Internally, Baker's team focuses on more inclusive product development and clinical study processes.
Addressing the climate crisis
Having seen technology transform healthcare, Daniel Sterner knows it can help Medtronic operate more sustainably.
"We are experiencing a convergence of technologies that make it possible for companies like ours to have an even greater positive impact within corporate environmental stewardship," says Sterner, Director of Global Energy, Water and Utility Infrastructure. "As a healthcare technology company with manufacturing operations in many countries, we must be part of the solution."
Sterner oversees our energy consumption, carbon emissions, and water usage and guides strategy to make operations carbon neutral by FY30. His approach, using incremental changes supported by smarter tools, led to two significant installations in FY21:
A new 4-megawatt solid-oxide fuel cell farm in the United States that will generate 33 million kWh of electricity and save more than $2.5 million annually, when compared with purchasing from the local utility
A new cogeneration system in Italy that is roughly twice as efficient at converting natural gas into usable forms of energy, when compared with the local utility
Together, we project these initiatives will cut approximately 9,000 metric tons of CO2e annually and reduce water use and nitric oxide and sulfur dioxide emissions.