Empowering Women in the Skies
Empowering Women in the Skies
American Airlines Flight Operated by an All-Black Female Crew in Honor of Bessie Coleman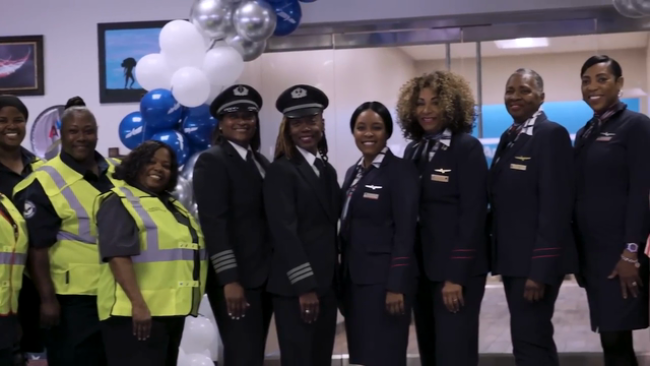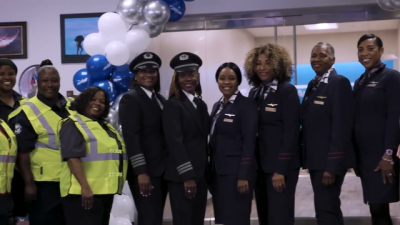 Tuesday, September 6, 2022 - 1:35pm
American Airlines hosted the Bessie Coleman Aviation All-Stars tour to celebrate the 100th anniversary of the first Black woman to earn a pilot's license in 1921. She bravely broke down barriers within the world of aviation and paved the path for many to follow.
To honor her legacy, American hosted Gigi Coleman, Bessie's great niece, on a flight from Dallas-Fort Worth to Phoenix. The flight was operated by an all-Black Female crew — from the pilots and Flight Attendants to the Cargo team members and the aviation maintenance technician.
American is being intentional in its efforts to diversify the flight deck. Black women have been notably underrepresented in the aviation industry, especially as pilots, representing less than 1% in the commercial airline industry. Through the American Airlines Cadet Academy, the airline is committed to expanding awareness of and increasing accessibility to the pilot career within diverse communities.
The historic flight crew:
Beth Powell
Pilot, Boeing 737 Captain
Charlene Shortte
Pilot, Boeing 737 First Officer
Cheryl Gaymon
Flight Attendant
Mary Roberson
Flight Attendant
Vanessa Bennett
Flight Attendant
Breana James
Flight Attendant
Sharron Brooks
Ramp Crew Chief
Nicole White
Ramp Crew Chief
Melissa Simpson
Ramp Crew Chief
Maya Matthews
Fleet Service Agent
Natasha Williams
Fleet Service Agent
Alisha Bates
Fleet Service Agent
Christina Thornton
Fleet Service Agent
Deanna Price
Fleet Service Agent
Samara Brown
Fleet Service Agent
Davena Heard
Fleet Service Agent
Candis Briggs
Fleet Service Agent
Latoya Cooper
Fleet Service Agent
Patricia Milfort
Manager on Duty, Customer Operations
Tiki Walker
Customer Service Manager
Tracy Brown
Customer Service Agent
Valerie Major
Customer Service Agent
Denise Ashford
Customer Service Agent
Wendy Johnson
Customer Service Agent
Arlene Law
Customer Service Coordinator
Lynette Daniels Moody
Customer Service Coordinator
Lillie Hayes
Customer Service Coordinator
Kacy Stevenson
Customer Service Coordinator
Muje Abdul-Qadir
Control Center Coordinator
Pamela Calton
Aviation Maintenance Technician
Crystal Tochi McDaniel
Duty Manager, Cargo Services
Audrey Van Hook
Cargo Crew Chief
Sandra Butler
Cargo Crew Chief
Jessika Mejia
Premium Guest Services Representative
Veronda Butler
Senior Manager, Premium Guest Services
Tracie Hunter
Training and Development Instructional Designer
About American Airlines Group
To Care for People on Life's Journey®. Shares of American Airlines Group Inc. trade on Nasdaq under the ticker symbol AAL and the company's stock is included in the S&P 500. Learn more about what's happening at American by visiting news.aa.com and connect with American on Twitter @AmericanAir and at Facebook.com/AmericanAirlines.