Empowering Women Entrepreneurs: Interview with Vivienne Boucherat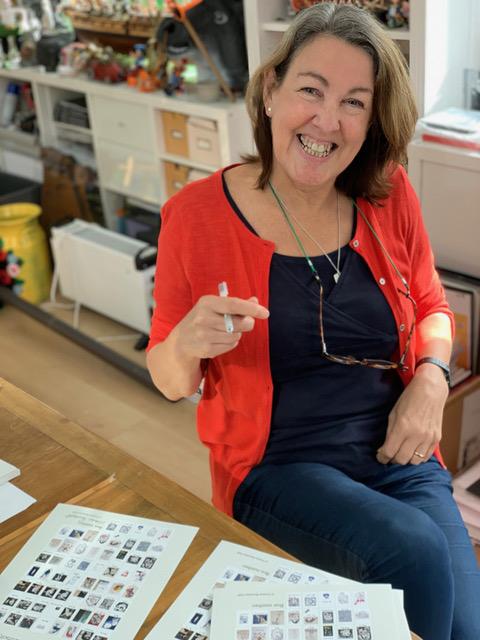 Visual artist Vivienne Boucherat has donated ten signed copies of her picture book of stunning mixed media, Know Your Crazy, to Whole Planet Foundation's March 7-8 event honoring women entrepreneurs. She has created over 60+ images blending paper cutouts, watercolors, inks, and printmaking within the art reproductions of this book to remind us that our individual crazy is a shared, relatable experience. Here's why.
Q: What inspired you to create Know Your Crazy and support Whole Planet Foundation?
I have been inspired to make drawings about what I call 'my own personal inner little mad women' for many years. By visualising tricky emotions or difficult reactions and 'releasing' them onto paper, I found I could get a bit of perspective on them…get them in focus somehow. Once 'seen' and 'owned', I was able to decide how to deal with them, see if I needed to change something, own it, laugh at it or ignore it. Also, I record observations of life that I find just plain funny – I think it is important to remember the absurd.
It is an honour to support Whole Planet Foundation. Coming from the UK I was not familiar with Whole Foods Market from its American beginnings. I was introduced to the chain whilst on tour with The Zombies in North America. Often the band and crew would make (sometimes sizeable) detours to be able to shop there. I love the ethos behind the company and finding out more about the Whole Planet organisation has only deepened my respect. Any contribution at all that my book Know Your Crazy could make to the profile of this company would make me happy.
Q: How did you progress from your origin story to where you are now?
I rarely showed any of these pictures to people. I didn't set out to make a book originally. The pictures were powerful for me personally, but I was unaware of quite how universally understood these pictures are or how deeply they resonate
I was singing backing vocals for The Zombies, for the second North American 'Odessey and Oracle' tour. It was 2017. A chance conversation with Cindy da Silva (of The Rocks Management) started the whole book idea off. When she visited the UK later in the year, she came to my London studio and on seeing the drawings 'in the flesh' said that she envisaged a book – 'made for women by women'.
After that, she presented the idea to her friend Rene Harbison who heads up Studio AZUL, a production and consulting firm in Austin, Texas. Rene was interested. The three of us met up in New York in December 2019 to discuss how to proceed.
Rene further amplified the idea of the book to include a box set comprising of the book and of 8"x10" prints on museum quality paper of every image.
It has been a bumpy ride at times, but the book and the box set are now a reality and the feedback has been amazing. Women especially just 'get it'!
Q: Tell us how it felt when you experienced a setback, and how you overcame it?
Due to Covid-19 restrictions, I was unable to get to the USA again after our initial meeting in New York, and unable to physically work alongside Rene during any of the print process. Like the rest of the world, we had to adapt to communicating via technology rather than in person and for such a physical process (especially when dealing with colour) this was really challenging.
It was a steep learning curve editing and refining purely online, but Rene has produced a fantastic art book and I am really happy with the result.
Also due to Covid-19, outsourcing any of the manufacturing/printing process to different countries became impossible. This meant that everything had to be done in America, having a noticeable effect on cost. The three of us reluctantly decided to drop the box set idea which was a real downer. However, the ever-resilient Cindy came back the day after that decision with an idea to launch an Indiegogo campaign to enable us to fund the project, including box sets, and give us the opportunity to add a charitable element to Know Your Crazy that I had wanted from the start.
Q: What makes each day an opportunity to make a difference for yourself and women around the globe?
Learning, creating, sharing, being open to new opportunities – even if it's scary! And definitely humour!
Q: What's the most impactful part of a program/project/product you developed? 
Though the book has a lighthearted feel, it has resonated with women on a deep level. It seems the book is a real communicator and it has been a good way of opening conversations about what can sometimes be really quite difficult states of mind.
Q: What's your 5-year dream? 
I don't really think like this. So often in my life, concentrating on the job in hand has led me to opportunities and people I never could have predicted. As long as I am working on what I love, I'll embrace whatever comes with it.
Q: What's your advice to aspiring entrepreneurs who want to embed a cause in their profession?
My advice would be to connect with people who care about what you care about and have honest and open conversations with them. Listen.
Visit here to learn more about how you can join Whole Planet Foundation's International Women's Day virtual event and have the chance to win a signed copy of Know Your Crazy.  The Foundation aims to include 1,000+ to raise $85,000 and support women entrepreneurs and their family members. Whole Foods Market covers 100% of the Foundation's operating expenses so every penny benefits microcredit clients working hard to escape poverty. To learn more about Whole Planet Foundation, visit here.