Empowering Entrepreneurs: Interview with Theresa Carrington
Meet the CEO of Ten By Three™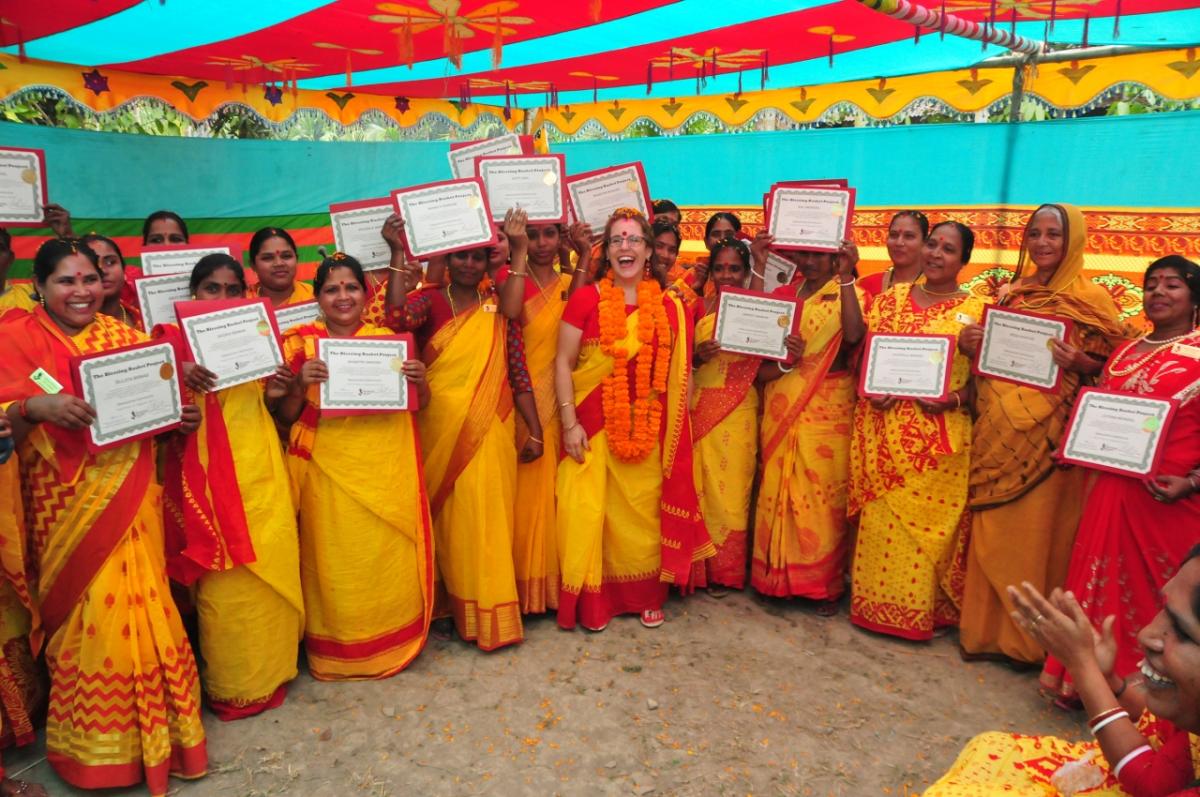 Theresa is a long-term donor to Whole Planet Foundation and the founder of Ten By Three™ which reduces poverty in developing countries by using its unique Prosperity Wages® model to pay for artisan products.  Ten By Three™  is also a community partner of the Whole Foods Market Team Member Volunteer Program in Ghana in west Africa.
Q: What inspired you to start your business and support women, artisans and entrepreneurs?
A: My birth mother was pregnant with me when she was convicted of a non-violent crime and jailed. She was a prisoner the day I was born. I was immediately taken from her and placed into state custody.  I remained an orphan until I was eight years old when a family adopted me in the heart of Kansas. From the moment I was born, the generosity of others has helped me survive, including very dark times as a single mom. My organization is my attempt to pay forward those who have helped me through life.  Each day I work to give women who genuinely desire a change in their life achieve the foundation they need to launch into a life of peace and prosperity, just as someone did for me. I am proof you should not underestimate your impact on someone's life.  You never know how your act of kindness, such as a card or a note, can be used to inspire someone else to change the world.
Q: How did you progress from working in one country to several countries and supporting a charitable cause like Whole Planet Foundation while your company is a non-profit?
A: I initially found these countries by sending an email to the world through an organization called The Mountain Forum.  In the email I clearly explained what I was trying to accomplish.  Overnight I heard from 12 countries, and within two weeks we were up to 25 countries from around the world.  The early posters of our organizations said we worked in 22 countries.  One day our founding sponsor said to me, "You know you can't save the world all at once, right?"  That was a profound thought to me!  So, I narrowed down the countries to those I believed needed our help the most, and where I already established the best communication, those became the five countries where we started which were Ghana, Uganda, Indonesia, Bangladesh, and Madagascar.  Later we added Kenya and Madagascar and are soon to expand to Nepal, India, and Peru.  We pay forward into Whole Planet Foundation because when I believe when working together, we accomplish much more together than we do alone.   
Q: Tell us how it felt when the artisans you support in Ghana met Whole Foods Market team members in their village?
A: The sound of ocean waves crashing onto the shoreline, while you stand there and watch the sunrise paint the sky purple and pink.  Like that. As I attended the scene of Team Members meeting those whose lives they had changed, the world seemed to go into slow motion. Their laughter melded together and sounded like those ocean waves, full of excitement and power at the same time.  Witnessing the meeting reminded me only through human connection can we paint a brighter picture for humanity. 
Q: What makes each day an opportunity to make a difference for yourself and artisans around the globe?
A: Your tombstone will have your birth date, a line, and your death date.  We have only our small dash to leave humanity better than we found it.  What are you doing with your dash?  Ten By Three is what I do with mine. 
Q: What's the most impactful part of the Prosperity Wage model you developed? 
A: Our Prosperity Wages model guarantees our artisans 2.5 times fair trade.  Our Prosperity Wages model teaches artisans what their products are worth and eliminates the ability for middlemen, who also work in the area, to cheat them. When Ten By Three is working in a particular community, we disrupt the work of the middlemen.  In order for the middlemen to remain competitive they must start raising the prices they pay to artisans In Ghana, for example, because Whole Foods Market buys so many of our baskets from there, in order to be competitive, middlemen and for-profit companies must now match our Prosperity Wages in order to get products for their customers. This means our organization has helped tens of thousands of people we will never know through the pressure our Prosperity Wages model places on middlemen and for-profit traders.  We see this in every country we serve throughout the world. 
Q: Ten By Three™ is growing by leaps and bounds. What's your 5-year dream? 
A: Since 2012 the global rate of those living in extreme poverty has dropped from 12.4 percent to 10.7 in 2013.*  We have contributed to those numbers through our Prosperity Wages, Our Artisan&You® Technology and our Ten by Three™ model. In the next five years, we hope hundreds of organizations working to end extreme poverty will be using our models and technologies which we have proven across seven countries and three continents are sustainable, replicable, and they work.  *source: Worldbank.org
Q: What's your advice to aspiring entrepreneurs who want to embed a cause in their business strategy?
A: Ask yourself WHY?  WHY do you want to embed a cause or purpose in your business strategy?  Is it a marketing gimmick or is it because you sincerely believe in the cause/issue? Being genuinely successful at a cause takes unwavering faith. Championing a cause must come from deep within you, like me and poverty. If your purpose is not part of your DNA, then you will drop it the minute your business experiences difficulties, which it will.