Empower Students To Be Entrepreneurs by Playing a Game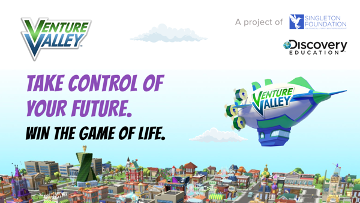 Right now, in the United States, there are approximately 30 million entrepreneurs, representing approximately 16% of the population. New businesses are started every single day, giving people the opportunity to take control of their own time, and finances, and give back to society with a service or resource.
Founded in 2010 by President Obama, National Entrepreneur's Day is held on the third Tuesday of November to celebrate and raise awareness about entrepreneurship. National Entrepreneur's Day is the perfect time for educators to connect students to the wider world by showing them the power and impact of creating a new business opportunity.
Discover Venture Valley – a new educational program between The Singleton Foundation, Venture Valley video game, and Discovery Education – empowers students in grades 6-12 to discover and develop their entrepreneurial spirit by exploring financial and business basics. By engaging student through video game play, Discover Venture Valley helps build and improve basic business skills, financial literacy, and entrepreneurial concepts via the Venture Valley video game.
Venture Valley is a fast-paced business-building strategy game where players pit their business savvy against that of others. It is free to play on PC, iOS, and Android and features both competitive esports-style multiplayer play and a single-player campaign with 35 unique missions, giving students both a fun outlet to compete with friends in positive ways and practice entrepreneurship and fundamental business skills. Budding entrepreneurs will get to experience the highs and lows of being their own boss but need to keep in mind that along with success, come rivals.
Discovery Venture Valley also features an array of digital resources aligned to learning standards to make learning engaging with plug-and-play content. Classroom activities, video topic series, an educator's guide, and lessons focused on an array of topics like math, business, and English language arts, give teachers ready-to-use classroom resource inspired by real life entrepreneurs.
As the students explore and learn more, the activities empower them to answer questions like:
What is the meaning behind "venture" and why is it important?
What type of data will be useful to support real-world businesses?
How do changes in a business allow their products/services to become successful?
What kind of business would you like to create/invest for your future?
By applying basic business concepts and skills while playing the Venture Valley game, Discovery Venture Valley enables students to gain an understanding of how businesses are formed and run successfully.
Learn more about Discover Venture Valley at www.DiscoverVentureValley.com or within the Discovery Education K-12 learning platform.