Employee Volunteers Are at the Heart of Aramark Building Community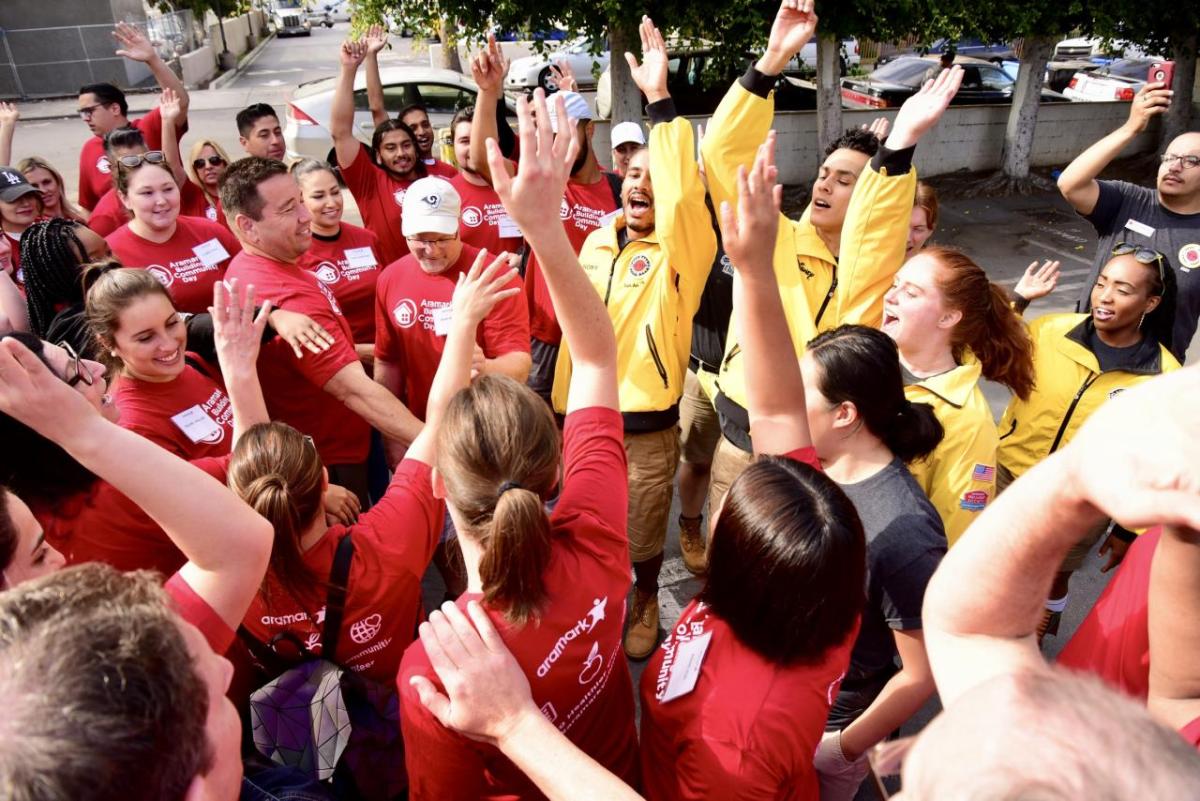 Rooted in service and committed to helping build stronger communities, Aramark encourages employees to give back around the world and throughout the year—focusing on developing relationships with nonprofit organizations and community leaders to enrich the neighborhoods where Aramark teams, clients, and customers live and work.
The company's strategic approach to community service, called Aramark Building Community, centers on three pillars:
How WE CARE for the community and support issues important to the people in them;
What WE GIVE through strategic investments and by donating time, knowledge, and resources; and
What WE DO through employee volunteerism and engagement.
Aramark Building Community Day
Aramark dedicates one day each year to a global day of service called Aramark Building Community Day. On this day, thousands of volunteers from more than a dozen countries dedicate their time, energy, and expertise to conduct service projects in their local neighborhoods.
The 10th annual Aramark Building Community Day will be held April 27, 2023.
Thousands of employee volunteers will participate in projects benefiting 140 community organizations in 13 countries, working with children and families to increase access to healthy food and nutrition education, empower workforce preparedness, and to improve community centers and environments.
Since the day of service began in 2014, Aramark employee volunteers have served more than 1.9 million people in their local neighborhoods.
"Our volunteers see the immediate impact they are making in someone's life on Aramark Building Community Day, and they are experiencing it standing next to Aramark people they know and others they've never met before. It's powerful," said Jami Leveen, Vice President, Aramark Community Partnerships. "I am so proud to be a part of something that means so much to so many people."
Many Aramark employees participate in Aramark Building Community Day every year. Find out what motivates three of these stand-out volunteers to give back in the stories below.
MaryJo McLoughlin
MaryJo McLoughlin, RD, LD, a District Manager with Aramark Student Nutrition, has been at the company nearly 38 years—and has always made giving back part of her mission.
"I started with Aramark in 1985—and started volunteering almost from the beginning," said McLoughlin. "It wasn't called Aramark Building Community then, but that's where our hearts were. Every time we had a client event, we would make sure there was a charitable or volunteer component attached."
McLoughlin grew up on the south side of Chicago, and much of her volunteering has been focused in areas in and around the city.
"It's important to me to work with children and adults in communities teaching them about health and wellness," said McLoughlin, who is a Registered Dietitian and a co-chair for Aramark's dietitian-led employee resource group NOURISH. "But I can't tell you how great it is on Aramark Building Community Day, working half the day as a dietitian teaching people about healthy food and grocery shopping and then the other half of the day painting a parking lot!"
Community events in which McLoughlin has participated over the years include teaching nutrition classes at YMCAs and pre-schools; taking high school students grocery shopping and then guiding them through mindfulness exercises; learning how to lay tile; organizing book, clothes, and food drives; volunteering with Wreaths Across America to place wreaths on military members' graves; giving interviewing guidance for people searching for jobs; devoting time to various school wellness committees in Chicagoland; and packaging food for food banks.
McLoughlin described a time when she knew her volunteer efforts were making a difference.
"Once we were in Humboldt Park doing healthy cooking and nutrition demonstrations, and I saw a woman cowering in the corner and not really participating," said McLoughlin. "I found out later she left her home because of physical violence and she was standing back because she couldn't be near a camera. So many people like her desperately need the services those community centers provide."
In addition to the impact provided in the communities, the collaboration with other Aramark people has been incredibly valuable to McLoughlin.
"ABC Day events expose you to people from several [Aramark] lines of business. You could be there with a hammer in your hand but you learn so much from the conversations happening around you," she said. "It's a day unlike any other when you're totally dedicated to giving back to the community. You do other things in your normal job. This day, your time is spent giving back."
Adrienne Morris
Adrienne Morris, Human Resources Manager with Aramark Collegiate Hospitality at Mississippi State University (MSU), started leading the onsite dining services team in community service projects shortly after she joined the company in 2014.
"I think our first project was a canned food drive with a nearby church that has a food pantry," said Morris. "The church said they could never get enough bags prepared for clients and our team went in and prepped 200 bags in an hour."
MSU is based in Starkville, Mississippi and the Aramark team partners a lot with Starkville Strong, a nonprofit organization that helps people in the community with everything from homelessness to food insecurity.
"There are a lot of different needs in our community," said Morris. "We donated a grant to Starkville Strong and prepared 'joy packs' for the holidays that had food, personal hygiene products, and winter clothing. This year for ABC Day, we're volunteering at their food pantry. They're expecting about 300 people from the community."
When asked what motivates Morris to lead volunteer projects year after year, she reflects on a favorite quote.
"A quote I lean toward is, 'We rise by lifting others.' It means as much to me being in HR as it does when I think about serving the community," said Morris. "When I think about food insecurity, I think people might also be looking for jobs. Volunteering like this helps you understand and address other needs in the community."
Morris says Aramark Building Community Day sets the tone for the team's year of volunteering, but that it doesn't start and end with that day.
They work with community partner Casserole Kitchen that serves hot meals three times a week. The Aramark team at MSU sponsors one of those days every month. They organize blood drives one or two times a year and have made goodie bags to thank first responders for their ongoing efforts.
During last year's water crisis in Jackson, Mississippi, the team partnered with the university and donated bottled water. They're currently exploring ways to help people being impacted by storms in the area.
"I don't ever underestimate finding ways to connect Aramark to the community," said Morris. "Many people don't realize Aramark is in so many places—and our people are volunteering around the world. Community partners are 'wowed' by it. Employees are inspired by it. New students at our university connect to it. We all get busy with work and our lives. Sometimes we have to stop and ask, 'How else can we make an impact?'"
Carl Mittleman
A leader at Aramark for 26 years, Carl Mittleman, Chief Operating Officer, Aramark International, never hesitates when it comes to giving back during Aramark Building Community Day.
"ABC Day is one time of year when we come together from different lines of business, with different roles and backgrounds, and work to focus on a common goal," said Mittleman. Whether we're refurbishing a community center, or working in a neighborhood, or providing healthy meals to people, it's a very rewarding experience."
He lives with his family in Denver, so Mittleman's volunteer projects in that city are near and dear to his heart. This year, he will be in Denver again, working with the Southwest Improvement Council (SWIC), where he had his first Aramark Building Community Day experience.
Mittleman also remembers a fulfilling experience at an Aramark Building Community Day in Boston when he was part of Aramark Sports + Entertainment.
"It was great meeting people I didn't know," he said. "We did three different projects throughout Boston that day. To build a bench with somebody from Aramark Healthcare+ and to find out what's going on is so beneficial. It's a great chance to connect."
However, he noted that Aramark Building Community Day is a time when work becomes second and communities come first.
"The personal satisfaction you get from volunteering and working on projects is significant," he said. "To see the looks on the faces of the people in the community—the kids seeing the gym you just re-painted and the gratitude from the community leaders—it's all incredible.
"I encourage all my colleagues to get out and volunteer on an Aramark Building Community project. Anyone can give up a few hours of their day to make someone's life better."
A Decade of Impact
Since its first project in 2014, ABC Day has engaged nearly 55,000 Aramark employee volunteers and given back to almost 2 million community members. Over the years, volunteers have supported the communities where they live and work by hosting projects, planting community gardens, serving nearly 210,000 meals and collecting more than 161,000 pounds of food.
Since its inception in 2008, Aramark Building Community, the company's signature philanthropic and volunteer initiative, has invested tens of millions of dollars, engaged more than 70,000 employee volunteers, and impacted more than five million children and families in underserved communities around the world. 

Learn More: Celebrating 10 Years of ABC Day (Mark in Motion)