Embracing the Diversity of People in Society and Within Our Organization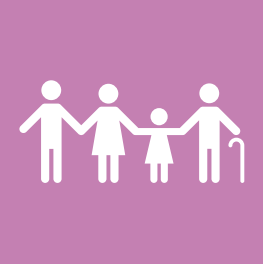 The LIXIL Group is committed to enhancing quality of life and wellbeing for everyone in society, including the elderly and the physically disabled, through LIXIL products and services. In addition, we are harnessing the intelligence and perspectives of LIXIL's diverse workforce as an engine for growth and innovation.
Developing Products and Services Incorporating Various Perspectives
In FYE2017, GROHE introduced GROHE SmartControl Concealed, which uses an innovative push-button technology to preset shower settings, and is intuitive and simple for every user. In the same year, American Standard added a slipresistant surface to its Studio bathroom series which not only accommodates the needs of people with mobility issues but provides a safety feature for all individuals.
LIXIL Senior Life Company, which manages elderly homes, launched Premio, LIXIL Group's first contract-based facility management business for serviced retirement homes. Premio Kawaguchi, the first facility in the Premio series, opened in March 2017. By using LIXIL products at elderly homes, LIXIL can continuously assess how to improve its product development for the elderly.
LIXIL also displayed a lineup of products for the elderly at the 43rd International Home Care & Rehabilitation Exhibition, the largest international home care and rehabilitation exhibition in Asia, further demonstrating its commitment to inclusive designs.
Building an Inclusive Environment Where Employees Can Achieve Their Fullest Potential
As one of its initiatives to support diversity, LIXIL is focusing on female empowerment. In April 2016, LIXIL launched an internal system for supporting working mothers. From pregnancy to returning from maternity leave, the system provides a clear roadmap of events and procedures for employees and their supervisors. Through such systems, LIXIL provides continuous career support to working mothers.
LIXIL also expanded its initiatives to cover differences in age, nationality, disabilities, and values. In FYE2017, LIXIL conducted a study session for the Human Resources Department on LGBT,* and provided badges showing employees as "allies" of the LGBT community. LIXIL plans to expand the study session Company-wide.
With regard to the working environment for employees with disabilities, the LIXIL Group has developed inclusive working environments at various sites to enable people with disabilities to effectively work alongside those without disabilities. For example, the LIXIL Group operates WING NIJI in its Tokyo Office as a job support center for people with disabilities. WING NIJI provides work support, job aptitude assessments, and professional skills development services, and has been undertaking many initiatives to create more inclusive work environments. We have plans to further leverage this expertise to support people with disabilities.
We will continue to apply the knowledge gained through our wide range of diversity initiatives to the development of our products and services, leading to further value-driven business growth.
Click here to read LIXIL's 2017 Annual Report
* A commonly used acronym for "Lesbian, Gay, Bisexual and Transgender"