Electrification: Powering Next-Generation Transportation and More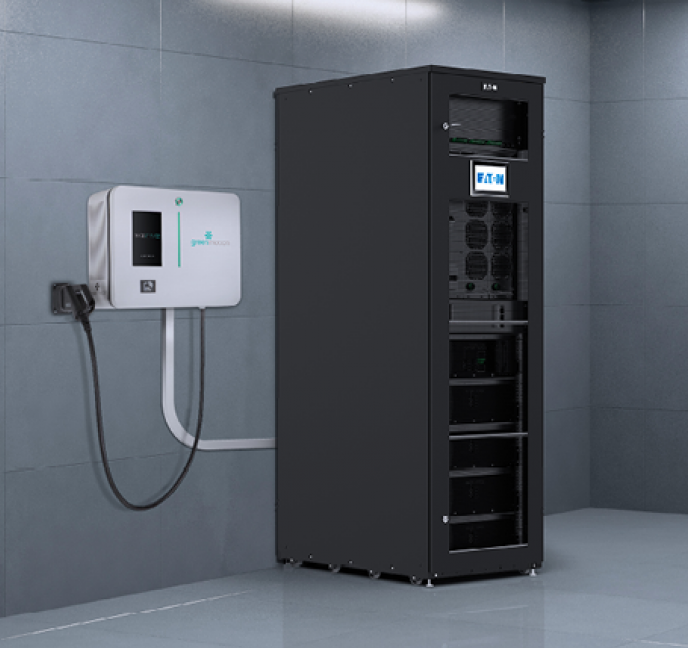 Originally published in Eaton's 2021 Sustainability Report
Switching from fuel to electrical power is a critical lever in the quest to reduce carbon emissions and tackle climate change. From industrial processes to commercial heating and transportation, electrifying these systems can help drive more renewable energy sources and decarbonize the global economy.
Customers continue to seek Eaton's unique expertise in the electrical and vehicle spaces to realize their electrification strategies. From start-ups to long standing OEMs, we collaborate with companies around the globe to innovate the transportation technologies of the future. We're helping to drive adoption and evolve EV technology at our sweet spot: the convergence of electrical and mechanical power. In the push to electrify transportation, our eMobility business is laser-focused on intelligent power management solutions for a greener planet and a better world for generations to come.
We're also innovating new solutions to solve challenges in decarbonizing long-haul, heavy-duty commercial truck transportation. We're leveraging our expertise in air controller technology to deliver the precise airflow needed to utilize hydrogen fuel cells to power long-haul vehicles. And we're working to reduce the battery size in a heavy-duty vehicle by a factor of three to five. This reduces not only the up-front costs of the vehicle, but also its weight, in turn improving the freight capacity of a fuel cell truck.
The commercial vehicle business continues to face increasing pressure from emissions regulations. While diesel engines remain the primary power source, electrification will play a critical role in turning challenges into opportunities as we develop scalable, modular commercial vehicle electrification solutions.
Aircraft manufacturers are also looking to push boundaries with aerospace solutions that are quieter, lighter and operate around the clock with less environmental impact. Through zonal hydraulics system architecture, next-generation electric motor pumps (EMP) and high-density power hydraulic and fuel pumps, we provide improved aircraft efficiency through the increased use of electrical power with localized power conversion. Additionally, our engineers use material and process combinations to reduce weight, with some additive manufacturing components produced in our state-of-the-art lab in Charleston, South Carolina. Additive manufacturing helps cut down on waste by reducing scrap material and can also reduce emissions within the supply chain.
Fast EV charging boosts Switzerland's infrastructure
With electric vehicle charging infrastructure expected to see significant growth over the next decade, in 2021, we acquired Switzerland's Green Motion SA to expand our electric vehicle charging capabilities. We opened one of Switzerland's largest fast-charging sites on one of the country's busiest highways, able to power eight electric cars up to 160 kW. Green Motion's proven charger designs and its advanced power and billing management software are powerful additions to Eaton's electric vehicle charging infrastructure offerings.
The future of urban air mobility starts with eVTOL technology
We are investing in new technologies related to electrical systems on board aircraft, including electric vertical takeoff and landing (eVTOL) technology. eVTOL technology is helping advance Urban Air Mobility (UAM), a new form of aviation utilizing airspace above congested cities to better serve the public, businesses, disadvantaged communities and emergency responders. UAM is powered by clean electric and alternative fuel energy and presents a unique opportunity to combine Eaton's aerospace pedigree and electric expertise to deliver eVTOL products that are safe and accessible.
New fuses meet demands of high-powered electrified vehicles
Our eMobility business introduced the Bussmann® series EVK fuse to manage and protect charging systems of the latest high-powered EVs, including commercial, passenger and high-performance vehicles like sports cars and large sportutility vehicles. The fuses distribute heat away from weak spots, a key benefit for any fuse rating and especially critical for high-power fuses. The series is designed with the future in mind as battery requirements increase and new technologies are introduced, such as energy-dense, solid-state batteries.