Ecolab's Smart Technology Helps Ford Drive Major Water Savings at Chicago Plant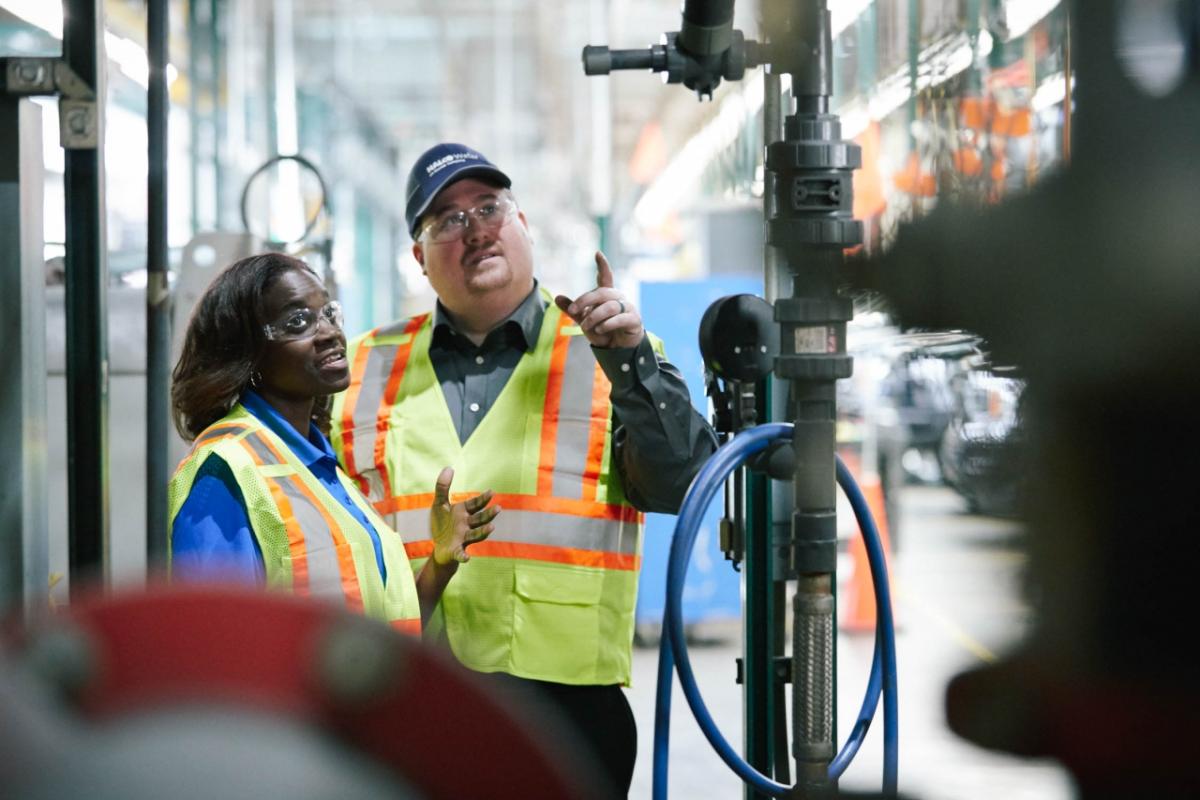 Nalco Water, an Ecolab company, is helping Ford drive water savings.
When it comes to water management, Ford Motor Company continually strives to go further. The company has reduced water use by more than 10 billion gallons since 2000 and is aiming for an additional 30 percent reduction per vehicle from 2015 to 2020. Its long-term ambition: zero freshwater use in manufacturing.
To enhance efficiency and cut water consumption at its Chicago assembly plant, Ford worked with Nalco Water, an Ecolab company that specializes in water treatment technologies. 
As a result, the plant saved 23 million gallons of freshwater in four months' time, equivalent to the annual drinking water needs of more than 79,000 people. By reducing its water use, the plant also saved an annualized $186,000. 
The partnership focused on two areas:
Cooling towers, which consume large quantities of water and have operational challenges such as scaling, corrosion,  fouling and biological growth – all of which impact water use, performance and costs.
Pre-treatment baths, where metal is treated before it is painted – a process that also consumes a significant amount of water. 
Nalco Water implemented two projects to help the plant use water more effectively:
Installed a proprietary water-saving system to optimize cooling tower performance and reduce water use. The digital technology led to a 27 percent reduction in water use at the plant as well as considerable cost savings. The system is continuously monitored by Ecolab personnel to provide real-time resolution of problems and prevent extensive water loss.  
Set up wireless meters in the pre-treatment baths to constantly monitor water usage. To improve efficiency, Ford wanted to monitor water overflow when the baths were refilled. The wireless meters track the programmed water flow rate. If the rate changes, paint process engineers receive an instant alert. Previously, problem identification and resolution could take days or even months, which affected both efficiency and costs. 
Another key element of the plant's water management is the implementation of circular water strategies – reusing and recycling water. Nalco Water is working with Ford to deploy a technology to recycle phosphate rinse water, which could lead to a considerable reduction in water use. The plant is also developing processes to reuse of up to 90 percent of its pre-treatment process water, which will greatly reduce the need to tap into the Chicago municipal water supply. With these technologies in place, Ford has the potential to save an additional 55 million gallons of water per year, equivalent to $481,000 in additional cost savings.    To learn more about how Ecolab helps its customers save water, energy and cost, read our new 
Corporate Sustainability Report.
Download the attached file(s):