DXC Technology Embraces Sustainability Innovations in Its First Year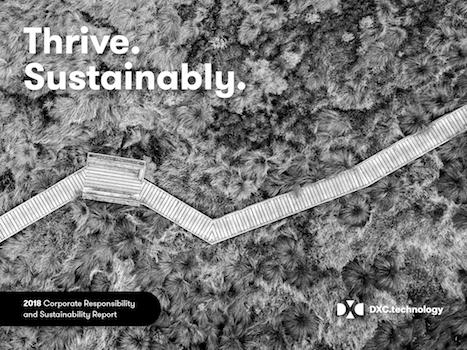 In its first year of operation, DXC Technology has adopted sustainable, forward-thinking business practices to drive positive social, economic and environmental outcomes.
Among the progress announced in the 2018 Corporate Responsibility and Sustainability Report:
Realized a 15 percent reduction in absolute greenhouse gas emissions and a nearly 12 percent reduction in absolute energy consumption globally.
 
Opening new Digital Transformation Centers where employees upskill in next-gen technologies and find new career opportunities.
 
Helping people on the autism spectrum find rewarding work in cybersecurity, data science, software testing and other IT disciplines through the groundbreaking DXC Dandelion Program.
 
Sponsoring DXC Codes to help 1,700 young people in 14 countries creatively apply science, technology, engineering and mathematics skills in solving complex technical challenges.
 
Recognized as one of the top 20 companies in the 100 Best Corporate Citizens List for 2018 from Corporate Responsibility Magazine, the leading CR voice in the United States.
Access the <<<2018 DXC Technology Corporate Responsibility and Sustainability Report>>> today to explore how the company uses innovation to shape brighter futures for clients and employees, diverse communities and the global environment.
Media Contact:
DXC Corporate Media Relations
Donna Jenks
+1.630.306.9989
DXC Corporate Responsibility
Paula Sullivan