During Black History Month and Year-Round, Booz Allen Celebrates Inclusion of Diverse Employees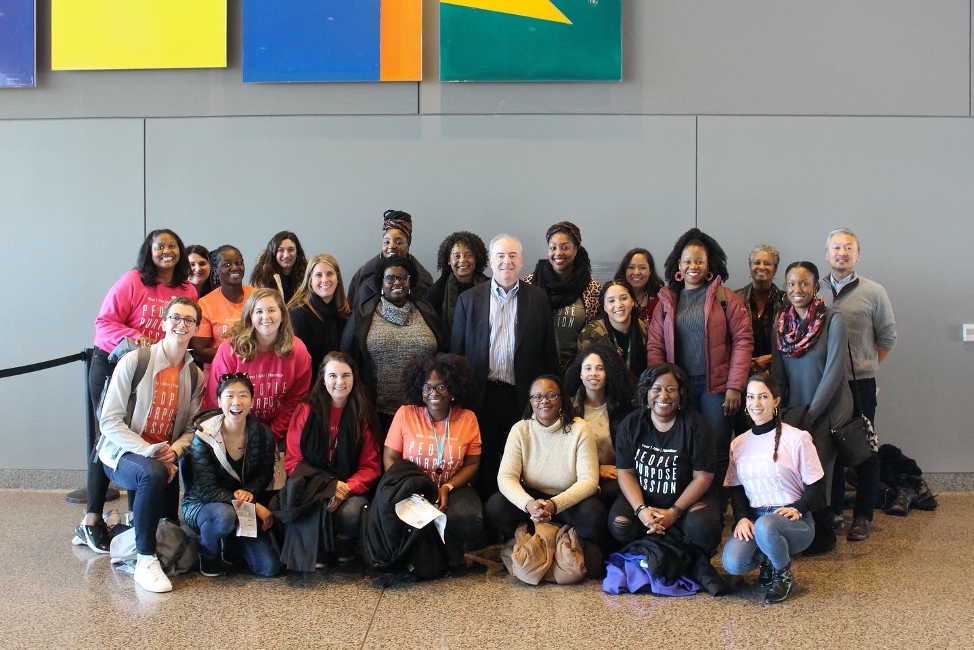 In honor of Black History Month, Booz Allen's DC office organized a visit to the National Museum of African-American History and Culture for its employees.
The celebration of Black History Month began in 1926 when Carter G. Woodson, a noted African American historian, scholar, educator, and publisher, created it to honor the achievements of African Americans in the U.S. This year, Booz Allen celebrated by acknowledging and highlighting the many contributions of its African American employees, supported by thoughtful initiatives from internal forums like the African American Network (AAN) and Multicultural Business Resource Group. The Black Engineer of the Year Award (BEYA) STEM Conference gave further cause for celebration, as 11 employees across the firm were honored as STEM leaders, and Executive Vice President Tony Mitchell, the 2019 Black Engineer of the Year had the honor to share some thoughts and pass the torch to the 2020 winner of this singular distinction.
Expanding an award-winning "family" of STEM champions                        
"My creativity allows me to solve the problems our clients face," says cybersecurity policy and compliance analyst Andreen Anglin.
Anglin brings a multifaceted perspective to her work at Booz Allen. When she's not helping federal agencies manage their growing number of cyber risks, she serves with the 123rd Cyber Protection Battalion of the Virginia National Guard and writes poetry, which has been published in anthologies by the Armed Services Art Partnership.
Since 2005, over 100 Booz Allen employees have been recognized.
Also at this year's BEYA ceremony, Booz Allen Associate Sean Spence received the 2020 BEYA Most Promising Engineering in Government Award.
"Being completely embraced by the BEYA family is a feeling like no other," Mitchell said.
Honoring Our Employees During Black History Month
The AAN hosted a series of events throughout Black History Month to engage all employees throughout the month, including a private viewing of the film Just Mercy followed by a panel discussion on how to inspire positive change for diversity and inclusion.
The AAN also hosted a tour stop for Black Girl Venture CEO Shelly Bell in Booz Allen's DC office, and a series of regional events around the country. 
On February 21st, the AAN and Corporate Affairs team sponsored a visit for employees to the National Museum of African American History and Culture (NMAAHC) in Washington, DC, and provided attendees with the opportunity to network and engage with firm leadership and witness the stories and experiences of their diverse colleagues. 
Throughout the month, Booz Allen's social media channels honored the legacy of influential black leaders like Thurgood Marshall, as well as Booz Allen leaders who are paving the way today. 
"The AAN's mission—during Black History Month and throughout the year—is to serve as an avenue for employees to collectively work toward increasing their impact and presence at the firm while embracing other talented colleagues who embody what it means to Be Booz Allen at work and beyond," said Senior Associate and AAN chair, Ebony Thomas.
Booz Allen's commitment to diversity and inclusion is year-round. Read about our volunteers' work in a beautification project at Stuart Hobson Middle School.