Duke Energy Foundation Celebrates Hispanic Heritage Month; Recognizes Contributions of Hispanic Community With More Than $250,000 in Grants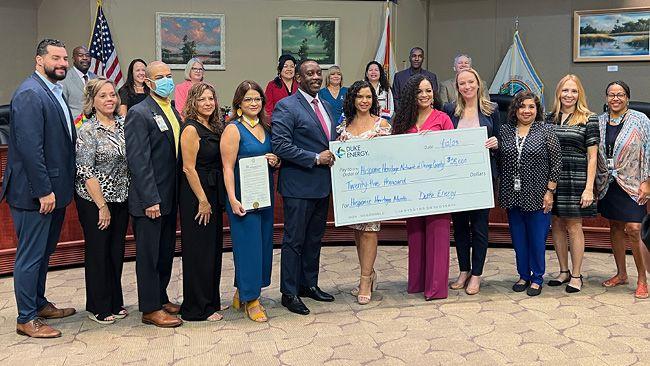 Grants will support organizations, initiatives committed to uplifting Hispanic students, businesses and events in Florida
ST. PETERSBURG, Fla., October 3, 2023 /3BL/ - As the country celebrates and recognizes the contributions, culture and history of Hispanic Americans during National Hispanic Heritage Month, the Duke Energy Foundation is committing $251,000 to support local efforts across Florida.
"Duke Energy serves an increasingly diverse community," said Melissa Seixas, Duke Energy Florida state president. "Not only is it important for us to meet the needs of all of our customers, but it is equally important to support the organizations and efforts that are dedicated to embracing diverse cultures, removing barriers and providing boundless opportunities for our customers and communities."
The funding will go toward providing personalized business consulting services to Hispanic entrepreneurs and businesses, Hispanic Heritage Month event support, as well as scholarships for Hispanic students in Central Florida, among other local initiatives to uplift communities in Duke Energy Florida's service territory.
Prospera, an economic development, nonprofit organization specialized in providing bilingual assistance to Hispanic entrepreneurs, received $100,000 to support its Hispanic Business Initiative Fund, which helps Hispanic individuals and families in Florida's Central and West Coast regions access economic opportunities and upward mobility through personalized guidance and continuous in-culture, inclusive support.
"We value Duke Energy's continuous support of our mission and this year's increased funding will impact our program even more positively, allowing us to assist more Hispanics who own or wish to start a business in Florida," said Augusto Sanabria, Prospera president and CEO. "Our program empowers underserved individuals and families to help them overcome additional barriers to success, increasing their chances of upward mobility, financial independence, and achieving prosperity, while generating numerous benefits for our community at large."
Grants were awarded to the following organizations:
Prospera's Hispanic Business Initiative Fund – $100,000 
 
Hispanic Heritage Scholarship Fund of Metro Orlando – $75,000 
 
Hispanic Heritage Network of Orange County (HHNOC) – $25,000 
 
Local organizations supporting the Hispanic Community in collaboration with Duke Energy Florida's government and community relations managers – $50,000 
 
Ceccarelli Rosenberg Foundation in collaboration with Duke Energy Florida's Latinos Energizing Diversity employee resource group – $1,000
In addition to the recent contributions, the company has an employee resource group, Latinos Energizing Diversity (LED), dedicated to providing educational opportunities about the Latino culture, assisting in the recruitment, retention, engagement and development of Latino employees and helping the company maintain and increase relationships between the company and a growing Latino community.
Throughout the year, the Florida LED chapter actively participates in numerous local events to support initiatives focused on embracing Latino culture and positively impacting communities.
Duke Energy Florida
Duke Energy Florida, a subsidiary of Duke Energy, owns 10,500 megawatts of energy capacity, supplying electricity to 1.9 million residential, commercial and industrial customers across a 13,000-square-mile service area in Florida.
Duke Energy Foundation
The Duke Energy Foundation provides more than $30 million annually in philanthropic support to meet the needs of communities where Duke Energy customers live and work. The foundation is funded by Duke Energy shareholders.
Duke Energy (NYSE: DUK), a Fortune 150 company headquartered in Charlotte, N.C., is one of America's largest energy holding companies. Its electric utilities serve 8.2 million customers in North Carolina, South Carolina, Florida, Indiana, Ohio and Kentucky, and collectively own 50,000 megawatts of energy capacity. Its natural gas unit serves 1.6 million customers in North Carolina, South Carolina, Tennessee, Ohio and Kentucky. The company employs 27,600 people.
Duke Energy is executing an aggressive clean energy transition to achieve its goals of net-zero methane emissions from its natural gas business by 2030 and net-zero carbon emissions from electricity generation by 2050. The company has interim carbon emission targets of at least 50% reduction from electric generation by 2030, 50% for Scope 2 and certain Scope 3 upstream and downstream emissions by 2035, and 80% from electric generation by 2040. In addition, the company is investing in major electric grid enhancements and energy storage, and exploring zero-emission power generation technologies such as hydrogen and advanced nuclear.
Duke Energy was named to Fortune's 2023 "World's Most Admired Companies" list and Forbes' "World's Best Employers" list. More information is available at duke-energy.com. The Duke Energy News Center contains news releases, fact sheets, photos and videos. Duke Energy's illumination features stories about people, innovations, community topics and environmental issues. Follow Duke Energy on Twitter, LinkedIn, Instagram and Facebook.
Media contact: Audrey Stasko 
Media line: 800.559.3853 
Twitter: @DE_AudreyS
View original content here.