Don Slager Honored with Responsible CEO of the Year Lifetime Achievement Award
Republic Services CEO Recognized for a Career Dedicated to the Highest Corporate Responsibility Standards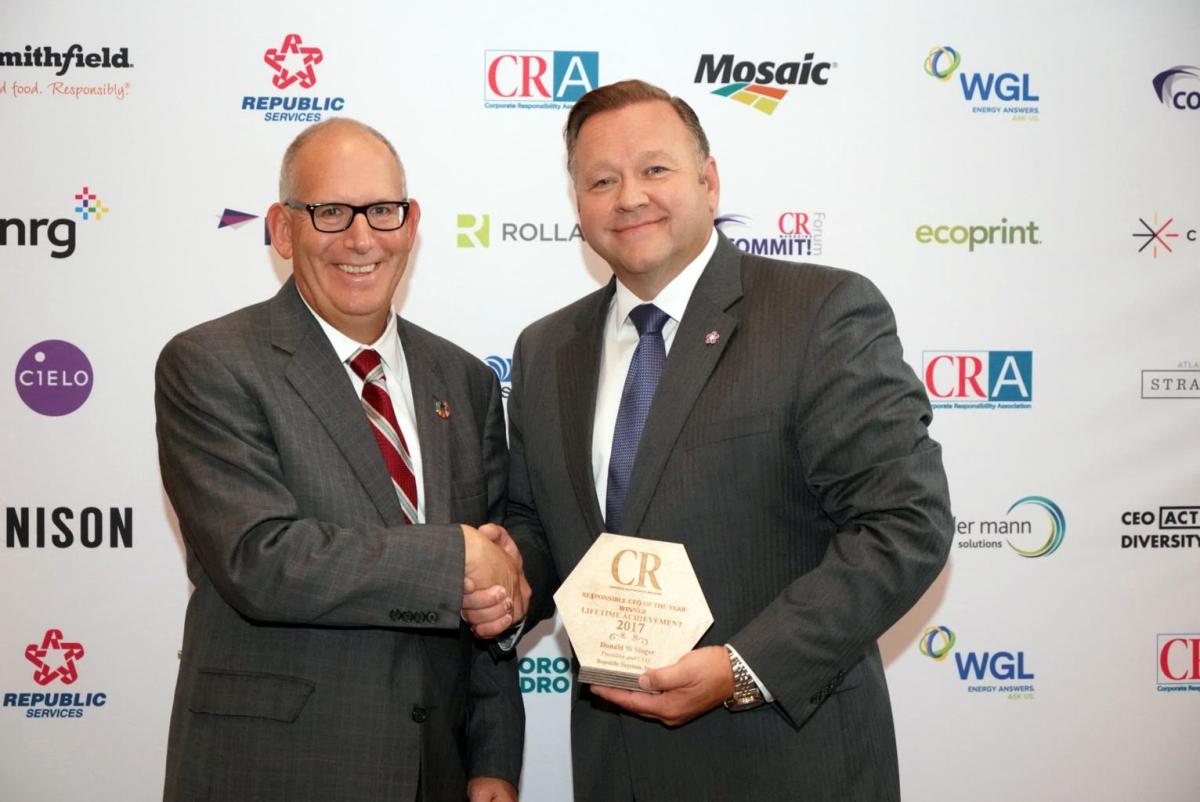 PHOENIX, October 13, 2017 /3BL Media/ – Republic Services, Inc. (NYSE: RSG) is pleased to announce that Don Slager, president and CEO, is the recipient of CR Magazine's 2017 Responsible CEO of the Year – Lifetime Achievement Award. The prestigious recognition is given annually to a CEO whose vision and pioneering spirit has led to significant achievements in corporate responsibility practices over the course of their career. The award was presented last night during the Responsible CEO Awards dinner at the MGM National Harbor®, near Washington, D.C., as part of the Corporate Responsibility Board's COMMIT!Forum conference.
Mr. Slager was selected among a group of finalists by a panel of independent judges comprised of previous Responsible CEO Award winners. Finalists for the Award were nominated by members of the corporate responsibility community, based on a nominee's significant achievements spanning a career in corporate responsibility practices, including employee relations, environmental impact and sustainability, human rights and philanthropy.
"I am humbled by this recognition," said Slager. "But, this is an honor that belongs to the entire Republic family. What we do every day — collecting, hauling and managing the nation's waste while providing simple solutions to our 14 million customers — is dynamic and demanding. It requires us to be relentless and reliable, always pursuing excellence, from responsible landfill operations to continued innovation at our recycling centers, and from a cleaner, quieter fleet to fulfilling our commitment to landfill gas and renewable energy projects. That's why this award is so significant — it's recognition of our entire team for always choosing to do the right thing, for our customers, communities and the environment."
"Today's business landscape requires CEOs to maintain a balance between their commitment to investors and shareholders and their desire to ensure that the company's daily actions exceed the requirements and responsibilities of corporate citizens," said Dave Armon, publisher of CR Magazine. "Our panel of past Responsible CEO winners applauded Don Slager for leading by example throughout his career – driving innovation and creating a culture of sustainability and purpose for employees, customers and the communities where Republic Services operates."
Mr. Slager became CEO in 2011, and has 30 years of experience in the solid waste industry. Under his leadership, the Company has experienced steady financial growth while earning notable recognition for corporate responsibility achievements. Republic was recently named to the ForbesAmerica's Best Large Employers list, as well as the Ethisphere Institute's World's Most Ethical Companies® list. The Company has been named to both the 2017 Dow Jones Sustainability Indices' — World and North America indices — for the second consecutive year, and CDP's (Carbon Disclosure Project) Global Climate A List and the Supplier Climate A List. In addition, Glassdoor recently rated Mr. Slager among its 100 Highest Rated CEOs, based on anonymous and voluntary employee reviews.
About Republic Services
Republic Services, Inc. (NYSE: RSG) is an industry leader in U.S. recycling and non-hazardous solid waste. Through its subsidiaries, Republic's collection companies, recycling centers, transfer stations and landfills focus on providing effective solutions to make proper waste disposal effortless for its 14 million customers. We'll handle it from here.™, the brand's promise, lets customers know they can count on Republic to provide a superior experience while fostering a sustainable Blue Planet™ for future generations to enjoy a cleaner, safer and healthier world.
For more information, visit the Republic Services website at RepublicServices.com. "Like" Republic on Facebook at Facebook.com/RepublicServices and follow on Twitter @RepublicService.
 
###
 
Media                                  
Jennifer Eldridge
media@RepublicServices.com
480-627-2700