Domtar Sustainability: Managing Our Energy and Emissions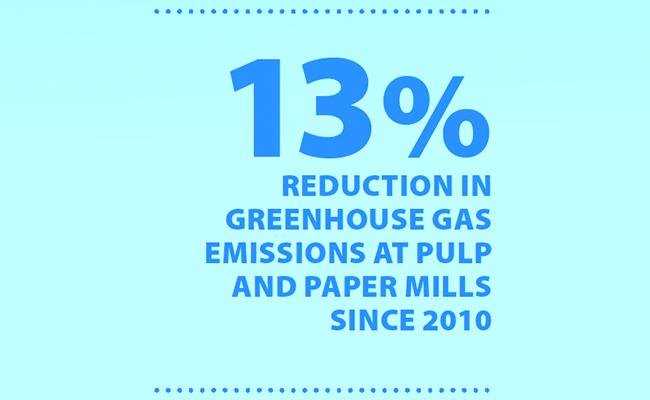 Domtar 2017 Sustainability Report
  Domtar's three-part approach to improving the sustainability of our energy consumption is yielding results.
We have converted most of our carbon-intensive coal power boilers to cleaner burning and less carbon-intensive natural gas.
We are executing efficiency improvements identified by independent experts across our mill system.
We are optimizing our self-generation of electric power, which is typically cleaner and more efficient than what can be purchased over the public power grid.
As a result, we have lowered our costs and enjoy a substantial environmental edge. Our direct greenhouse gas emissions are about two-thirds lower than the average pulp and paper producer in the Asia Pacific region. Today, 75 percent of the energy we use in our mills comes from renewable biomass, mostly generated from our wood processing and pulping byproducts. In addition, our conversion of aging coal systems to cleaner-burning natural gas has resulted in other measurable clean air benefits.
Domtar supports government policies that recognize the carbon neutrality of sustainably harvested biomass fuel and that recognize the longer-term value of maintaining the viability of pulp mills as future biorefineries for affordable, sustainable fuels.
###
Domtar's 2017 Sustainability Report details the company's endeavor to take a longer term view of creating and preserving value for our shareholders, customers, employees and communities.  For more inspiring stories about Domtar's sustainability efforts, visit the Domtar Newsroom. To view the full 2017 Sustainability Report click here.