Diversifying STEM Careers and Communities: Meet the 2021 Booz Allen BEYA Modern Day Technology Leaders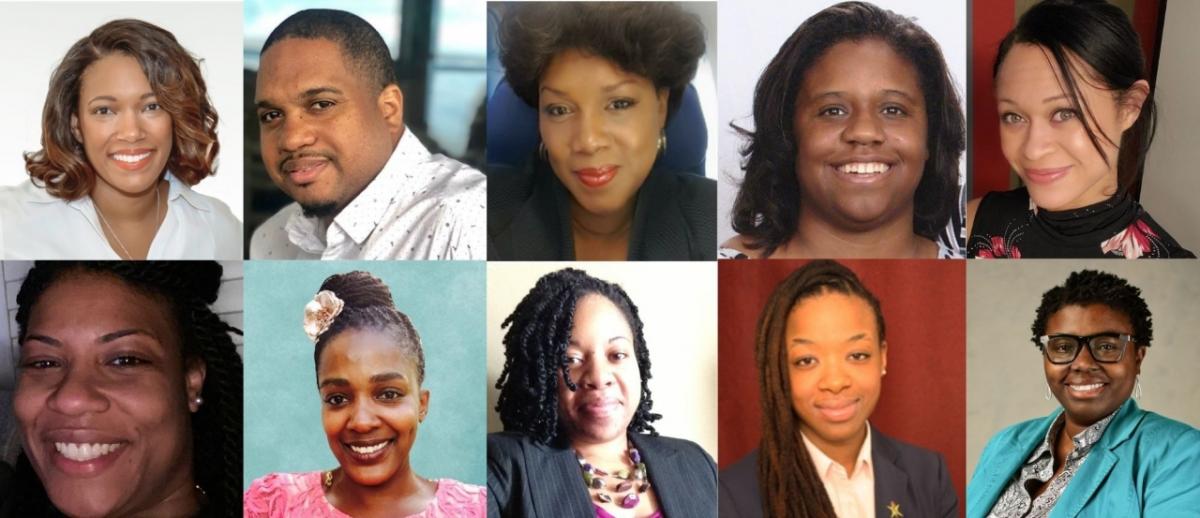 Pictured above from left to right. 1st row: Andrea Blackwell, Dameon Ming, Dawnetta Van Dunk, Erica Banks, and Eylia Gaitan. 2nd row: Jennifer Mosquera, Marlena Clark, Miesha Lites, Sade Ruffin, and Sian Lewis.
Each year, US Black Engineer & Information Technology magazine recognizes "bright men and women who are shaping the future of engineering, science, and technology." Since 2005, more than 100 Booz Allen employees have been recognized by the Black Engineer of the Year Awards (BEYA).
This year, 10 more Booz Allen employees join this roster as 2021 BEYA Modern Day Technology Leaders. This peer-nominated award—which this year saw more Booz Allen applications than ever before—recognizes mid-level professionals who are shaping the future of STEM in their careers and communities. 
Representing expertise in data science, cybersecurity, and beyond, this year's BEYA Modern Day Technology Leaders have made real impact on the firm—and Booz Allen is proud to celebrate them not only year-round, but also during an important month that includes Black History Month and National Engineers Week (Feb. 21-27).  
This year's stellar roster of Booz Allen BEYA Modern Day Technology Leaders are:
Erica Banks, Principal, who uses her electrical engineering knowledge to transform client IT programs, further STEM, and support Black and disenfranchised communities

Andrea Blackwell, Lead Engineer, who has supported Booz Allen's strategic investments and client work throughout her professional journey from a junior front-end developer to a dynamic full-stack senior developer

Marlena Clark, Senior Lead Engineer, who serves on Booz Allen's Women in Engineering and Science leadership team and leads technical and management maintenance and modernization efforts for the firm's defense clients

Eylia Gaitan, Senior Lead Technologist, who helps Booz Allen's cybersecurity team develop a forensics program for the firm and its clients in an ever-changing environment 

Sian Lewis, Lead Scientist, a data science expert who holds leadership roles in Booz Allen's Women in Data Science group and GLOBE+ Business Resource Group and serves on the Strategic Innovation Group's Inclusion Advisory Committee and Black Analytics Group

Miesha Lites, Senior Lead Technologist, who helps national security clients achieve critical accreditation milestones on the job and mentors high school students outside of work

Dameon Ming, Senior Lead Technologist, supports clients with his expertise in systems architecture, systems engineering, and big data while actively mentoring engineers on his team and youth in his community

Jennifer Mosquera, Lead Technologist, who empowers others as a quality assurance lead, Agile coach, scrum master, and volunteer with Out in STEM and the Penn State University African American Alumni Association board

Sade Ruffin, Lead Engineer, who works at the forefront of chemical engineering research and works with Booz Allen's Citizen Services Council to understand how the firm can serve the diverse needs of its employees

Dawnetta Van Dunk, Lead Associate, who leads IT acquisition and integration projects and founded STEM Innovation Spark Her (STEMisHER), a group dedicated to igniting middle-school girls' interest in STEM classes and careers 
Cause for celebration
Events to honor the 2021 winners will be held virtually this year, including a Booz Allen employee celebration developed by the firm's African American Network, along with the BEYA STEM Conference, taking place Feb. 11-13. The first-ever virtual conference is themed "Stand up! Step up! Make the Change!"—a call to action for participants, ranging from K-12 students to executives, to foster tomorrow's diverse STEM talent.
"Any time our land has made the call, we have stepped up," said BEYA Chairman Tyrone Taborn on the annual event's recognition of Black leaders. "This has been incredibly obvious during one of the most unprecedented global pandemics our society has faced. The conference's digital twin experience allows these leaders further recognition while opening the door for further reach into the future generation of STEM leaders."
One of those leaders previously recognized by BEYA is Booz Allen Executive Vice President Tony Mitchell who was named Black Engineer of the Year in 2019. Tony is the third Booz Allen executive to win the prestigious honor. 
"It's exciting to me to think that someone sitting in the audience today could go on to develop software that could lead to a cure for cancer or invent another vehicle for space exploration," Tony said in his 2019 acceptance speech—which still rings true today. "But I am more excited that most of us are going to commit ourselves to be the change, to be the leaders our communities so desperately need."
Read about this year's BEYA Modern Day Tech Leaders and learn more about STEM careers and diversity, equity, and inclusion at Booz Allen.