Diversifying Science and Technology: Meet Booz Allen's Women of Color STEM Awardees for 2020
Diversifying Science and Technology: Meet Booz Allen's Women of Color STEM Awardees for 2020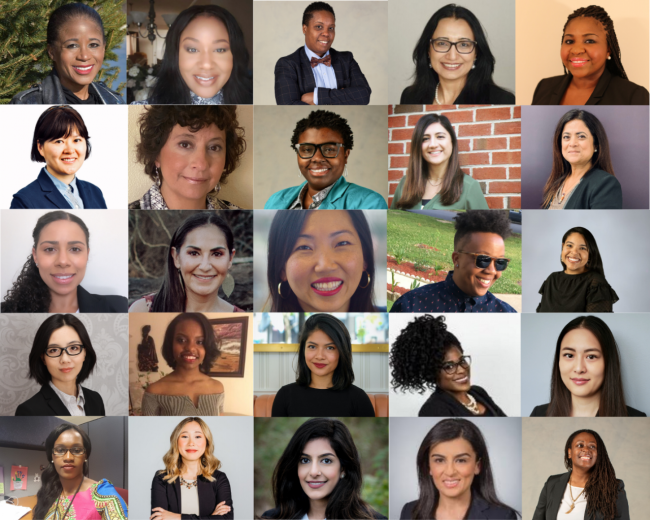 Wednesday, October 14, 2020 - 8:00am
According to the National Science Foundation, members of historically underrepresented groups—women and Blacks, Hispanics, and American Indians or Alaska Natives—have increased their representation in the science and engineering labor force in recent decades. Despite the recent increases, however, these demographic groups are still underrepresented in science and engineering overall: Women account for only 29% of the science and engineering workforce despite making up roughly 52% of the college-educated workforce overall, while underrepresented minorities account for only 13% of the science and engineering workforce despite making up 28% of the college-educated workforce.
Each year, the Career Communication Group's Women of Color STEM Awards acknowledge women with significant career achievements in science, technology, engineering, and mathematics (STEM). In 2020, 25 of these Technology All-Stars and Technology Rising Stars were Booz Allen employees.
With expertise in cybersecurity, data science, and beyond, the firm's 2020 winners join more than 250 Booz Allen employees who have received this honor since 2004.
Recognizing excellence in the workplace and community
Technology All-Star awards recognize women with more than 15 years in the workforce who have demonstrated excellence in the workplace and in their communities. 
Booz Allen's 2020 Technology All-Star winners represent a wide variety of technical expertise and capabilities across the firm and many have deep involvement in the firm's business resource groups (BRGs), which empower employees and their allies by advocating for their professional development, growth, and visibility and providing an inclusive, welcoming environment.
"At Booz Allen, I've been able to combine both of my passions: data science and the ability to do social good in a big way," Lead Scientist and 2020 Technology All-Star Sian Lewis has said. See below for the full list of this year's Booz Allen Technology All-Star winners:
Andrea Hobley brings creativity and enthusiasm to her work and has established herself as a key contributor to the federal government, the firm, and her community as a technical expert in SharePoint design, administration and development, software engineering, database design and development, business/system analysis, and computer software training.

Christa Jordan pushes boundaries in her community and her work where she combines "Lean" techniques, technology, and innovation to automate development processes. She also makes a significant impact in her community through her role as the Professional Development Chair for the Workforce Leadership Council.

Crystal Simmons embodies a woman of color in STEM through her role, from leading a team of Booz Allen Cyber engineers in protecting the nation's data, to helping diverse candidates get into tech. She serves as Co-Chair of the GLOBE+ (LGBTQ+) BRG at Booz Allen as well as the Chair for the African American Network's Recruitment and Retention committee, where she organizes recruiting events and workshops targeting diverse women and people of color seeking careers in STEM.

Geetika Tandon brings more than 19 years of industry experience in technology consulting. She is a leader in transforming and modernizing enterprise-wide technical systems and an integral member of various women in technology groups.

LaToya Robinson demonstrates her commitment to STEM by leading one of the firm's most technically complex projects and is a major evangelist for supporting and advancing other women of color in STEM.

Ling Wu is a "go-to" subject matter expert in data modeling and a mentor to junior employees. She helps her clients leverage a massive amount of data to build enterprise information management services.

Monica Simpson brings 24 years of experience as an engineer and pricing analyst and excels above and beyond in her work and her support for her local community.

Sian Lewis brings enormous impact as a data scientist and machine learning engineer in her client work and in the firm by leading initiatives that improve diversity, equity, and inclusion.

Sonya Rahmani has a deep technical comprehension, an outstanding work ethic and has rapidly become a thought leader through her understanding of cutting-edge technologies.

Sumaiya Alloo has paved the way for women in STEM by cultivating her team to bring the greatest business value to the client on numerous technical healthcare projects.
Shaping technology for the future
Technology Rising Stars are professionals with fewer than 15 years in the workforce who are working to shape technology for the future. Booz Allen's award winners in this category for 2020 were:
Alexis Brown, Ph.D. radiates positivity, acts with independence and integrity, and works tirelessly to advance science, foster creativity, and revolutionize laboratory safety training.

Andrea Villamin exhibits passion for the mission, collective ingenuity, and a people-first focus to elevate her as a role model for others who are aspiring to lead in a technology driven environment.

Angela Kim applies the latest technology and engineering trends, developments, and innovations in her role and encourages a team culture of collaborative solutioning.

Ashleigh Smith troubleshoots and solves hard problems with software applications, data access, and cloud and network engineering protocols.

Dianna Abreu has used every year of her professional experience to improve patient care with cutting edge technology.

Jia Zhao, Ph.D. always looks for the best solutions for clients and strives to go above and beyond to produce high-quality deliverables that exceed the expectations of her clients.

Kaila Tanksley has an interdisciplinary background and a keen ability to approach any problem with a holistic view, finding lasting solutions that often exceed client expectations.

Kathryn Ruhl has been instrumental in bringing data analytics technology to aid in talent recruitment and is a "go-to" expert for her clients.

Katrina Hawkins brings a tremendous amount of positive energy and exhibits leadership through her ability to effectively communicate to her clients, teams, and community.

Lucy Han is consistently recognized by her managers and peers as an exceptionally high performer who innovatively integrates data science into client solutions.

Murielle Mengue Obam brings expertise as a full-stack developer supporting the transformation initiatives. She is a role model and sets an outstanding example for women of color in industry.

Myranda Moye has a keen sense in understanding the needs of her clients and has shown that she is not only a very capable engineer, but also a natural leader—she is someone who cares deeply about making positive changes in society.

Saba Ali tackles complex data science problems head-on to deliver excellence and high-impact results for her clients and in the community.

Sadaf Qazi consistently demonstrates a technical aptitude, altruistic motivation for change, and continued leadership in the STEM field, displayed by her actions and impacts inside and outside the firm.

Sherika Sylvester, Ph.D. is passionate about developing the next generation of experienced data scientists by creating innovative data science training programs.
"The next technology is going to come from collaboration, and it's important that collaboration has a fair number of women involved," says Crystal Simmons, Senior Lead Technologist, co-chair of the GLOBE+ BRG and a 2020 award winner. "Each time a woman stands up and is a leader, it levels the playing field, and it starts to become the norm. Always remember, you are smart, capable, and here for a reason. Never be afraid to utilize your voice."
Learn more about diversity, equity, and inclusion, women, and multiculturalism at Booz Allen.