Distributed Generation Still Part of the Plan as Technology Adoption Matures
DER continue to drive change within the electric industry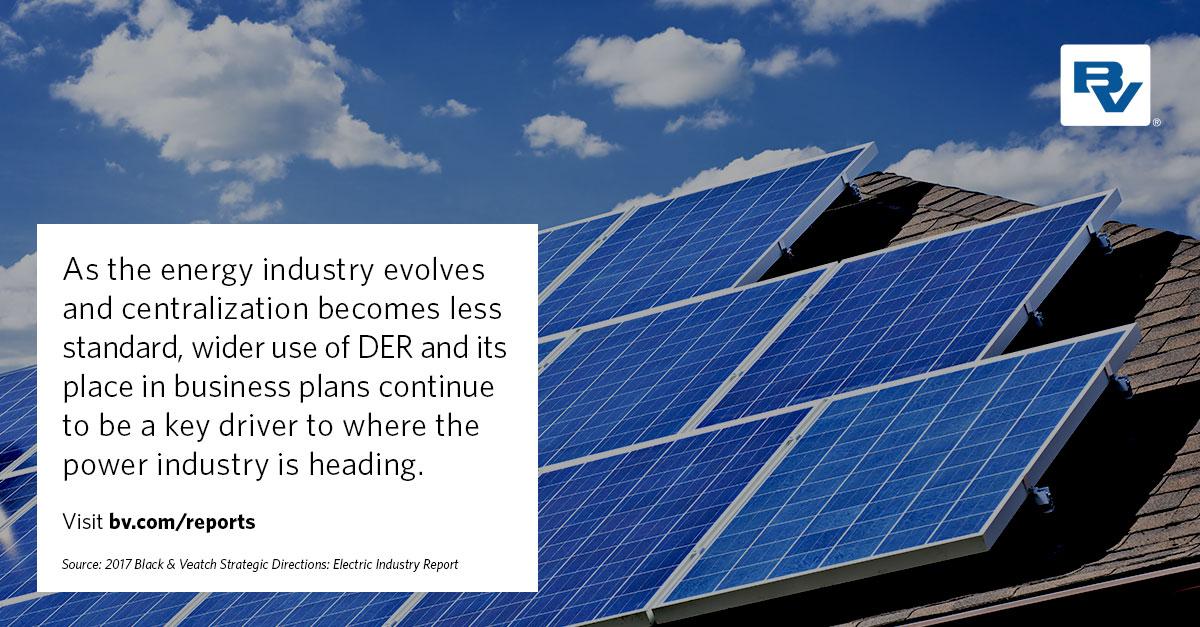 Distributed energy resources continue to drive change within the electric industry
Distributed energy resources (DER) continue to drive change within the electric industry as both energy consumers and electric service providers are diversifying how electricity is generated and delivered. Spawned by the public embrace of clean energy, falling prices, and regulatory subsidies, solar photovoltaics, battery energy storage, and microgrids are being deployed in more places across the electric system.
This movement is requiring utilities to transform traditional centralized networks into flexible, distributed and integrated power networks. As many of these efforts move forward, organizations are working through the complexities to achieve the best economics for its distributed generation and microgrid customers while at the same time seeking to maximize benefit from the existing grid investments.
Download the 2017 Electric Industry Report
Miramar: Distributed Generation in Action
This is beginning to happen in San Diego at the Marine Corps Air Station Miramar. The military base is in the process of establishing its own energy network that gives it the assurance and reliability needed to keep its operations in motion when regional blackouts occur. Along with that, it will also be in a better position to reduce demand charges and manage its electric load more efficiently while also contributing power into the grid.
Black & Veatch and Schneider Electric are in the process of designing and building an advanced microgrid that takes advantage of the solar photovoltaic (PV) and landfill methane gas that already provide a combined 4.8 megawatts (MW); the addition of diesel and natural gas generators is expected to produce another 7 MW of power. This will allow the base to not only manage its own power, but to distribute it more efficiently across its own grid, offering a significant opportunity to save money and streamline energy use.
Investing in the Exploration of Distributed Generation
That project is one example of the trends reflected in the responses to this year's Strategic Directions: Electric Industry Report, which found a slight increase among those utilities making distributed energy resources a priority, while almost 40 percent of those organizations surveyed are still putting the bulk of that investment in demonstration or test projects.
Yet, contrary to this optimism, other data produced by the survey hints at the largest roadblock facing distributed energy resources – regulatory clarity in how utilities can invest in and receive a rate of return from distributed energy projects. But approximately a third of respondents are already developing, owning or operating distributed generation resources (including microgrids).
That said, technology is maturing and continues to contribute to growth. Of the behind-the-meter DER technologies currently being deployed, solar PV continues to dominate, with almost 70 percent of respondents actively involved in solar efforts and more than half of respondents executing energy efficiency, energy storage and demand response solutions. 
Clear Value Propositions Equal Largest Savings
As more distributed energy resources are put in use, it has become more evident where the economic sweet spots lie. Large consumers of power are the best candidates — hospitals and healthcare facilities are the top consideration (40 percent), followed by military bases, university campuses and industrial parks. Armed with a clearer value proposition, they are positioned to see the largest savings. Meanwhile, residential and small commercial applications have seen explosive growth of solar PV — principally in markets with higher utility rates and installation incentives.
As the energy industry evolves and centralization becomes less the standard, wider use of DER and its place in business plans continue to be a key driver to where the power industry is heading.