For DC Area Tech Talent, Booz Allen Is a Brand in Demand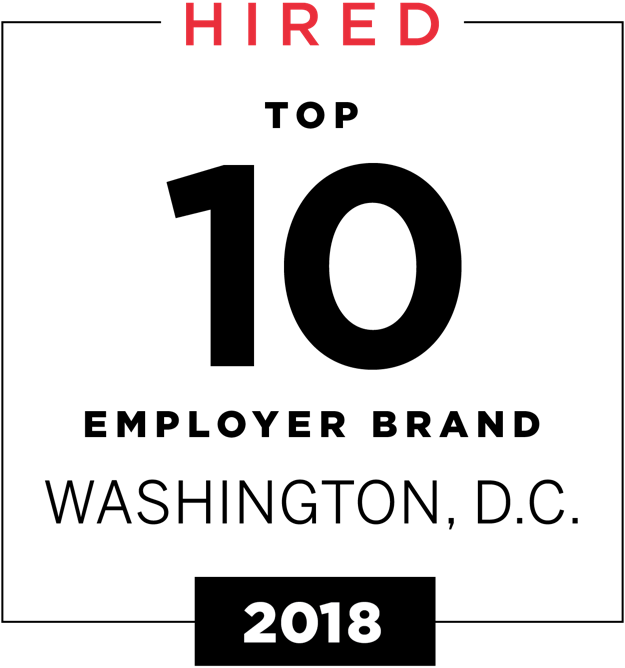 Even with 248, 150 IT professionals in the metropolitan Washington area, recruiting tech talent here is a challenge1. Employers are competing with government agencies, non-IT firms, companies in Silicon Valley and companies in lower-cost regions. Furthermore, positions often call for highly specialized and in-demand skills, such as data science or AI.
Booz Allen ranks third among Washington, DC, tech professionals when evaluating employers, according to the second annual Brand Health Report by Hired.
Hired, which represents more than 10,000 companies and 98,000 job seekers, asked IT professionals in major metropolitan areas to cite and rank the local companies they found most attractive based on their priorities. Which companies are known for delivering what tech workers want in a job offer and workplace? Among employers in the Washington metropolitan area, Booz Allen ranked behind only the Washington Post and global financial giant Capital One in the 2018 Brand Health Report. In 2017, Booz Allen ranked fifth for the Washington region.
Reputation and responsiveness matter
Among survey respondents, a recognizable company name and expectation of a positive work experience were among the top factors attracting a candidate to a company. Meanwhile, a poor reputation, negative company culture and lack of knowledge about a company were among the top things that turned candidates off.
"As a provider of services and solutions, we've always understood that our people are what set us apart," said Booz Allen Vice President of People Services Sarah St. Clair. "So we invest in our people and the things that support their growth with training and a chance to map and build their future."
Attracting the employees of today—and tomorrow
A reputation as a great place to work is a critical competitive advantage as well, especially for a business charged to solve complex management and technology problems.
"A company's recruiting funnel is just as important as their revenue funnel," said Mehul Patel, CEO at Hired.  "Candidate perception can make or break their ability to attract and hire the talent they need to continue innovating."
"Our clients expect innovative solutions in areas where there are no roadmaps," said Booz Allen Chief People Officer Betty Thompson. "We have to attract, retain and cultivate talented engineers, developers, architects, project managers, consultants and more, so they can harness their collective ingenuity to achieve great things for our clients, colleagues and communities."
These shared goals matter—especially in Washington, DC, where nearly half of respondents cited lack of interest in a company's mission as a reason to ignore a potential employer or move on.
"While compensation is often the number one factor that matters when evaluating a job opportunity, candidates also prioritize company culture and the teams they'll be working on," said Patel. "Booz Allen's candidate-centric approach to recruiting and culture makes them an attractive brand for tech talent."
Learn more about what Booz Allen is doing to attract talent and help employees grow, here.
1https://www.cbre.com/research-and-reports/Scoring-Tech-Talent-in-North-America-2018