Data Science, Donations, and Cyber Defense: How Booz Allen Helped Feeding America® Combat Hunger During COVID-19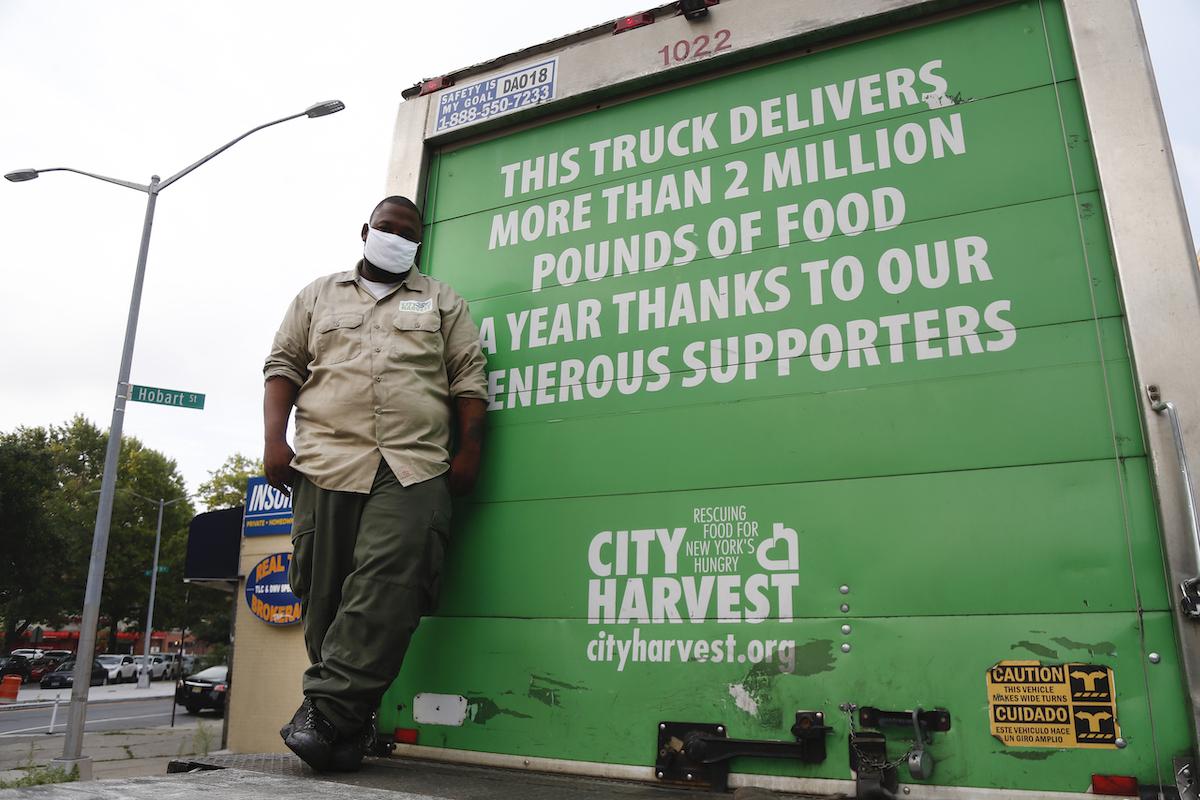 Booz Allen and the Booz Allen Foundation worked with Feeding America® over the past year to determine how to provide unique, critical support during a challenging time. Pictured here is Derrick Smalls, a driver with NYC's City Harvest Food bank.
Over the past year, the economic instability and health crisis of COVID-19 had a devastating impact on grocery budgets, health, and nutrition nationwide. As a result of the pandemic, more than 42 million Americans are projected to face food insecurity, a situation where members of a household lack consistent access to the food they need to live active, healthy lives.
Booz Allen worked with Feeding America® over the past year to determine how to provide unique, critical support during this challenging time. Highlights follow from this year of challenges, opportunities, and enduring partnership. 
Filling the school lunch gap
The first step was addressing the immediate needs of vulnerable populations. As part of its overarching COVID-19 pandemic response, Booz Allen and the Booz Allen Foundation each donated $1 million to support the efforts of Feeding America member food banks. 
Booz Allen and Feeding America targeted their efforts on ten regions where Booz Allen has a large employee base, including the Washington, DC metro area; Charleston, SC; San Diego, CA; and Huntsville, AL, donating $50,000 to each local Feeding America member food banks. The focus was ensuring support amidst COVID-19 in areas where firm employees live and work, including funds to help local Feeding America member food banks pivot to address challenges to feeding people in need during the pandemic, such as deploying mobile food pantries. 
The Booz Allen Foundation and its donations focused support on providing food to children outside of regular school settings, bridging the gap normally filled by school pantries, mobile distribution centers, snack sites, and weekend backpacks during non-lockdown times. The initiative met a critical need: In Fayetteville, North Carolina, for example, the food bank estimated that the $50,000 investment resulted in over 200,000 meals served.
"When communities across the nation were devastated by the onset of the COVID-19 pandemic—communities where our employees live and work—we knew we had to take action," said Christine Hoisington, leader of Booz Allen's Community Impact and Philanthropy team and Executive Director of the Booz Allen Foundation. "Through this partnership with Feeding America, we've been able to leverage our firm's capabilities, collective ingenuity, and the passion of our employee volunteers to address one of the biggest problems of the pandemic, and work with a critical organization to address these challenges in a way that's scalable, sustainable, and helps people who need it most."
Local Booz Allen offices also rallied to support Feeding America, in addition to the firm's overarching monetary donations and pro bono support. 
The Booz Allen New York City office held a virtual fundraiser pilot for the firm last summer that raised funds for two local Feeding America food banks—City Harvest and The Food Bank of NYC—setting a model for other offices and teams to follow.

The firm's Atlanta and San Diego offices ran their own fundraisers in support of their local member food banks—the Atlanta Community Food Bank and Feeding San Diego, respectively—raising thousands of dollars.

The Booz Allen Administrative Professionals Network selected Feeding America to be the beneficiary of their annual fundraiser, raising over $30,000.
"Hunger was in issue in every community in our country prior to the pandemic, and now millions more may face hunger. Feeding America is grateful to Booz Allen, the Booz Allen Foundation, and their employees for helping children and families when they need it most. Their support will make a difference for our neighbors who continue to face hardships during this challenging time," said Claire Babineaux-Fontenot, CEO of Feeding America.
Protecting surging donations from cyber threats 
As Americans became aware of the hunger crisis at the beginning of the pandemic, donations to Feeding America flooded in—increasing cyber vulnerabilities and potential risk. This is where the pro bono part of Booz Allen's COVID-19 philanthropic response came in.
To identify gaps in Feeding America's security governance, Booz Allen used its proprietary methodology from the Cyber Defense Accelerator, a holistic approach to cybersecurity that identifies control deficiencies against the threats that matter most.
The pro bono team worked with Feeding America to categorize the top cyber threats the organization faces in the context of Feeding America's critical business processes and mission. The team then used Booz Allen's Policy Calculator to prioritize mitigation needs and begin developing a targeted set of policies to support integration and security of partner food banks and the larger Feeding America infrastructure. 
"Feeding America was receiving donations that were at an all-time high and their systems were at the greatest risk for cyber threats," said Gary Barnabo, Booz Allen Principal in the firm's cyber market and Feeding America cyber project sponsor. "Our team was uniquely suited to jump in quickly to address the pain points—including large amounts of personal data from donors and corporate partners being loaded into an outdated, potentially insecure system—resulting in an increased confidence that Feeding America and its 200+ affiliates could continue to thrive by ensuing proper cyber governance in all locations." 
Feeding America now has an organized structure to guide cybersecurity and help implement the technology recommendations systematically with oversight. This will allow them to rewrite other guidance documentation, bringing all affiliates into a standard security posture, and supporting the organization's success by securing it against its biggest threats.
Using data science to source food donations 
After the successful cyber engagement and a series of conversations with Feeding America, Booz Allen identified food sourcing and prompt distribution as two of the largest challenges the organization's 200+ member food banks face. This became the partnership's second pro bono project.
The project leveraged Booz Allen's data science expertise to build a model that would help food banks identify, quantify, and track all food available in their service area. The initiative uses data sources that are readily available to food banks and relatively inexpensive to capture and distribute this information. 
While Feeding America does track the total amount of food donated, more information was needed on where there are opportunities to expand food recovery and collection. Members of the firm's Women in Data Science team quickly took on the challenge, creating a team to support the pro bono project and providing Feeding America with a methodology and supporting Excel tool to estimate the recoverable food at a local, state, or national level.
"It's kind of a match making process between potential food waste and the needs of those experiencing food insecurity," said Kate Helfet, Senior Associate in the firm's Strategic Innovation Group and senior advisor for this project. "Our data science and number crunching allow Feeding America to locate and maximize available food resources."
Learn more about Booz Allen's COVID-19 response and about data science and cybersecurity at Booz Allen.