CyberGrants Announces Record Breaking #GivingTuesday
Total contributions, employee participation, and NPOs benefiting reach record highs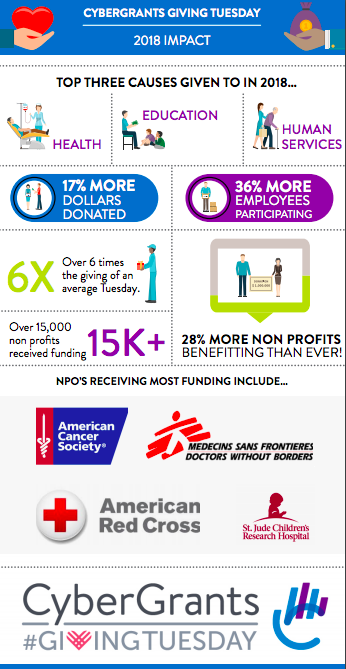 /*-->*/
ANDOVER, Mass., November 30, 2018 /3BL Media/ -- CyberGrants, the global leader in Agile Social Impact technology, is thrilled to announce another record breaking #GivingTuesday. Nearly one-third of all corporate giving and grantmaking is processed via CyberGrants, so their results are a good barometer for the corporate world's impact on Giving Tuesday.
Total Giving Tuesday contributions through CyberGrants reached an all-time high (+17% vs 2017), and other key metrics were up versus last year as well. More clients participated (+15%), more employees donated (+36%), and more organizations benefitted (+28%).
"Giving Tuesday is always our busiest day of the year and this year our clients took it to a whole new level," said Pete Karns, CyberGrants SVP Operations. "We saw another year of record giving, employee participation, and non-profit organizations benefiting. Our team always goes the distance to ensure we're prepared for the surge in generosity, and I'm thrilled with our ability to scale up our operations to support our clients and their non-profit partners."
Education, Human Services, and Health were the categories that received the most contributions, with leading NPOs like Saint Jude Children's Research Hospital, Doctors Without Borders, and the American Red Cross all in the top ten recipients. Thousands and thousands of smaller organizations benefitted as well. There were gifts to help virtually every member of society…including first responders, children, researchers, the homeless, animals, veterans, and even dancers.
"We're thrilled to provide donations to over 15,000 non-profits on Giving Tuesday alone, a 28% increase in the number of non-profits receiving funding from us on last year's Giving Tuesday," noted Jeff Summers, Chief Marketing Officer. "That's just one example of how clients achieve Agile Social Impact with CyberGrants. Not only is there nearly unlimited flexibility in regard to the organizations they can support, but many of our clients also choose to customize their programs for Giving Tuesday by doubling or even tripling their match for the day. That flexibility, combined with multiple ways to give (e.g. online, ACH, credit cards, payroll deductions) really helps clients maximize their impact on Giving Tuesday and throughout the year. We expect these dramatic growth rates to accelerate even further with our recent breakthroughs in Viral Engagement, an approach that maximizes employee participation through personalized dashboards, gamification, and live activity feeds." Learn more about CyberGrants Viral Engagement.
Giving Tuesday is just the start of giving season for CyberGrants and their clients. The company expects to process an additional $600+ million before the end of the year.
About CyberGrants
CyberGrants gives you the most complete and trusted way to maximize the impact of your Corporate Social Responsibility efforts so you can achieve Agile Social Impact. For nearly 20 years, our business has been to provide innovative software and services in the most secure and efficient way. We have hundreds of clients, including over half of the Fortune 100. In the last twelve months alone, we have processed over $6.5 billion and more than 50 million volunteer hours. Nearly one-third of corporate giving is processed using CyberGrants software. We connect the world's givers of time, money and products to those who can benefit from them most. No matter how complex your needs or programs, CyberGrants is the only technology partner with a proven unified platform that can transform all of your initiatives into genuine impact. www.cybergrants.com
Contact Information:
Liz Bardetti
(978) 289-7895
liz.bardetti@cybergrants.com