The Cyber Millennial Network: A Social Experiment
The Cyber Millennial Network: A Social Experiment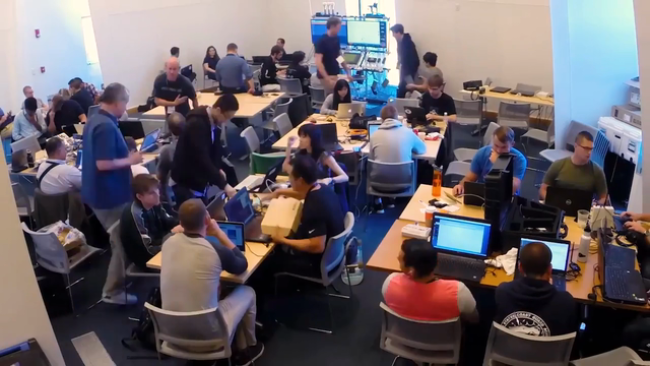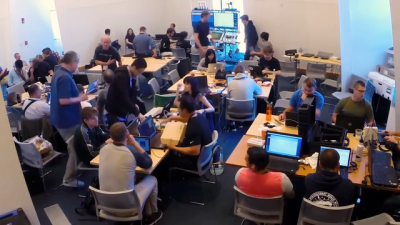 Monday, November 20, 2017 - 2:05pm
In an age of digital warfare, maritime cybersecurity is a rising commercial and military concern. How do you inspire an innovative generation to engage in meaningful conversations with the U.S. Navy about national cyber security in a way that will have a positive effect in a changing world? Insert HACKtheMACHINE – a week-long digital experience that convenes talented students, tech elites, entrepreneurs and members of the military to tackle cyber warfare in defense of our nation.
America's most talented and innovative software engineers, data scientists and security researchers may not work for the U.S. Navy. However, if we want our very best minds solving the most vexing digital security challenges of today and the future, then the Navy needs to deploy a new way to engage these tech-savvy cyber enthusiasts in a way that excites them and meets them where they are.
HACKtheMACHINE is designed to frame a few Navy challenges in a fun, competitive format with the larger goal of exposing the next generation of tech elites to the Navy's problems and getting them to see that tackling digital warfare for the government can be cool.
Held at MIT's Computer Science and Artificial Intelligence Laboratory (CSAIL) in Boston this past September, HACKtheMACHINE is the brainchild of Commander Zac Staples, director of the NPS Center for Cyber Warfare and Booz Allen Principal Brian MacCarthy.
"The power of HACKtheMACHINE is that it is not innovation theater, it's people getting together and doing something different instead of just talking about it. We aren't working on fake problems: these are real word challenges in actual maritime hardware. We are using actual data sets from engine rooms all over the world, and we are tackling a problem on disaster relief that couldn't be more timely than it is now," said Staples.
Whether using the world's first maritime electronic test bed developed by Booz Allen to conduct cybersecurity research, or employing VR to better support disaster relief efforts, HACKtheMACHINE innovators did not shy away from the toughest maritime security problems faced by the Navy.
"Leveraging a best practice from Silicon Valley, we designed a basic hackathon format in order to move the Navy away from a demonstration event like the Blue Angels. This interactive event allows participants to engage with systems and data they would normally not have access to outside of HACKtheMACHINE," said MacCarthy.  "And, what we get out of this is a community of practice at the intersection of artificial intelligence, cyber, and the maritime environment that is thinking, talking and writing about how to quickly tackle the Navy's missions of sea control and maritime domain awareness."
Known as "Blue Angels for Geeks," the Boston event was the third of its kind, with previous events held in Austin, TX and in San Francisco, CA. The Navy strategically hosts the hackathons at technological hubs, instead of military bases, to attract an emerging group of highly-skilled technology and software experts.
"The real win for HACKtheMACHINE is being able to bring real DoD mission challenges on embedded systems, not just bug bounties to a community of interest, the challenge now is to demonstrate those capabilities through MVPs working in partnership with startups in the community," MacCarthy continued.
Interested in learning about how Booz Allen is using emerging technologies to think through tomorrows biggest threats? Check out this video.