Cummins Inc. Employees Diverting Tons of Single Use PPE Waste From Landfills Each Year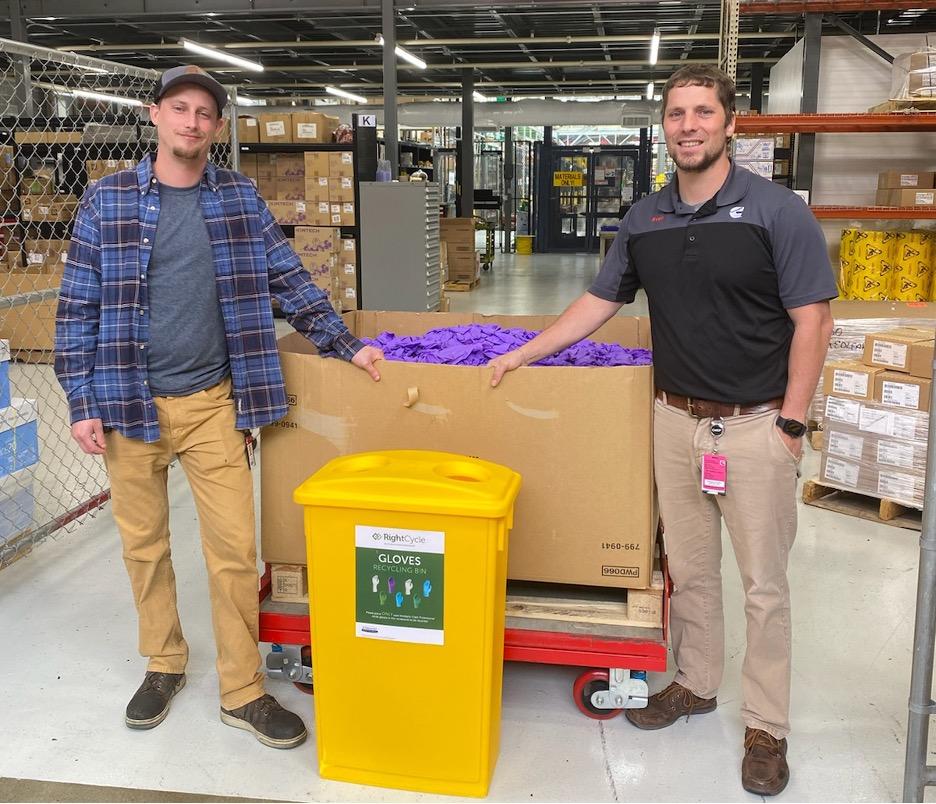 Continuous Improvement Leader, Clayton Johnson (left), and Materials Manager, Sven Creutz (right), stand next to a nitrile glove recycling container they implemented as part of the initiative. The receptacles are placed at every glove station in Columbus Mid-Range Engine Plant.
In April of 2022, Columbus Mid-Range Engine Plant (CMEP) Materials Manager, Sven Creutz and Continuous Improvement Leader, Clayton Johnson, implemented a nitrile glove recycling program to divert waste from landfills.
Since the program launched, the plant has gathered and shipped 1 ton of gloves to the Kimberly-Clark Professional RightCycle facility. If the plant continues to use an average of 530 cases of gloves they typically go through in a year, they could expect to divert almost 3.75 tons of waste from landfills each year.
What are nitrile gloves?
Nitrile gloves are a standard PPE practice in many food, industrial, and chemical lab environments. Made from the compound nitrile, these synthetic, rubber gloves are particularly popular due to their chemical and abrasion resistance. They are water, grease, and oil proof, often making them the top choice in gloves, over others like latex, for occupations working long hours and exposed to harmful substances.
How are nitrile gloves used at CMEP?
For plant employees, nitrile gloves work as a second barrier to protect Cummins employees from exposure to harmful chemicals and injury as they inspect the Cummins 6.7-liter diesel engine.
Every hour, plant employees switch their gloves as a requirement to adhere to strict product quality standards. While use of the gloves protects employees and products, the waste produced can be large.
Nitrile gloves are a single-use PPE item; after first use, they cannot be worn again for protection against harmful substances potentially left on the surface.
In one year, 800 Columbus Mid-Range Engine Plant employees can go through over 530 cases of nitrile gloves, equating to roughly 875,000 gloves.
The impact of the nitrile glove recycling program
Kimberly-Clark Professional, global corporation dedicated to producing consumer and company safety, healthiness, and hygienic products, and one of the first manufacturers to offer a recycling program for non-hazardous PEE, partnered with the plant to recycle and repurpose their biodegradable nitrile gloves.
The Columbus Mid-Range Engine Plant is able to achieve key 2030 goals included in Cummins' PLANET 2050 strategy by creating a circular lifecycle for materials as well as generating less waste in facilities and operations through the recycling program.
-END