CooperCompanies Publishes 2022 Environmental, Social, and Governance Report, Shares Progress on Creating Value for Stakeholders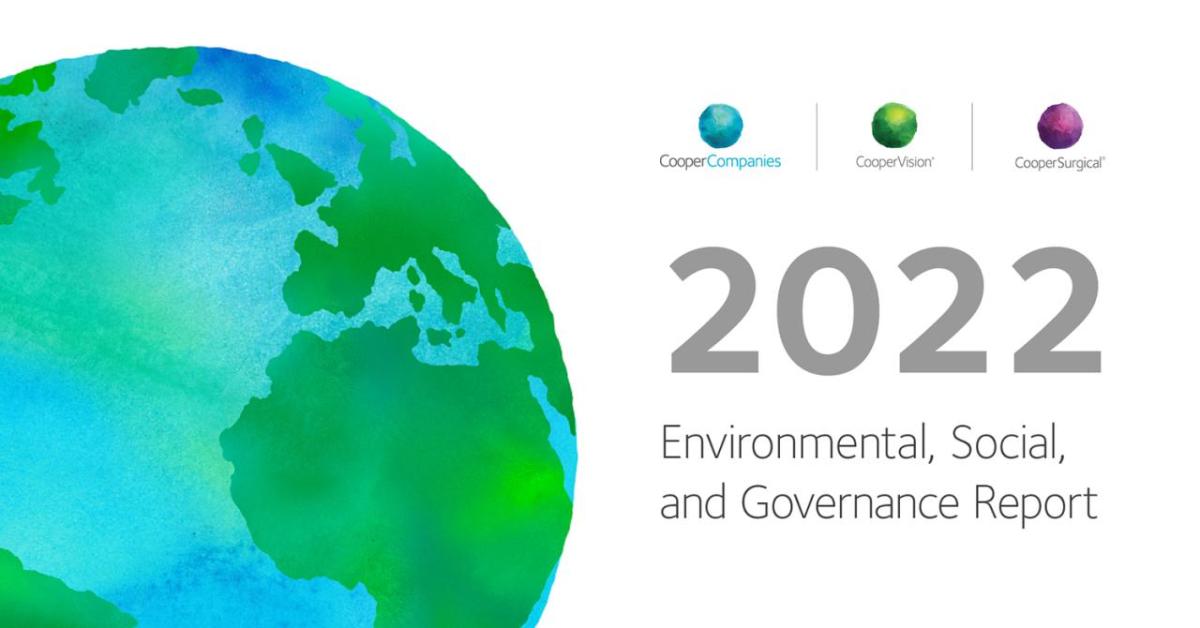 CooperCompanies ("Cooper") (NYSE: COO) today released its 2022 Environmental, Social, and Governance (ESG) Report. It highlights the company's progress on social and environmental issues most important to its businesses and stakeholders, including employees, shareholders, customers, and global communities.
In 2022, CooperCompanies manufactured a record number of products while reducing greenhouse gas (GHG) emissions by more than 7%. A big contributor to this success was the start of the operation of a combined heat and power (CHP) facility in Puerto Rico. The company expects the CHP system to help significantly reduce its carbon footprint in the coming years.
"At CooperCompanies, we are committed to working diligently to positively impact the world around us," said Al White, President and CEO of CooperCompanies. "In 2022, we continued making great progress and we're proud of the success we've had, and the direction in which we're moving. Conducting business in a socially and environmentally responsible manner is important to our long-term business success, and to the future of our planet."
The 2022 ESG Report includes expanded and updated ESG performance data and provides stories across the company's ESG pillars: People, Planet, and Partnerships. The report is aligned with the Sustainability Accounting Standards Board (SASB) Standards, a leading framework that identifies important ESG issues most relevant to investors.
Key highlights from the report:
Environment

8 facilities LEED® or BREEAM® certified
Prevented the equivalent of more than 100 million plastic bottles from polluting the oceans through company's focus on plastic neutrality1
100% renewable electricity sourcing at all key facilities in New York and the UK

Social 

Women made up 49% of our global workforce
Scored 100% on the Human Rights Campaign Foundation's 2022 Corporate Equality Index
$1.5 million raised to date for Optometry Giving Sight, providing eye exams for 300,000 people

Governance 

50% Board gender diversity
Executive Leadership participation in ESG and a dedicated cross-functional ESG team; the Board of Directors oversees ESG topics
Read more in the Cooper 2022 ESG Report: https://coopercos.com/esg/.
About CooperCompanies
CooperCompanies ("Cooper") is a global medical device company publicly traded on the NYSE (NYSE: COO). Cooper operates through two business units, CooperVision and CooperSurgical. CooperVision brings a refreshing perspective on vision care with a commitment to developing a wide range of high-quality products for contact lens wearers and providing focused practitioner support. CooperSurgical is committed to advancing the health of women, babies, and families with its diversified portfolio of products and services focusing on medical devices and fertility and genomics. Headquartered in San Ramon, CA, Cooper has a workforce of more than 14,000 with products sold in over 100 countries. For more information, please visit www.coopercos.com.
1 Net plastic neutrality is established by purchasing credits from Plastic Bank. A credit represents the collection and conversion of one kilogram (kg) of plastic that may reach or be destined for waterway. CooperVision purchases credits equal to the weight of plastic in participating brand orders in a specified time period. Plastic in participating brand plastic is determined by the weight of plastic in the blister, the lens, and the secondary package, including laminates, adhesives, and auxiliary inputs (e.g., ink). For calculation purposes, Plastic Bank uses 1 kg of plastic to equal 50 bottles.
Media Contact:
Kim Duncan
CooperCompanies