Community Investment Program Success Includes Measurement at the Design Stage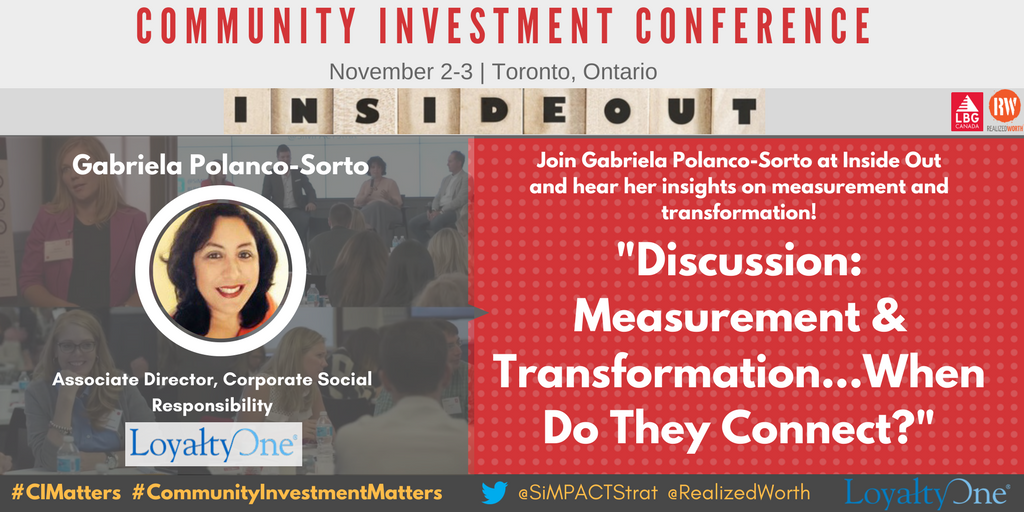 TORONTO, October 26, 2017 /3BL Media/ - Gabriela Polanco-Sorto, the Associate Director of Corporate Social Responsbility at LoyaltyOne, will share recent experience relaunching a community investment program specifically designed to engage employees at the Toronto conference Inside Out: A Transformative Approach to Community Investment. Her remarks will specifically address how thinking 'measurement' at the design stage enhanced overall program design.
Inside Out is a future-looking conference designed to advance the practice of how companies invest in community. As many companies today are seeking ROI through community investment, participants of the conference will have the opportunity to explore how business priorities such as diversity and inclusion, employee wellness, and employee engagement can be advanced through community investment. Inside Out will emphasize the skills and knowledge needed to achieve impact: in community, upon employees, and ultimately throughout the entirety of their companies or organizations. 
"Inside Out is designed for companies seeking to impact community," says Stephanie Robertson, CEO & Founder of SiMPACT Strategy Group. "This way of thinking encourages companies to focus the skills, talents and ambitions of employees on opportunities that have greater community impact. Thinking about measurement is essential for companies to experience success."
In 2016, Polanco-Sorto received clear direction to relaunch LoyaltyOne's community strategy such that it achieved community impact objectives and engaged employees.  While the ideal end result was identified up front, community partners were invited to bring forward ideas on how their work could contribute to achieving LoyaltyOne objectives.  The end result was a collaborative process that saw new ideas integrated into the LoyaltyOne strategy. 
"Our CEO shared his vision for our community investment strategy. He asked us to identify a theme for our community investment program, a theme where we could have a real, tangible impact and leverage our associates' interest and passions," said Gabriela Polanco-Sorto. '"We now have a program focused upon community impact and a tangible strategic purpose."
Community Investment has a role to play in addressing vital corporate priorities. Join Canadian and international peers on November 2-3, 2017 in Toronto. Think Inside Out.
For more information, please call Arundel Gibson at (416) 642-5461. Or visit: https://www.lbg-canada.ca/news/conference/.
Register for Inside Out: A Transformative Approach to Community Investment: https://www.eventbrite.ca/e/inside-out-a-transformative-approach-to-community-investment-tickets-36789460266
About the Co-Organizers
LBG Canada is a network of professionals guiding community investment, CSR and social engagement strategies on behalf of many leading companies. Each year, the LBG Canada network assembles for the purpose of advancing the practice of community investment through information sharing, peer-led discussion and data analysis. For more information on LBG Canada, please visit: www.lbg-canada.ca.
Realized Worth is a global consulting firm offering design and implementation support for employee volunteering programs. Now, Realized Worth offers an online learning platform that focusses on empowering the leadership of employees to grow and scale programs through training and certification. For more information on Realized Worth, please visit: https://www.rlzdwrth.com/who-we-are.
About the Venue
Inside Out will be hosted by LoyaltyOne, within the new, state-of-the-art Globe and Mail Centre in Toronto.
Located in the emerging hub of urban activity and corporate head offices on King Street east of Sherbourne Street, the 500,000 square foot, 17-storey office tower targeting LEED® Gold was designed by award-winning Toronto architectural firm, Diamond Schmitt Architects. The Globe and Mail Centre is within walking distance of the Distillery District, St. Lawrence Market, Toronto's Waterfront, Union Station and other modes of transportation. Just minutes from the downtown core, The Globe and Mail Centre offers elegant spaces with panoramic city and lake views.
-30-