Common Impact Names Alana Francis de Govia Chief Programs Officer
Seasoned Global Social Sector Veteran to Direct and Expand Program Initiatives for Skills-Based Volunteer Leader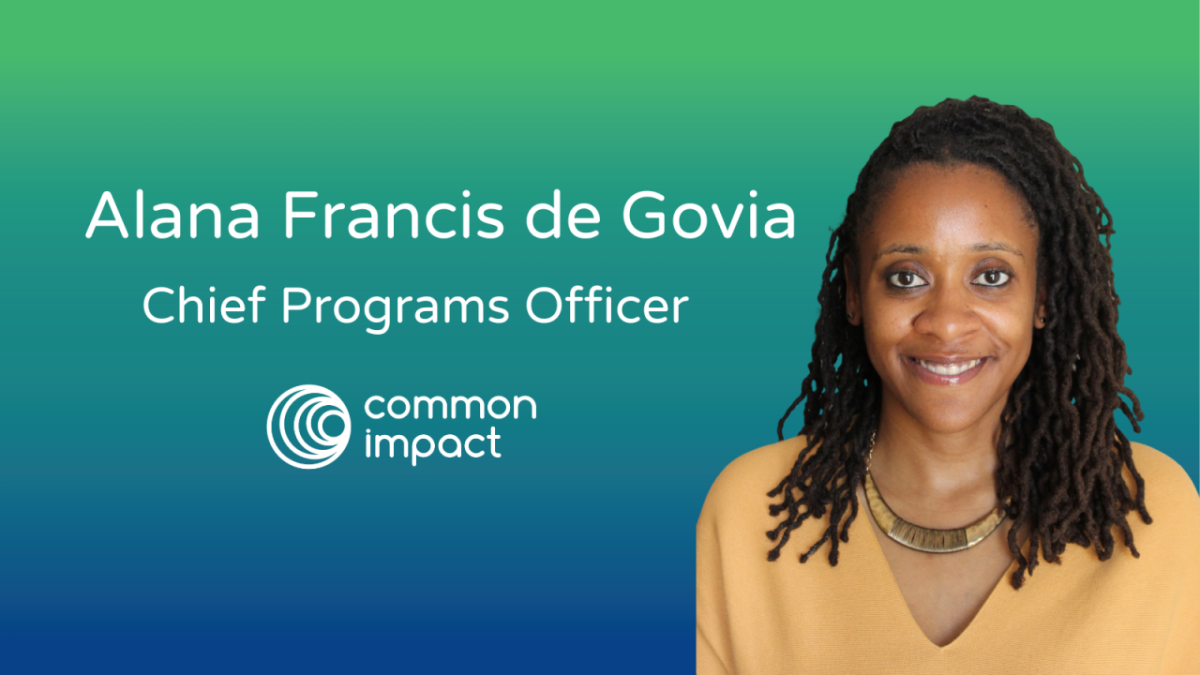 Today, Common Impact, the nonprofit pioneer and leader in skills-based volunteerism, announced the appointment of Alana Francis de Govia as Chief Programs Officer.
Alana Francis de Govia is an action-orientated leader with two successful decades of experience in the global nonprofit sector, developing strategy, social impact and cultural programs, and partnerships. At Common Impact, she will manage and expand the firm's programs, including their consulting work with Fortune 500 companies and key social change organizations as well as their field-building efforts targeting areas where skilled-based volunteering can play a stronger role in incubating new ideas, models, and initiatives for change. She will report directly to Leila Saad, CEO of Common Impact.
"We are proud to announce Alana Francis de Govia as the newest member of our leadership team," said Leila Saad, CEO of Common Impact. "Since 2000, Common Impact's innovative programs have continued to break new ground across all industry sectors and in communities both large and small. Alana's deep background in global social sector leadership and corporate social responsibility will be a huge asset to our organization as we continue to build out our unique offerings to service new regions."
Prior to joining Common Impact, Alana Francis de Govia was Chief Program and Experience Officer for the Africa Center in Harlem, New York City, where she led the design of hundreds of new public programs and experiences, playing an instrumental role in the organization's turnaround and growth. In the past, she also served as a Senior Program Advisor with Keep a Child, a global operating foundation founded by Alicia Keys; as a Technical Officer managing programs and corporate partnerships across Africa and Asia for the Elizabeth Glaser Pediatric AIDS Foundation; and as a Program Coordinator for Columbia University's ICAP Program in Lesotho. She began her career as a Teach for Africa fellow with the International Foundation of Education and Self- Help in Dalaba, Guinea, and with Santo Egidio at the Polano Canico health center in Maputo, Mozambique.
"I am excited to be joining Common Impact at this pivotal time in their expansion and development," said Francis de Govia. "I look forward to working with Common Impact's incredibly talented and passionate team and translating the organization's unique vision and brand into impactful and innovative programs that support sustainable change."
Alana Francis de Govia will be based at Common Impact's headquarters in Brooklyn, New York. She holds a Bachelor of Arts in International Studies from American University in Washington D.C., and a Master of Science from the London School of Hygiene and Tropical Medicine. She also serves as an Advisory Board Member on the Design Thinking Certificate Program at Pace University Lubin School of Business.
###
About Common Impact
Common Impact is a national nonprofit that works to build a society in which individuals and businesses invest their unique talents towards a shared purpose: strengthening the local communities in which we live and work. Founded in 2000, Common Impact has partnered with Fortune 500 companies and hundreds of the country's leading nonprofit organizations to create transformational change through skills-based volunteering. Learn more about Common Impact's services, impact, and clients.