Common Impact and Charles Schwab Scale Annual Pro Bono Challenge to 9 Cities
The Pro Bono Challenge, one of the largest annual skilled day of service events in the country, provides skills-based consulting support for local nonprofit organizations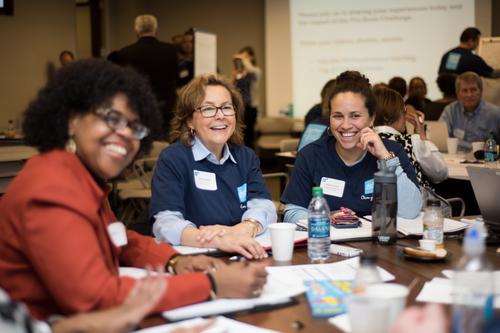 October 19, 2017 /3BL Media/ -- Common Impact, a nonprofit that pioneered corporate skills-based volunteering, teams up with Charles Schwab to launch their 4th annual Pro Bono Challenge, a skills-based flash consulting event where Schwab employees utilize their talents and expertise to support local nonprofit organizations in building capacity to serve the community. This year, the initiative will reach new scale, spanning across 9 regions and engaging nearly 400 employee volunteers and 65 nonprofits. Schwab volunteers will address nonprofit challenges across a variety of functional areas, with the greatest demand in Client Relations, Technology, and Marketing.
This scale of this year's Pro Bono Challenge represents a deep investment in service that will create long-term, sustainable solutions for Charles Schwab's nonprofit partners.
"Common Impact is focused on creating opportunities that drive transformational versus transactional social impact for our nonprofit partners," said Danielle Holly, CEO of Common Impact. "What makes skills-based volunteering different and important is that when it works, it knits together the expertise and resources from the corporate and nonprofit sectors to create strengthened sustainable solutions that don't come undone when partners part ways."
Through the Pro Bono Challenge, Charles Schwab is deepening its investment in signature nonprofit partners across the country. Eleven Boys & Girls Clubs, four Dress for Success chapters, two Habitat for Humanity chapters and two Junior Achievements, along with a number of regional grantees, will benefit from skilled volunteer support as part of this year's events.
"We aim to go deep with these deserving organizations by offering the collective skills of our talented employees to build the capacity of our nonprofit partners," said Carrie Schwab-Pomerantz, President of Charles Schwab Foundation. "The Pro Bono Challenge events are an extension of Schwab's culture of service and serve as another way we can help strengthen these organizations and amplify their impact on the communities they serve."
Seeking to scale the impact of the Pro Bono Challenge beyond the nonprofits that attend an event in-person, Common Impact and Charles Schwab launched a new initiative this year in partnership with Boys & Girls Clubs of America. The work that Charles Schwab volunteers complete with participating Boys & Girls Club affiliates at a Pro Bono Challenge event will be assembled into a virtual playbook so that deliverables can be shared with the full Boys & Girls Club network of 4,000+ organizations. The projects completed will align with Boys & Girls Clubs of America's national strategic plan, Greater Futures 2025, and will support local clubs across the country to make headway on the national strategy.
"Many Boys & Girls Clubs face similar business challenges on a local level," said Tim Hogan, National Director of Corporate & Cause Partnerships at Boys & Girls Clubs of America. "By partnering with Charles Schwab and Common Impact we will be able help Boys & Girls Club organizations customize and operationalize a common strategic vision, which will ultimately strengthen the capacity of Clubs across the country."
About Common Impact
Common Impact is a nationally-recognized nonprofit that works to build a society in which individuals and businesses invest their unique talents towards a shared purpose: strengthening the local communities in which we live and work. Founded in 2000, Common Impact has partnered with Fortune 500 companies and hundreds of the country's leading nonprofit organizations to create this transformational change through skills-based volunteering. For more information about Common Impact's work, visit "The Promise of Skills-Based Volunteering," published in the Fall 2017 issue of the Stanford Social Innovation Review. Follow us on Twitter, Facebook, and LinkedIn.
About Charles Schwab
At Charles Schwab, we believe in the power of investing to help individuals create a better tomorrow. We have a history of challenging the status quo in our industry, innovating in ways that benefit investors and the advisors and employers who serve them, and championing our clients' goals with passion and integrity. More information is available at www.aboutschwab.com. Follow us on Twitter, Facebook, YouTube and LinkedIn.
Inquiries please contact Lauren Chasanoff (lchasanoff@commonimpact.org).