Comerica Ranked No. 40 Most Sustainable Company in the World by Corporate Knights
Comerica Ranked No. 40 Most Sustainable Company in the World by Corporate Knights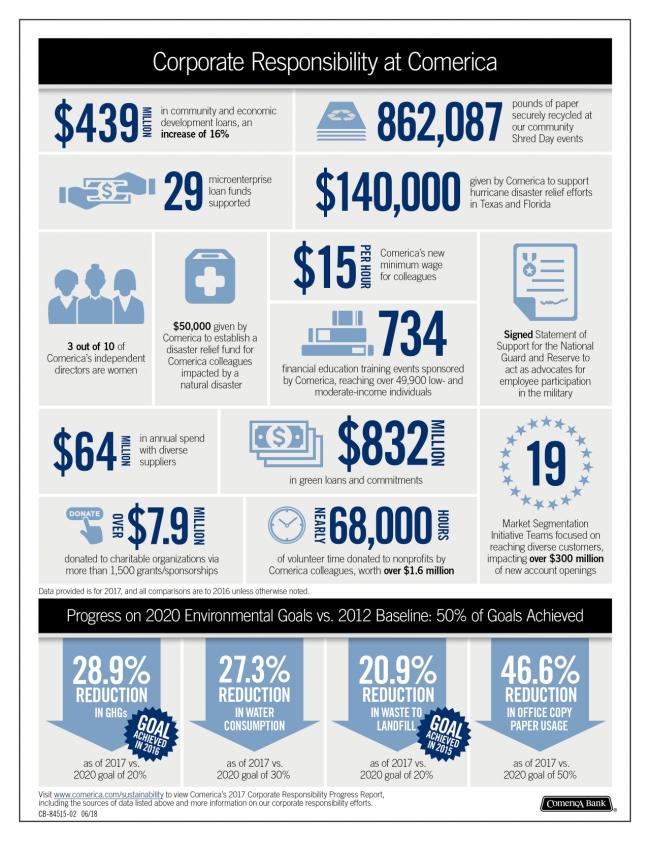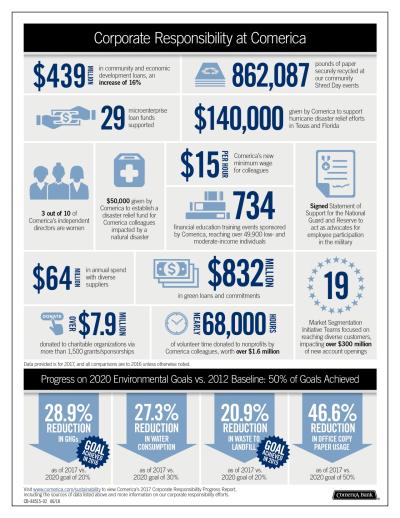 Wednesday, February 13, 2019 - 12:10pm
DALLAS, February 2019 /3BL Media/ – Comerica Incorporated (NYSE:CMA) has been recognized as one of the 2019 Global 100 Most Sustainable Corporations by Corporate Knights, a media and investment research company. Corporate Knights released its 15th annual list of the world's 100 most sustainable corporations in Davos, Switzerland in connection with the World Economic Forum.
Comerica is rated No. 40 on the Global 100 and is the top-rated U.S. bank. The listing is the result of a rigorous analysis of some 7,500 companies with more than $1 billion in annual revenue. The Global 100 evaluates companies on a wide range of environmental, social and governance (ESG) issues including clean revenues, compensation equity and board diversity.
"We're honored to be included in this year's list of global sustainability leaders," said Comerica Chairman and Chief Executive Officer Ralph W. Babb Jr. "At Comerica, sustainability is a priority, and we strive to assist our customers and the communities we serve in meeting their sustainability goals. The Global 100's focus on clean revenue aligns with our efforts to support our customers in the greening economy."
According to the Toronto-based sustainable business magazine and research company's latest data, the financial performance and corporate longevity of the Global 100 companies supports the mounting case that sustainable corporate performance is consistent with equal or better returns for investors and greater corporate longevity. "The Global 100 companies show that doing what is good for the world can also be good for financial performance," said Toby Heaps, chief executive officer of Corporate Knights.
"Comerica takes a value creation approach to sustainability by acknowledging the interconnected nature of environmental, economic, social and governance performance," said Scott Beckerman, senior vice president and director of Corporate Sustainability. "Comerica supports companies in 13 different green loan categories, with more than $772 million in loans and commitments in 2018. By supporting our customers in clean revenue industries, we are helping to conduct business in a manner that meets the current needs of all people, without compromising the ability of future generations to meet their needs. It's yet another way we raise your expectations of what a bank can be."
Learn more about Corporate Responsibility at Comerica by visiting comerica.com/sustainability or downloading our most recent corporate responsibility report here. More information on the Global 100 can be found at: corporateknights.com/reports/global-100.
About Comerica:
Comerica Incorporated (NYSE: CMA) is a financial services company headquartered in Dallas, Texas, and strategically aligned by three business segments: The Business Bank, The Retail Bank, and Wealth Management. Comerica focuses on relationships, and helping people and businesses be successful. In addition to Texas, Comerica Bank locations can be found in Arizona, California, Florida and Michigan, with select businesses operating in several other states, as well as in Canada and Mexico.
About Corporate Knights:
Corporate Knights Inc. includes the sustainable business magazine Corporate Knights and a research division that produces rankings and financial product ratings based on corporate sustainability performance.
About the Global 100 Most Sustainable Corporations in the World:
The Global 100 is an annual project initiated by Corporate Knights, the company for clean capitalism. Launched in 2005, the Global 100 is announced annually on the sidelines of the World Economic Forum in Davos.
# # #