Comerica Demonstrates Continued Commitment to Sustainability; Achieves All 2020 Environmental Sustainability Goals
Comerica Demonstrates Continued Commitment to Sustainability; Achieves All 2020 Environmental Sustainability Goals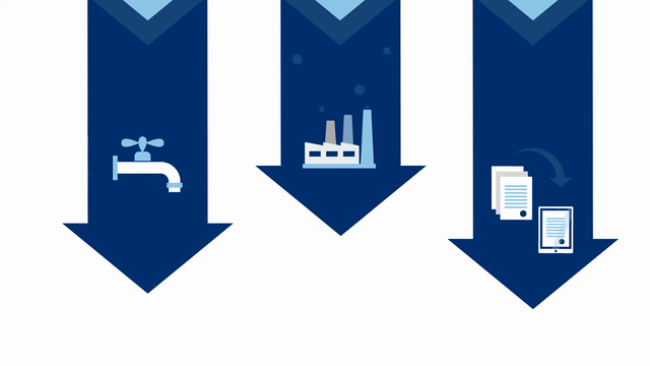 Friday, June 5, 2020 - 9:15am
Ahead of Comerica's 2019 Corporate Responsibility Report to be released later this month and in recognition of today's World Environment Day, Comerica is proud to announce it has achieved all its 2020 Environmental Sustainability Goals. Compared with a baseline of 2012, Comerica has:
Reduced greenhouse gas (GHG) emissions 48.1% compared with a goal of 20%
Reduced waste to landfill 30.3% compared with a goal of 20%
Reduced water consumption 33.3% compared with a goal of 30%
Reduced office copy paper consumption 56.3% compared with a goal of 50%
"We are pleased with the achievement of these goals and want to thank all our colleagues for their efforts in making us a more sustainable company," said Senior Sustainability Officer Kristin Bloser. "Our next generation GHG reduction goals of 50% by 2025, 65% by 2030 and 100% by 2050 will keep us motivated to continue to find ways to reduce our footprint and impact on the planet."
Recent recognition also shows Comerica's long-term commitment to the protection of the environment and communities, colleagues and customers that rely on the resources provided by a healthy planet. Comerica was included in the FTSE4Good index for a 11th consecutive year.  The FTSE4Good Index Series is designed to measure the performance of companies demonstrating strong environmental, social and governance (ESG) practices.
In addition, Comerica was named to Barron's list of the 100 most sustainable companies in the United States for the third consecutive year. The Barron's rating, supported by Calvert Research, analyzed the 1,000 largest public companies in the United States and assessed companies on five stakeholder categories: shareholders, employees, customers, community and planet. 
"Our continued recognition for Comerica's broad sustainability efforts reflects our long-term commitment to enhancing the lives of our customers and colleagues and supporting the communities where we do business," said Senior Vice President and Director of Corporate Sustainability Scott Beckerman. "Even against the backdrop of a global pandemic, we remain committed to corporate responsibility and honored by the recognition for our efforts."
To learn more about Comerica's sustainability progress, visit Comerica.com/sustainability.