Comerica Bank Shred Day Houston Provides Event Record 60,036 Meals for Less Fortunate
Comerica Bank Shred Day Houston Provides Event Record 60,036 Meals for Less Fortunate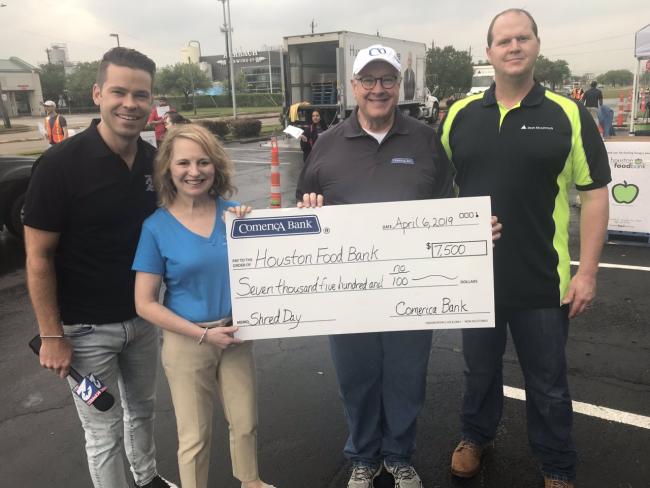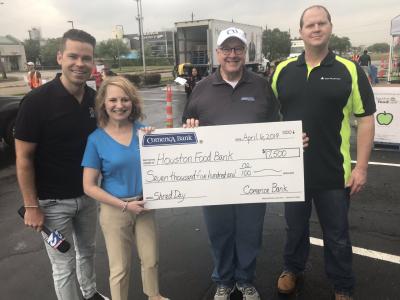 Thursday, April 18, 2019 - 1:25pm
HOUSTON, April 18, 2019 /3BL Media/ - Fifteen hundred Shred Day Houston guests donated 4,881 pounds of food and $18,656 in monetary donations, including a $7,500 contribution from Comerica Bank, to the Houston Food Bank, which helped provide an event record 60,036 meals for those in need. 
Comerica's partner Iron Mountain shredded 97,543 pounds of sensitive documents – all paper is recycled and turned into pulp after being securely destroyed.
Since 2013, Shred Day Houston has served 11,381 cars, shredded 851,034 pounds of paper, raised $78,045 and 42,854 pounds of food for an equivalent of 269,978 meals provided to the Houston Food Bank.
Shred Day, a Comerica signature community event also held in the Dallas, Detroit and Phoenix markets, has played an integral role in the bank's corporate sustainability initiative. Corporate Knights recently ranked Comerica, the top-rated U.S. bank, No. 40 on its 2019 Global 100 Most Sustainable Corporationslist.
ABOUT COMERICA BANK
Comerica Incorporated (NYSE: CMA) is a financial services company headquartered in Dallas, Texas, and strategically alligned by three business segments: The Business Bank, The Retail Bank, and Wealth Management. Comerica focuses on relationships, and helping people and businesses be successful. In addition to Texas, Comerica Bank locations can be found in Arizona, California, Florida and Michigan, with select businesses operating in several other states, as well as in Canada and Mexico. Follow on Comerica on Facebook at www.facebook.com/Comerica and Twitter @ComericaBank.