Comcast's Internet Essentials Partners with Gaming Personality Marcel Cunningham to Bring a Surprise to his Hometown Boys & Girls Club of South Puget Sound
Comcast's Internet Essentials Partners with Gaming Personality Marcel Cunningham to Bring a Surprise to his Hometown Boys & Girls Club of South Puget Sound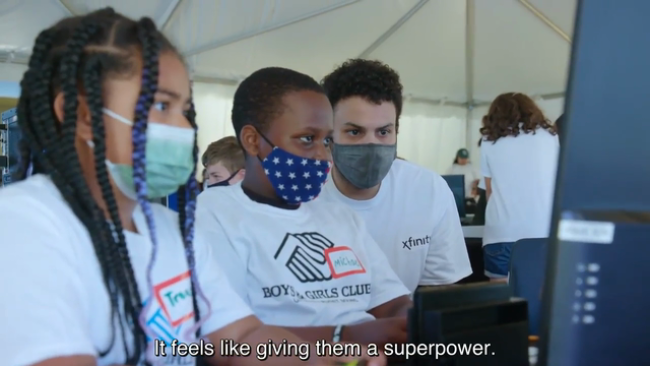 Wednesday, October 20, 2021 - 10:00am
On August 4, international gaming personality Marcel Cunningham, who goes by the name of BasicallyIDoWrk, returned to his hometown of Tacoma, Washington. In partnership with Comcast, Marcel surprised the students of the Boys & Girls Club of South Puget Sound Al Davies club, where Marcel spent much of his time growing up.
The day began with a conversation around healthy gaming habits, character and team building skills, and bullying prevention, which prepared the students for a fun, interactive video game competition between Marcel and the students. Afterwards, Marcel surprised the students by giving them each a free Dell laptop to take home, along with six months of free Internet service courtesy of Comcast and its Internet Essentials program.
Comcast also announced grants and technology donations to the Al Davies club in Tacoma as part of its ongoing commitment to help connect more students and families to the Internet.
Marcel, who has been a Comcast Business customer for over 10 years, is also part of Team Xfinity, a collection of streamers, content creators, and gamers who rely on Xfinity Internet to power all their gaming and streaming needs, connecting them with audiences across the world.