As Climate Risks Skyrocket, Largest Asset Managers Vote for More Climate-Related Shareholder Proposals, Tipping Support to Record Levels in 2021
As Climate Risks Skyrocket, Largest Asset Managers Vote for More Climate-Related Shareholder Proposals, Tipping Support to Record Levels in 2021

Tuesday, December 7, 2021 - 11:30am
By Rob Berridge, Senior Director, Shareholder Engagement and Ryan Taylor, Associate, Shareholder Engagement
Investor engagement on the climate crisis has swept up even the largest investors.
Not only did investors rack up record gains this year in supporting shareholder proposals aimed at getting companies to address climate change—with the most notable win being the successful battle to install three new climate smart directors on the board of ExxonMobil. But, just as critically, the market's largest asset managers were, for the first time ever, the ones driving these gains.
In a year when unprecedented floods, wildfires, and hurricanes across the U.S. led to hundreds of deaths and an estimated $125 billion in damages, it is clear that more investors than ever recognize the enormous financial risks posed by the climate crisis. Our analysis of voting on 49 climate proposals found that the historic success of climate-related shareholder proposals during the 2021 proxy season resulted in large part from a dramatic increase in votes for these proposals by the world's largest asset managers.
2021 brought a doubling in the number of climate proposals winning majority votes to 15 from seven last year. On average, asset managers voted in favor of 63% of the climate related shareholder proposals before them in 2021. Furthermore, nearly three-quarters of 58 large asset managers studied by Ceres voted in favor of more than half of the climate-related proposals before them. And the two largest asset managers, BlackRock and Vanguard, dramatically increased their votes in favor, helping to propel the historic success. This contributed not only the majority votes, but also to the average vote on climate-related proposals leaping to 41% this year from 31% last year.
This shift speaks to the strength of collaborative investor engagement. Investors who are signatories to Climate Action 100+, the largest investor initiative on climate change ever with 617 institutional investors managing a combined $60 trillion in assets, use shareholder resolutions as part of their engagement strategy with the world's highest greenhouse gas emitting corporations. BlackRock, Fidelity International, and State Street Global Advisors are part of Climate Action 100+. During the 2021 proxy season, Climate Action 100+ flagged, or recommended that investors consider, many of the shareholder proposals that ended up being successful.
As we head into the 2022 proxy season, this growing support from the largest asset managers for climate-related shareholder proposals is likely to play out even more broadly. A study by BlackRock found that companies almost always implement proposals that win majority votes. In addition, when a proposal gets a high vote, that puts significant pressure on other companies that might receive similar proposals the following year to reach agreements with the filing shareholders in advance of voting. As the physical impacts of climate change grow increasingly dire, the business risks and opportunities increase, which has more institutional investors ready to engage with companies on these issues.
Yet, even though the largest asset managers voted in favor of more proposals than past years and made their outsized influence felt, they still lag the voting support of their peers. Compared to most other asset managers, the four largest—BlackRock, Fidelity, State Street Global Advisors (SSGA) and Vanguard—voted for fewer climate proposals, data shows. Even though some greatly improved their voting records—for instance, BlackRock voted in favor of 41% of climate-related proposals it considered this year, compared with 10% last year—these four asset managers were all in the bottom quarter of our ranking. Here is a ranking of the world's largest 58 asset managers on how they voted on climate proposals.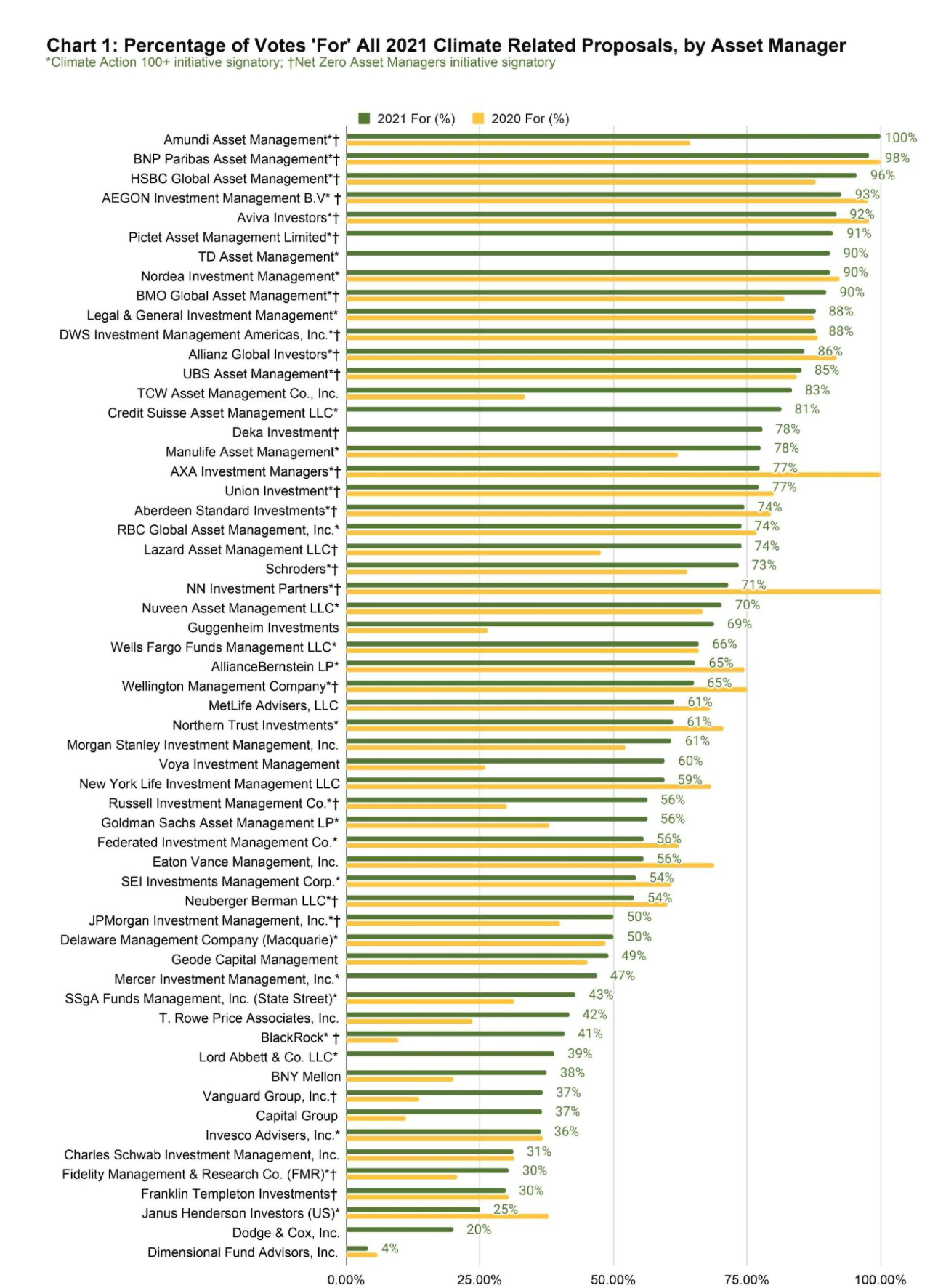 Analysis reveals that sixteen asset managers with a combined $36.4 trillion in assets under management pushed the climate-related proposals to their record levels of support in 2021 by raising the percentage of votes they cast "For" climate-related proposals. Eight also showed statistically significant increases, which suggests they likely changed their underlying approach to proxy voting on corporate climate risks.
Chart 2: Investors that Improved Voting in 2021 by at least 10 Percentage Points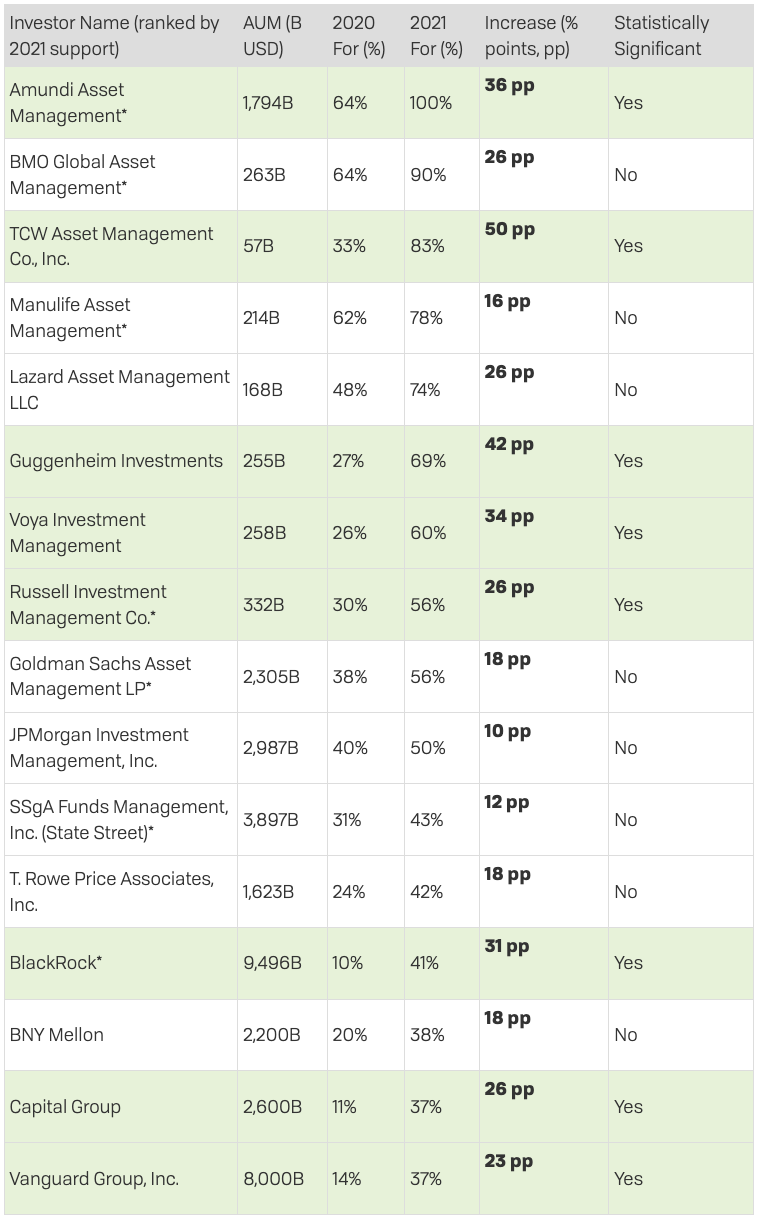 *Signatories to Climate Action 100+
BlackRock, Fidelity International and State Street Global Advisors are part of Climate Action 100+.
During the 2021 proxy season, Climate Action 100+ flagged 18 shareholder votes, including 14 proposals and four nominations for alternative directors at ExxonMobil put forth by the Engine No. 1 hedge fund. The 14 proposals received an average vote of support of 55% of shares voted, outperforming the 41% average vote garnered by all of this year's climate-related proposals. Asset managers overwhelmingly supported Climate Action 100+ flagged votes. Nine asset managers voted "For" every single flagged vote and all but four asset managers voted in favor of a majority of the flagged votes.
The table below shows how the asset managers voted on Climate Action 100+ flagged votes. Climate Action 100+signatories are indicated with an asterisk.
Chart 3: Investor Voting on 18 Climate Action 100+ Flagged Proposals
*Signatories to Climate Action 100+

What the climate-related proposals asked for in 2021
With concern rising about the economic and business implications of the climate crisis, investors filed shareholder proposals to encourage companies in their portfolios to plan for a net zero greenhouse gas emissions future that scientists say is needed by 2050 and the 45% reduction in emissions needed by 2030.
Proposals that received majority votes called for disclosure on deforestation, plastic pollution, climate lobbying, and energy transition plans and three winning votes called for reductions in greenhouse gas emissions. Two proposals requesting climate-risk disclosure in oil and gas companies' financial statements were both on the cusp of earning majorities.
For the second year in a row, the most common proposal that went to vote concerned climate lobbying disclosure, with 13 of 20 filed proceeding to a vote. Reflecting the importance of government policy in achieving climate goals, these lobbying disclosure resolutions garnered an average 47% vote in favor, up from 33% for these types of proposals in 2020. Six lobbying resolutions won majority votes, including two at ExxonMobil. Five of these asked companies to state how their lobbying was aligned with Paris Agreement goals.
The next most common proposals were requests for goals on greenhouse gas emissions reduction, with 45 proposals seeking emissions reduction goals filed and 11 of them voted on. Five won majority support. Another 34 proposals on emissions reductions resulted in companies agreeing to set goals and the shareholder thus withdrawing the proposal. This trend of companies agreeing with shareholders on goal setting is reflected in the global surge in corporate greenhouse gas commitments.
The sole forestry proposal voted on in 2021, which requested that soy producer Bunge report on efforts to eliminate deforestation from its supply chain, garnered a 98.9% favorable vote after receiving the support of management.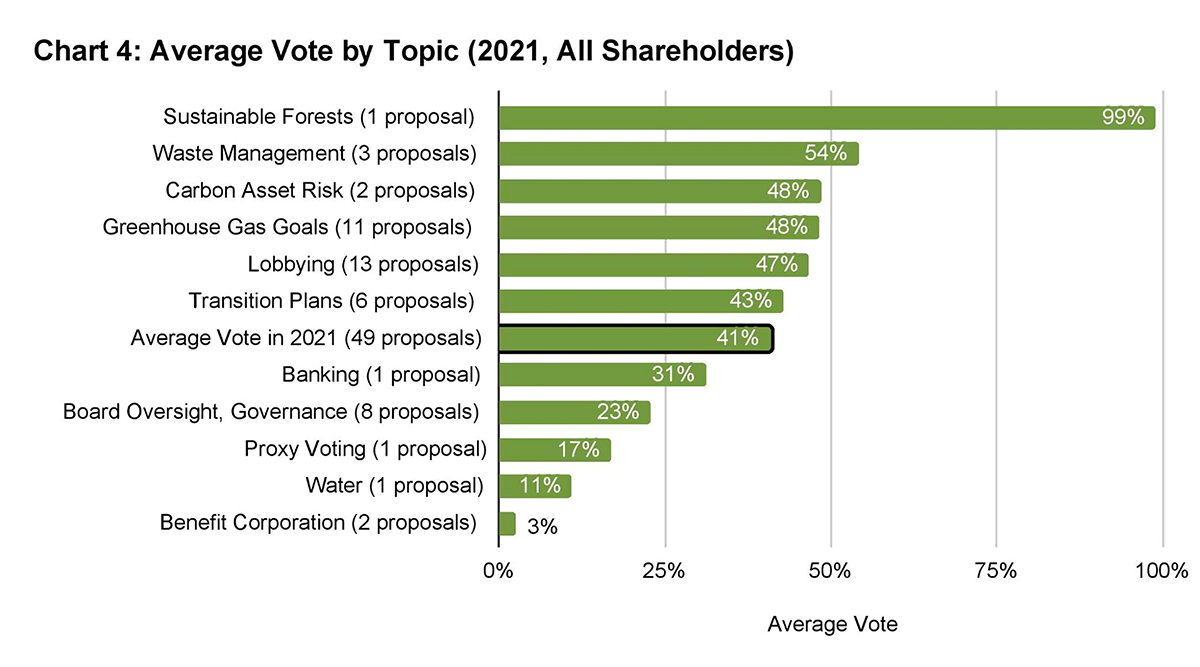 Our analysis uses data from Insightia, formerly Proxy Insight. Details on our methodology are here.
Conclusion
Our 2021 analysis shows that the vast majority of asset managers now vote in support of most climate-related proposals before them, and some of the largest asset managers, including BlackRock, SSA Funds Management (State Street), and Vanguard, which historically supported fewer votes on climate, are catching up.
The record-breaking gains in shareholders voting for climate-related proposals in 2021 brought climate issues within reach of a tipping point: with another year or two of similar improvement, the expected outcome for key climate-related proposals will be a majority vote.
Once this occurs, investors might be able to spur almost any North American company with significant climate risk (excluding companies in which inside ownership of shares allows companies to prevent majority votes) to take critical climate action steps, such as adopting science-based net zero emissions reduction goals, and issuing transition plans describing how they are meeting those goals.
As a class of investors, asset managers overwhelmingly supported climate-related proposals this year, and even the largest asset managers voted in favor of unprecedented numbers of them. A long overdue development, it nonetheless shows asset managers are finally diverging from company managers, who frequently recommend votes 'Against' these climate proposals in opposition statements included with the voting ballots.
Asset managers that remain in the lower half of the ranking on their support for climate related proposals missed an opportunity in 2021 to distinguish their investment stewardship in a year when ESG strategies attracted unprecedented asset inflows. If they continue to lag behind their peers on voting "For" climate-related proposals, they risk reputational and financial damage as momentum grows to address what is now recognized as a leading threat to companies, the global economy and to civilization.