Chief Executives for Corporate Purpose, Tata Consultancy Services, and PYXERA Global: Actualizing Sustainable Economies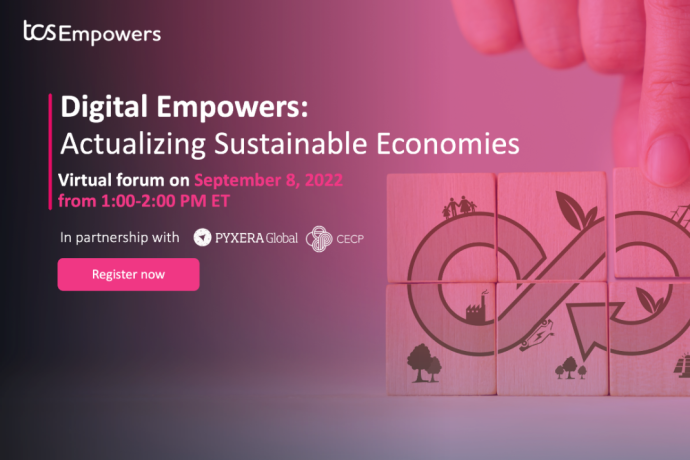 September 7, 2022 /3BL Media/ - Chief Executives for Corporate Purpose (CECP) in partnership with Tata Consultancy Services (TCS) (BSE: 532540, NSE: TCS) and PYXERA Global, announced a new slate of programs and events for Digital Empowers, a groundbreaking initiative that brings together organizations from different sectors to explore how transformative digital innovations can solve local and global challenges. A session happening tomorrow, Sep 8, 2022 at 01:00 PMET will discuss Actualizing Sustainable Economies.
As climate resilience actions continue to grow in response to our rapidly changing environment, organizations around the world have pledged to reduce emissions to minimize the impacts of climate change. According to the UN, more than 1,200 companies have aligned actions to reach net zero, meaning all emissions will be as close to zero as possible.
A circular economy, where waste is reused as a resource for new products, is a key strategy in moving towards a net zero system. For companies with physical products that are used by large segments of the population, a major focus has been on rethinking the product lifecycle to live within the limits of our planet. With the help of technology, organizations can extend the life of their products and move towards a circular economy.
In industries such as electronics, fashion, finance, and more, prolonging product life and transforming product lifecycles are a necessity to meet environmental goals. Join TCS in a global discussion on how technology can create a sustainable approach to product lifecycles across industries to meet our net zero targets.
Register here https://on.tcs.com/DE-Sustainable-Economies to join this important conversation.
####
About Chief Executives for Corporate Purpose (CECP)
CECP is a CEO-led coalition that believes that a company's social strategy — how it engages with key stakeholders including employees, communities, investors, and customers —determines company success. Founded in 1999 by actor and philanthropist Paul Newman and other business leaders to create a better world through business, CECP has grown to a movement of more than 200 of the world's largest companies that represent $11.2 trillion in revenues, $23 billion in societal investment, 14 million employees, and $21 trillion in assets under management. CECP helps companies transform their social strategy by providing customized connections and networking, counsel and support, benchmarking and trends, and awareness building and recognition. For more information, visit http://cecp.co.
About Tata Consultancy Services
Tata Consultancy Services is an IT services, consulting and business solutions organization that has been partnering with many of the world's largest businesses in their transformation journeys for over 50 years. TCS offers a consulting-led, cognitive-powered, integrated portfolio of business, technology and engineering services and solutions. This is delivered through its unique Location Independent Agile™ delivery model, recognized as a benchmark of excellence in software development.
A part of the Tata group, India's largest multinational business group, TCS has over 592,000 of the world's best-trained consultants in 46 countries. The company generated consolidated revenues of US $25.7 billion in the fiscal year ended March 31, 2022, and is listed on the BSE (formerly Bombay Stock Exchange) and the NSE (National Stock Exchange) in India. TCS' proactive stance on climate change and award-winning work with communities across the world have earned it a place in leading sustainability indices such as the MSCI Global Sustainability Index and the FTSE4Good Emerging Index. For more information, visit www.tcs.com
About PYXERA Global
Our goal is simple: to enrich lives and livelihoods worldwide, inclusively and sustainably.
For over thirty years, PYXERA Global has leveraged the unique strengths of corporations, governments, and social sector organizations to create groundbreaking partnerships that leverage the innovation in each to create meaningful change worldwide. For more information, visit https://www.pyxeraglobal.org