Chief Executives for Corporate Purpose and Tata Consultancy Services: Skills Development for the AI Era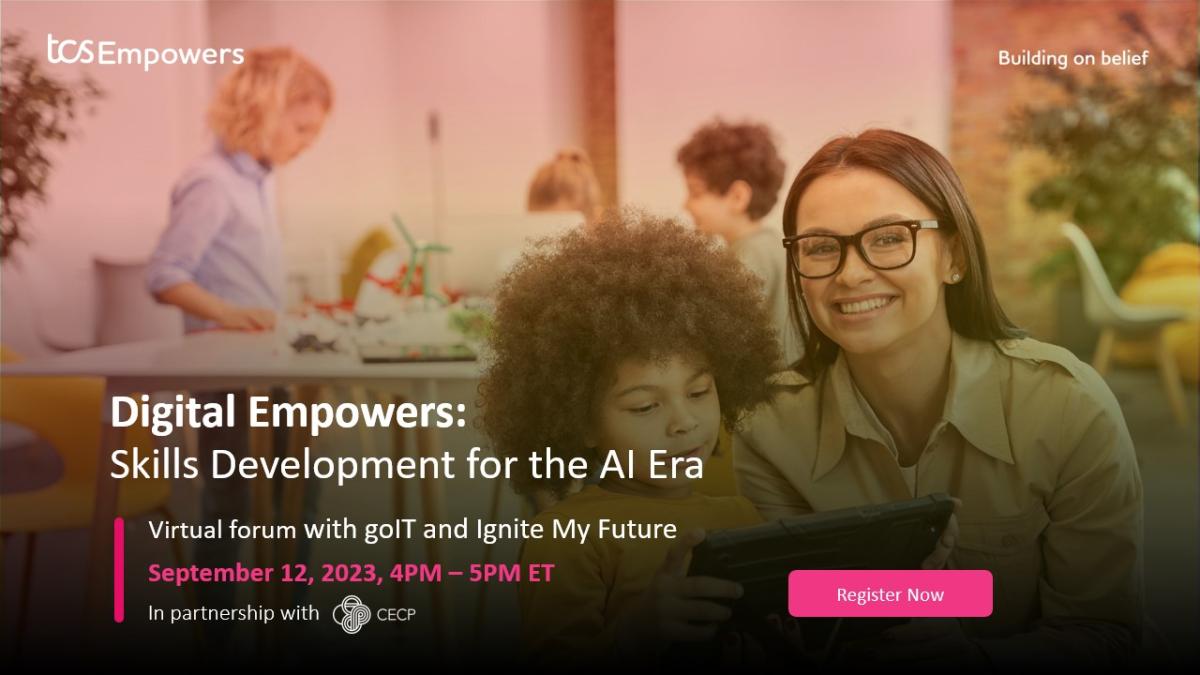 NEW YORK, September 8, 2023 /3BL/ - There is huge growth in the creation and use of Artificial Intelligence (AI), but there is also a global shortage of workers with the skills and experience using the technology in order to be competitive. And while many believe that AI can automate tasks and increase efficiency in both education and business, youth and adults alike need to "own" the type of critical thinking that supports adapting to this important new technology. Skills like design thinking, digital literacy, computational thinking, and more can help employees cultivate the mindsets needed to pursue careers in AI, and other technologies, as they continue to evolve and grow. Learners of all ages can use these tools to become innovators of technology, rather than merely its consumers.
Listen in next week on September 12, 2023, from 1:00-2:00 pm ET to learn more about the role of STEM education in equipping women, youth, and marginalized groups to be competitive in a rapidly changing world. We'll also help participants develop some of the skills needed to succeed in the future workforce and current AI era. Speakers include:
Dr. Chris Harris, Director, School Library System, ALA
Christine Kurjan, Futurist, Tata Consultancy Services (TCS)
John DiChiara, Senior Manager, Global goIT Program, Tata Consultancy Services (TCS)
Dr. S K Ramesh, Professor of Electrical and Computer Engineering at California State University Northridge
This virtual forum is the first in a series of four forums addressing our most pressing societal challenges as a part of the Digital Empowers program. Through Digital Empowers, Chief Executives for Corporate Purpose (CECP) has partnered with TCS to foster cross-sector collaboration using leading-edge technology and digital innovations to make progress on core social issues, such as the transition to a circular economy, food security, the future of work, access to healthcare, and more.
Register here to take part in this important conversation.
CECP Media Contact:
Katie Leasor
kleasor@cecp.co
####
About Chief Executives for Corporate Purpose (CECP)
Chief Executives for Corporate Purpose® (CECP) is a trusted advisor to companies on their corporate purpose journeys to build long-term sustainable value and tell their impact stories. Working with CEOs and leaders in corporate responsibility, sustainability, foundations, investor relations, finance, legal, and communications, CECP shares actionable insights with its CEO-led coalition.
Founded in 1999 by actor and philanthropist Paul Newman and other business leaders, CECP is a movement of more than 225 of the world's largest companies that represent $7.7 trillion in revenues, $37.4 billion in total community investment, 14 million employees, 22.5 million hours of employee engagement, and $21 trillion in assets under management. CECP helps companies transform their strategy by providing research, benchmarking, strategy, communications, and convening in the areas of societal/community investment, employee engagement, environmental social governance/sustainable business, diversity equity inclusion, and telling the story. For more information, visit http://cecp.co.
About Digital Empowers 
Digital Empowers brings innovators, leaders and representatives from different sectors together to explore how transformative digital technologies can help solve local and global challenges. Through its forums, collaborations and other initiatives, the program has sought to leverage collective genius and innovate for social good since 2018.
Annually, Digital Empowers and its partners provide business leaders and program subscribers with many opportunities to explore scalable and sustainable innovations that can contribute to a better future for all. It offers research, insights and news regularly, serving as a resource and idea hub for social innovation. The current program partner is Chief Executives for Corporate Purpose® (CECP). Sign up for the Digital Empowers newsletter at https://on.tcs.com/de_newsletter.
About Tata Consultancy Services (TCS)
Tata Consultancy Services is a purpose-led transformation partner to many of the world's largest businesses. For more than 50 years, it has collaborated with clients and communities to build greater futures through innovation and collective knowledge. The company's more than 614,000 consultants across 55 countries help empower individuals, enterprises, and communities. TCS Empowers, the company's Corporate Social Responsibility (CSR) effort, includes programs such as Digital Empowers, goIT, Ignite My Future and Tech4Hope. For more information, visit on.tcs.com/csr and follow TCS North America on LinkedIn and Twitter.