Chemours and First Community Foundation Partnership of Pennsylvania Recognized on the 2023 Faces of Philanthropy List by the Philadelphia Business Journal
THE HONOR RECOGNIZES CHEMFEST PROGRAM BENEFITING WILMINGTON, DELAWARE-BASED EASTSIDE CHARTER SCHOOL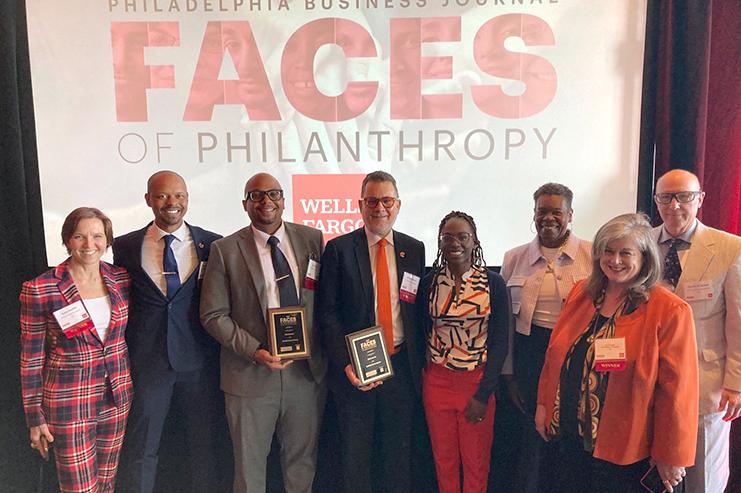 WILMINGTON, Del., April 18, 2023 /3BL Media/ - The Chemours Company ("Chemours") (NYSE: CC), a global chemistry company, with First Community Foundation Partnership of Pennsylvania (FCFP), today announced their recognition on the Philadelphia Business Journal's 2023 Faces of Philanthropy list. The annual list recognizes Greater Philadelphia-area organizations seeking to better the communities they work in and serve through their social and charitable initiatives. Chemours and FCFP were honored for a science, technology, engineering, and math (STEM) educational program–part of Chemours' ChemFEST school partnership program–and a $4 million investment benefiting Wilmington, Delaware-based EastSide Charter School (ESCS).
ChemFEST is a nationwide, multi-year partnership to create sustainable STEM programs with underserved middle schools by dedicating Chemours' time, talent, and financial resources to nurture the next generation of STEM professionals. Working directly with schools like ESCS, Chemours identifies individual needs and creates a unique ChemFEST program to meet those needs. As a part of the ChemFEST partnership with ESCS, Chemours is a leading investor in developing the Chemours STEM Hub at EastSide Charter School. The new Hub will serve as a premier access point for STEM education and other development opportunities in the Wilmington community and includes a maker's space, 3D printing, engineering, and other STEM-related activities, in addition to doubling as a community center after-school, weekends, and in the summer.
"At Chemours, we're dedicated to investing in the communities where we operate and leading the way on social responsibility for our industry. Our investment in EastSide Charter School is one way we're living our commitment to create vibrant communities and ensure students from diverse backgrounds are exposed to, excited by, and interested in STEM early on in their educational journey," said Mark Newman, President and CEO at Chemours. "With every school and student we reach, we nurture a more capable, inclusive, and diverse future STEM workforce that will be ready for the more than 800,000 job openings in STEM-related fields over the next 20 years. Shaping the world's future requires great innovators and problem solvers from all backgrounds. So we're especially excited by the impact we can have on the local community by investing in the Chemours STEM Hub at EastSide Charter School."
"In a region with an impressive amount of STEM career opportunities, we lack community spaces to prepare our students and citizens for these opportunities," said Aaron Bass, CEO of EastSide Charter School. "With the Chemours STEM Hub that we are building at EastSide Charter School, we hope to one day see the young people that attended EastSide or from the surrounding community become the executives, scientists, and technicians who work for Chemours or other local titans of industry. We are stronger and better when we work together, and we are confident that the bright young minds touched by this partnership and investment from Chemours will drive innovation that will create a better future for all of us."
The 2023 Philadelphia Business Journal Faces of Philanthropy honorees were celebrated during a special event held on April 13, 2023.
About The Chemours Company 
The Chemours Company (NYSE: CC) is a global leader in Titanium Technologies, Thermal & Specialized Solutions, and Advanced Performance Materials providing its customers with solutions in a wide range of industries with market-defining products, application expertise and chemistry-based innovations. We deliver customized solutions with a wide range of industrial and specialty chemicals products for markets, including coatings, plastics, refrigeration and air conditioning, transportation, semiconductor and consumer electronics, general industrial, and oil and gas. Our flagship products are sold under prominent brands such as Ti-Pure™, Opteon™, Freon™, Teflon™, Viton™, Nafion™, and Krytox™. The company has approximately 6,600 employees and 29 manufacturing sites serving approximately 2,900 customers in approximately 120 countries. Chemours is headquartered in Wilmington, Delaware and is listed on the NYSE under the symbol CC.
For more information, we invite you to visit chemours.com or follow us on Twitter @Chemours or LinkedIn.
CONTACTS:
INVESTORS 
Jonathan Lock 
SVP, Chief Development Officer 
+1.302.773.2263 
investor@chemours.com
Kurt Bonner 
Manager, Investor Relations 
+1.302.773.0026 
investor@chemours.com
NEWS MEDIA 
Thomas Sueta 
Director, Corporate Communications 
+1.302.773.3903 
media@chemours.com
View original content here.