Changing Lives 'From the Inside Out'
Brandon Madrid is one of more than 1,700 students who has enrolled in and found success with BankWork$®, a program that prepares individuals for financial services careers.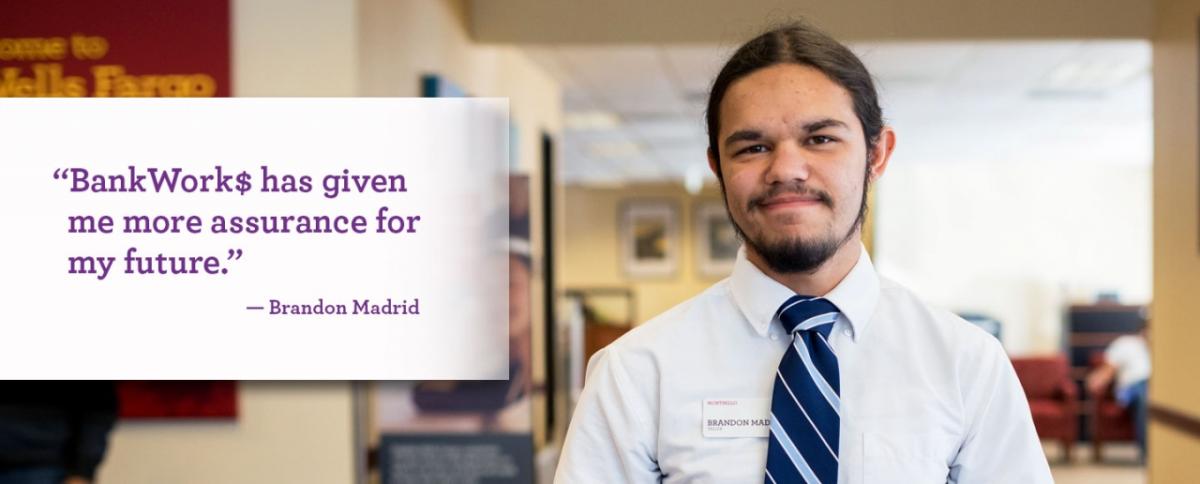 Brandon Madrid is one of more than 1,700 students who has found a career s with BankWork$
Brandon Madrid is one of more than 1,700 students who has enrolled in and found…
Brandon Madrid wasn't sure how he could get the training he needed to find and advance in a career. He had previously enrolled in college, but financial struggles, a full-time job providing maintenance for an apartment complex, and ongoing kidney dialysis made it impossible for him to continue.
Then, he saw an online ad for BankWork$®, and he enrolled in the fall of 2016. Today, he is a teller for Wells Fargo in Denver and pursuing a degree in finance. "BankWork$ has given me more assurance for my future," Madrid said.
The Sheri and Les Biller Family Foundation started BankWork$ in 2006 as a partnership with JVS Los Angeles, a nonprofit dedicated to workforce development. The free training program prepares people — typically those who are unemployed or underemployed in low-income and minority communities — for careers in the financial services industry, specifically for positions as bank tellers, customer service representatives, relationship bankers, and personal bankers.
So far, more than 2,400 students have graduated from the program in its 10 locations across the country, and BankWork$ has placed about 1,700 graduates in jobs within the financial services industry.
Wells Fargo has supported BankWork$ financially and with team member volunteers. In 2014, Wells Fargo, Bank of America, U.S. Bank, and the Sheri and Les Biller Family Foundation agreed to contribute $1 million each over five years to expand BankWork$ nationally.
Gaining confidence and new skills
In each city, a local nonprofit workforce development organization administers the BankWork$ program. "The BankWork$ curriculum includes soft skills, banking 101, resume building, and interview preparation," said Candice Sporhase-White, BankWork$ instructor for
Goodwill Industries of Denver
— the nonprofit that administers the program Madrid participated in. "For an individual to gain a certificate, and then begin their new career with confidence because they've invested a full eight weeks into this program, really sets them apart. Goodwill and our BankWork$ program make a significant investment into the lives of the participants, and I believe we change lives from the inside out."
For Madrid, someone who had never received training in banking or previously considered a career in the industry, the most valuable thing he learned during BankWork$ was how to carry himself and have the confidence to work in the banking field. "When I first started BankWork$, it seemed like something that was too good to be true," Madrid said. "I really liked the idea of making a career out of building relationships with people, helping them in a practical manner, and knowing I made a difference for them."
Sporhase-White said she saw Madrid gain confidence and respect as a quiet leader among his colleagues and BankWork$ classmates. "Brandon reminds me that, with the right attitude and with perseverance, anything is possible," she said. "I'm humbled and honored for the opportunity to work with Brandon and all of the students at BankWork$."
She also praised Madrid's dedication to the program, despite his health issues. "As he and I became closer, I did some one-on-one coaching with Brandon, and he shared with me that he's currently on kidney dialysis, which really surprised me because Brandon had never been late, he never complained, he never missed a day of class," Sporhase-White said. "He exemplifies everything that the BankWork$ program stands for, and because he was unwilling to give up, new doors and new opportunities have opened for him."
'It was like it was all coming together'
During the program, a Wells Fargo regional president spoke to Madrid's BankWork$ class, and Madrid was so impressed with her that he sent her an email to thank her. They began communicating, and she even encouraged Madrid to apply for his current job with Wells Fargo. "When I finally accepted the job with Wells Fargo, I was really happy," he said. "It was like it was all coming together."
Getting a job with more security and opportunities for advancement also allowed Madrid to enroll in college again. "I saw Brandon come back to life because, prior to that, I think he thought that dream of his was gone," Sporhase-White said. Madrid is currently pursuing a finance degree at Front Range Community College in Westminster, Colorado, and hopes to transfer to a four-year college or university in a year or so. He is considering a career as a financial analyst so he can help people with their investments.
"I am motivated by the desire to demonstrate to others that same love and charity that was afforded to me," Madrid said. "BankWork$ really changed that in my life. That's the great thing about it. BankWork$ gives support to people who otherwise might not think they have it, and that's what the BankWork$ program did for me."