Celebrating Hispanic Heritage Month at NRG
Celebrating Hispanic Heritage Month at NRG
Our virtual, yet unified celebration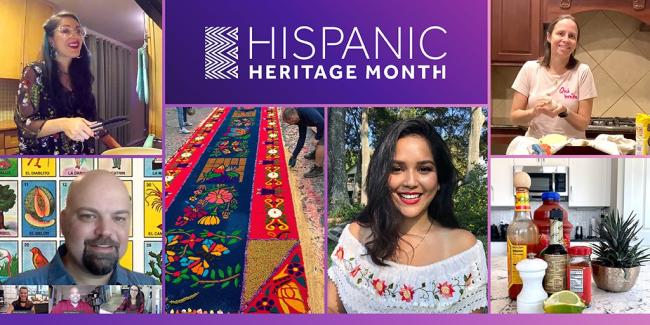 Wednesday, October 14, 2020 - 2:30pm
From September 15 - October 15, the United States celebrates Hispanic Heritage Month to recognize the wealth of contributions Hispanic Americans have made to American history and culture. And while we continue to practice social distancing for the health and safety of our employees, it has never been more important to remain connected. 
Regardless of distance, every day we recognize the strength, innovation, and success that diversity and inclusion bring to our business. For this reason, we seize the opportunity to celebrate those whose contributions make both NRG and our country better. 
Embracing and Celebrating Culture
Organized by the Hola Club — our employee-led Hispanic Business Resource Group, our month-long celebration has been an exploration of multi-faceted cultures and countries. From panel discussions to cooking tutorials, playlists to personal travelogues, Hola members used this month to share and learn—both amongst members of the group and across our organization—the heritages, traditions, and experiences that make them proud to be Hispanic. 
Reflecting on the activities and the group itself, Joanna C., a Continuous Improvement Analyst and member of Hola, said "Even within this group, the cultures and the traditions we have are really different, and it's really nice to see and experience that. Living in America, I wasn't fully aware of the contributions that Hispanics have made in the United States, so just being part of this group and doing the research, I've learned a lot so far. It makes me even more proud to be Hispanic."
With pride in her Mexican heritage and a desire to contribute to the cultural exchange, Joanna held a "Learn to make micheladas" live tutorial, leading members of the group through various approaches and exploring the historical significance of the drink in Mexican culture. When asked about her choice to demonstrate the drink, Joanna explained, "For me, micheladas represent the Hispanic people. Throughout the years, the ingredients have improved, and so have the people. Micheladas are a representation of our history, our heritage, and our pursuits for an even better future." 
Other group members also chose to share their culture through food, with Hola hosting a series of member-led cooking tutorials spotlighting arepas from Venezuela, Cuban-style tostones, and delicious guacamole. However, the tutorials were about far more than food, with members sharing the important food memories associated with their chosen dishes. Whether it was learning to cook at their grandmother's side or handing down traditional food and practice to their children, the sharing of food was an opportunity to embed their Hispanic heritage into their everyday lives. 
Music and travel experiences also served as ways for members to share their experiences and heritage with others, with some providing country-specific playlists and others writing small accounts and sharing pictures of their Latin American adventures. 
Franklin G., who shared his Venezuelan playlist with the group, spoke to the importance of sharing his culture and more about himself with his colleagues, "I think this playlist is the one that represents me the most when it comes to Venezuelan music.  Particularly, Alma Llanera is a song that stands out to me, as it represents many Venezuelans and myself, the good things about my country, as well as the essence of the Venezuelan people." 
He continued, "Being part of Hola has been a great opportunity to provide information from my perspective and my cultural background while also learning from other people. Traveling teaches you a lot, but having the opportunity to actually listen to others' experiences provides additional depth and understanding."
The Cultural Exchange
On September 29th, Hola hosted a panel-style discussion, which brought together the members of four Business Resource Groups¹ — Believe, Power of Many, Women in Power, and Hola—to discuss their missions, goals, and upcoming events, but most importantly the commonalities that these groups share. The discussion was centered around themes of fostering and achieving inclusivity, the importance of allyship, and embracing diversity within the workplace and in the society at large. 
It's exchanges like these and the dedication and passion of our employees that has made our Business Resource Group Program a success. We are proud that our employees are a driving force in our journey towards comprehensive diversity and inclusion. 
Helpful Learnings
Why September 15 - October 15: A unique span of dates encompassing two months, the celebration of Hispanic Heritage Month is commemorative of Latin American History, serving to recognize and honor the Independence Day of seven Latin American countries. Including the independence anniversaries of Costa Rica, El Salvador, Guatemala, Honduras, and Nicaragua as well as Mexico's independence on September 16th, the month is a true celebration of the culture, histories, and contributions of Hispanic Americans. 
Latino vs. Hispanic: While many people use Latino (/Latina/Latinx) and Hispanic interchangeably, the two terms are very different. Latino refers to someone who comes from a Latin American country or is a descendant from Latin America. Hispanic refers to someone from or is a descendent of a Spanish-speaking country. A person can be both Hispanic and Latino, but not all Latinos are Hispanic. Brazilians, for example, are Latino, but their native language is not Spanish. Conversely, not all Hispanics are Latino. Spaniards are considered Hispanic, but not Latino, since they are part of the European Union. 
It is only by learning more about diverse cultures, traditions, heritages, and a better understanding of how to refer to someone in a way that aligns with their sense of self, that we will be able to foster inclusivity and embrace diversity.
¹ Business Resource Groups are employee-led social initiatives that enrich the culture at NRG by celebrating diverse backgrounds, causes, and interests. BRGs receive company support, resources, and executive sponsorship.