CECP Summit - The Age of Agility: A Defining Moment for Business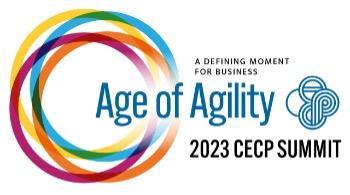 BOSTON, May 24, 2023 /3BL Media/ - This week, Chief Executives for Corporate Purpose© (CECP) is bringing together 200+ senior social impact and corporate responsibility professionals from the world's leading global companies for the 20th annual CECP Summit: The Age of Agility: A Defining Moment for Business.
The CECP Summit will feature leaders engaging and learning together about powerful insights on trends, partnerships, and the impact of creating a better world through business. The variety of session topics reflect the many issues companies are currently facing to create long-term value for all stakeholders, such as: communicating ESG goals, addressing sustainability challenges, advancing health equity, creating long-term business value, innovating through corporate foundations, and more. 
"Today's corporate purpose leaders, who gather at the CECP Summit, play a unique role by bridging all business units, people, products, and services with their companies' purpose, which can help make the business work," said Kari Niedfeldt-Thomas, managing director of corporate insights and advisory at CECP. "CECP strengthens these leaders for the constant pressure to deliver positive impacts for the business and society."
The Summit includes the presentation of the Charles H. Moore Award for Leadership in Corporate Community Engagement. The 2023 "Charlie Award" is awarded to John Damonti, President of the Bristol Myers Squibb Foundation and Vice President of Corporate Philanthropy and Patient Assistance at Bristol Myers Squibb Company. The award is named in honor of CECP's founding Executive Director and is presented to senior leaders who exemplify perseverance in the pursuit of societal advancement, the trait for which Charlie Moore was best known.
"I'm truly honored to be receiving the Charles H. Moore Award. Charlie was a close friend for so many years and was the catalyst who would always strive to demonstrate the true impact and positive change that industry can have on society," said John Damonti, President of the Bristol Myers Squibb Foundation and Vice President of Corporate Philanthropy and Patient Assistance at Bristol Myers Squibb Company. "Which is why I am humbled to receive this award from CECP, a purpose-driven organization, built on Charlie's vision, that sets the standard for corporate philanthropy."
For over 25 years, the mission of the Bristol Myers Squibb Foundation has been to improve health outcomes of populations disproportionately affected by serious diseases. And as its president, John has done just that in 10 countries in Sub-Saharan Africa, China, India, Brazil, as well as across the U.S. He has more than 35 years of experience working in the areas of health policy, government affairs and social responsibility. John unites partners—such as governments, NGOs, and local communities—to promote health equity and improve the health of vulnerable communities in disease areas that are aligned with the therapeutic strategy of the Bristol Myers Squibb company.
CECP will also share with attendees' the first look at data from the 2023 Giving in NumbersTM Survey. Giving in Numbers is the unrivaled leader in benchmarking on corporate social investments, in partnership with companies. As the premier industry survey and research, Giving in Numbers provides standard-setting criteria in a go-to guide that has defined the field and advanced the movement. Over 20 years, CECP has created the largest and most historical data set on trends in the industry, shared by more than 617 multi-billion-dollar companies, representing more than $388 billion in corporate social investments over that time span. See the new 2023 infographic. CECP thanks its Giving in Numbers sponsors, PwC and Newman's Own Foundation.
The CECP Summit offers an unparalleled line up of speakers including:
Tanya Jeong, Director, Employee Engagement Global Philanthropy, AbbVie
Caitlin Bell, Senior Vice President, Bank of America
Danielle Fritz, Senior Communications Specialist, Communications & Community Engagement, Beckman Coulter Diagnostics
Sona Khosla, Chief Impact Officer, Benevity
Jennifer Chavez Rubio, Senior Program Officer, Bill & Melinda Gates Foundation
Andrew J. Troup, Director, Giving & Engagement, Blackbaud, Inc.
Shannon Trilli Kempner, former Vice President, Corporate Responsibility and Diversity & Inclusion, Catalent 
Jeff Erlich, Senior Social Investment Advisor, Chevron
Charu V. Adesnik, Executive Director, Cisco Foundation Director, Social Innovation Investments, Cisco Systems Inc., Cisco Systems, Inc.
Major Joe Womack, President/Executive Director, Clean, Healthy, Educated, Safe & Sustainable Community
Anne Black, President of Goldman Sachs Gives, Goldman Sachs
Henri G. Moore, VP/Head of Responsible Business, Haleon
Adi Ignatius, Editor in Chief, Harvard Business Review
Sharon Vidal, Head of Corporate Social Responsibility & Sustainability, Illumina
Jenny Lewis, Vice President, Foundation, Kimberly-Clark Corporation
Sabrina Spitaletta Johar, Sr. Director, Center for Public Health, Milken Institute
Kate Isaacs, Senior Lecturer, MIT
Joanna Breitstein, Lead, Leadership & ESG Communications, Organon
Delvon Worthy, Director, Partnerships, Participant
C.D. Glin, President of Pepsico Foundation and Global Head of Philanthropy, PepsiCo Foundation
Kathleen Ryan Mufson, VP, Global Corporate Citizenship & Philanthropy, President, Pitney Bowes Foundation, Pitney Bowes
Jessica Bigazzi Foster, Ph.D., President, RHR International
Jeff Senne, CEO, Sandbar Solutions
David Etzwiler, CEO, Siemens Foundation
Burt Fealing, Executive Vice President, General Counsel, Chief Compliance Officer, Chief Sustainability Officer and Corporate Secretary, Southwire
Marilyn Sherman, Founder/Owner, UpFront Presentations
Chelsea Clinton, DPhil, MPH, Vice Chair, The Clinton Foundation and Clinton Health Access Initiative
Nish Acharya, Senior Fellow, Inclusive Economic Recovery and Growth, Clinton Global Initiative
Gwyneth Gaul, Strategic Partnerships & Philanthropy, Comcast NBCUniversal
Heidi Spahn, Global Community Investment Leader, Corteva Agriscience
Amy Nakamoto, EVP, Social Impact, Discovery Education
Kris Taylor, VP Global Community Impact & President of the Ecolab Foundation, Ecolab
Lex Suvanto, CEO, Edelman Smithfield
Jenny Holaday, President of Encore Boston Harbor, Encore Boston Harbor
Maeve Miccio, Head of Philanthropic Consulting, Fidelity Investments
Jennifer Edwards, Director, GE Foundation, General Electric 
Sam Di Scipio, Senior Director, Social Impact, Macy's
Anu Gupta, Leader, Global Social Responsibility, McKinsey & Company
Annette Jennings, Director Global Community Engagement and Charitable Giving, Mars, Incorporated
Joan Steinberg, Head of Global Philanthropy & President, Morgan Stanley Foundation, CEO, Morgan Stanley Alliance for Children's Mental Health, Morgan Stanley
Hasting Stewart, Senior Communications, External and Public Affairs Leader, NRG Energy
Karen Price-Ward, Director, Social Impact, Stanley Black & Decker
Suresh Muthuswami, Chairman - North America, Tata Consultancy Services
Veda Robbins, Community Organizer, The BIG We
Katrina Briddell, Senior Manager, Social Impact & ESG, The Hershey Company
Bree Fram, Lieutenant Colonel, US Space Force
Otis Rolley, Head, Philanthropy & Community Impact, Wells Fargo Bank President, Wells Fargo Foundation, Wells Fargo
Monica Moradkhan, VP Community Relations, Wynn Resorts, Limited
James Nguyen, Head of Procurement, Zoetis
Breakout sessions include:
Choice, Customization, and Communications: A Winning Strategy for Engaging Employees
Social Impact with Global Reach
Long-Term Business Value Creation: How Social Impact Goals Align
Embracing Change through the Lens of Agility, Engagement, and Integration
Community-Driven Solutions through Local Partnerships
Building a Workplace Dialogue around ESG: Communications Tools + Tips
Stronger Together: Collaborative Community Engagement
Corporate Foundations: Designing for Impact
Integrating Climate Action with Social Impact Efforts
CECP thanks its sponsors for their generous support of the 2023 CECP Summit: Bank of America, BNY Mellon, State Farm Insurance Company, and Wynn Resorts.
CECP also congratulates the 2022-2023 Company Spotlight honorees: Applied Materials, Travelers, Illumina , Macy's, Merck & Co (Merck Foundation), Moody's, Philip Morris International (PMI), Sanofi, Intel, Logitech, Organon, Campbell Soup Company, Fidelity Charitable®️, and Wells Fargo. On a quarterly basis, CECP selects companies for the sought-after Company Spotlight, through a thoughtful information-sharing and communications-support process. Company Spotlights are shared with CECP's nearly 2,000 affiliated corporate contacts, posted on the CECP website as case studies, and recognized at the CECP Summit.
Following the conclusion of the 2023 CECP Summit, CECP will be posting on its website photos, videos, guest blogs, and an Executive Summary.
The application process for the 2024 Charlie Award is open. Nominate a peer senior leader in corporate responsibility today. The deadline is August 30, 2023. The application can be accessed on CECP homepage or by emailing CECP.
####
About Chief Executives for Corporate Purpose (CECP) 
Chief Executives for Corporate Purpose® (CECP) is a trusted advisor to companies on their corporate purpose journeys. Working with CEOs and leaders in corporate responsibility, sustainability, foundations, investor relations, finance, legal, and communications, CECP shares actionable insights with its CEO-led coalition to address stakeholder needs.
Founded in 1999 by actor and philanthropist Paul Newman and other business leaders, CECP is a movement of more than 225 of the world's largest companies that represent $7.7 trillion in revenues, $37.4 billion in total community investment, 14 million employees, 22.5 million hours of employee engagement, and $21 trillion in assets under management. CECP helps companies transform their strategy by providing research, benchmarking, strategy, communications, and convening in the areas of societal/community investment, employee engagement, environmental social governance/sustainable business, diversity equity inclusion, and telling the story.
For more information, visit http://cecp.co.
CECP Media Contact
Katie Leasor