Boeing Global Engagement

Through purposeful investments, employee engagement and thoughtful advocacy efforts, Boeing and its employees support innovative partnerships and programs that align with our strategic objectives, create value and help build better communities worldwide. Boeing's global engagement strategy is to lend our expertise and resources where we can to support our future, our heroes and the communities we call home. We do so by promoting programs that develop tomorrow's innovators through investment in the 21st century skills required in today's modern workplace; by aiding our military veterans – and their families – as they transition to civilian life; and by showing that Boeing is a true social leader in the communities where our employees live and work.
See how Boeing and its employees give their time, talent and resources in communities around the world by visiting the Boeing Global Engagement Summary page.
Videos from this campaign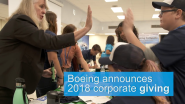 Content from this campaign