2021 Sustainability Report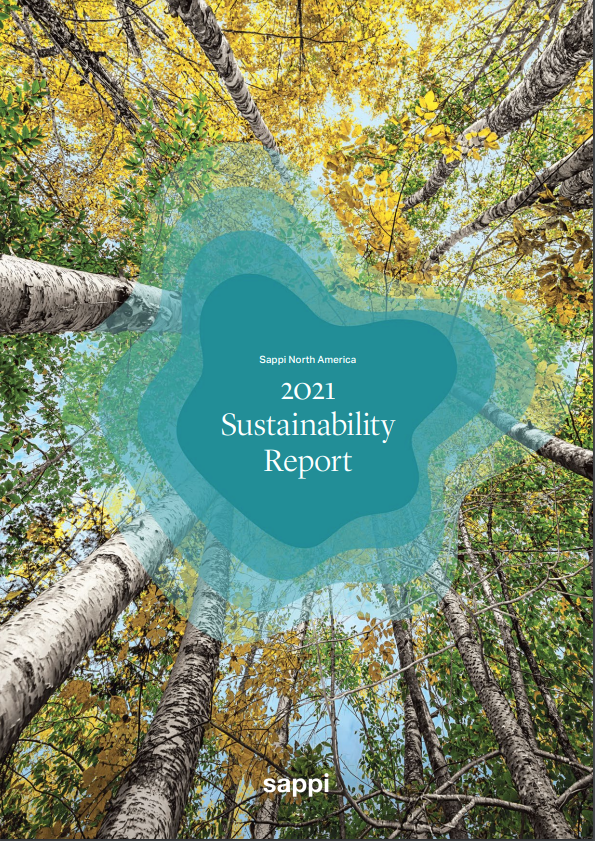 At Sappi North America, we recognize that strong, sustainable companies don't merely manage against quarterly financial targets — they invest in the people they employ, they make commitments to protect the planet from the wasteful use of natural resources, and they have a clear vision for achieving profitable growth and prosperity for current and future generations.  
Since the release of our first Sustainability Report in 2008, we have consistently demonstrated a commitment to transparency, innovation and doing good - environmentally, socially, and economically.  
The three pillars of sustainability – People, Planet and Prosperity – remain core to our operations. We are committed to helping all our partners across the supply chain understand the true footprint of our business so that they can trust that when they do business with us, they are doing business with a leader in the industry.  
In 2021, we adopted the United Nation's Sustainable Development Goals as a key part of our business and sustainable practices including: 
UNSDG 7 renewable and clean energy,  
UNSDG 8 decent work and economic growth,  
UNSDG 12 responsible consumption and production,  
UNSDG 17 partnerships for the goals and more.  
In line with these goals, we championed another year of ensuring the health and safety of our employees with an improved safety rate and investments in safety leadership training. With renewed focus on elevating diversity, we exceed our goal of increasing the number of women in senior leadership roles at Sappi by appointing 21% in management positions despite labor shortages. Additionally, our strides to mitigate environmental impact were fueled by an increase in energy efficiency and waste reductions, allowing us to achieve an overall 7% decrease in energy consumption for the year.  
Last year our partnerships also drove great community impact. We inspired and taught Girl Scouts of Maine the science and technology of the pulp and paper industry. Hosted alongside the Women in Industry division of the Technical Association of Pulp and Paper Industry (TAPPI), Girl Scouts from around the state attended a "paper scientist expo" at our Technology Center in Westbrook. The now virtual program is slated to rollout nationwide and galvanize even more girls to pursue careers in STEM. Further expanding our contribution to the learning and growth of youth, we partnered with Maine Timber Research and Environmental Education Foundation (Maine TREE Foundation) to demonstrate to teachers how to promote the forest products industry in the classroom. At Sappi we understand the future of sustainability and innovation lies in the hands of young people and we will continue to create learning opportunities for all. 
Highlights of our 2021 Sustainability Report include:  
Increased women in senior management roles. Sappi set a new goal in 2021 to enhance diversity in its workforce, also aligning with the UN's SDGs. The company exceeded its onset goal and appointed 21% of women in senior management positions. Sappi continues to prioritize the promotion of talented individuals with diverse experiences and backgrounds. 
Reductions in waste and energy emissions. Sappi exceeded its year-end goal by 1% to reduce solid waste in landfills, which brings them closer to their five-year target of a 10% reduction. Further, the company also reduced CO2 emissions with the use of 80.7% renewable and clean energy.   
Improved safety rate and investments in safety leadership training. In 2021, improvement in safety increased and four out of five Sappi manufacturing sites experienced their best-ever lost time injury frequency rate (LTIFR) performance. Additionally, the company invested in safety leadership training across mills with the intent of extending the training to other sites in fiscal 2022.  
Needle moving partnerships. In an effort to advance STEM careers for women, Sappi partnered with Girl Scouts of Maine and the Women in Industry division of the Technical Association of Pulp and Paper Industry (TAPPI). The virtual program teaches girls the science and technology of the pulp and paper industry, including papermaking and recycling. Continuing in 2022, the program is slated to reach even more Girl Scouts across the country. Additionally, Sappi joined forces with Maine Timber Research and Environmental Education Foundation (Maine TREE Foundation) to host a four-day tour to educate Maine teachers about sustainable forestry and the logging industry.  
Best-in-class environmental practices. As an endorsement of sound environmental practices, the Cloquet Mill achieved an impressive overall score of 84% on the Sustainable Apparel Coalition's (SAC's) Higg Facility Environmental Module verification audit. The mill is the first to undergo and complete an external environmental management verification process. 
Building confidence in sustainable textiles. Through a collaborative partnership with Sappi Verve Partners and Birla Cellulose, forest-to-garment traceability solutions became available for brand owners. Focused on responsible sourcing, traceability and transparency, the partnership ushered in confidence for consumers and brands to ensure their products originate from renewable sources of wood.  
We have our eye to the future, not only for the evolution of our business and products, but the impact that we will continue to have on our environment. We strive to find sustainable solutions to everything that we do, and we thank you, our stakeholders, for helping us along the way.  
To learn more, download a PDF of Sappi North America's 2021 Sustainability Report here. Print copies of the report can also be order here.  
Content from this campaign