Is California the New Hub for Electric Transportation?
Edison International Senior VP Drew Murphy explores the state's mobility future with industry leaders.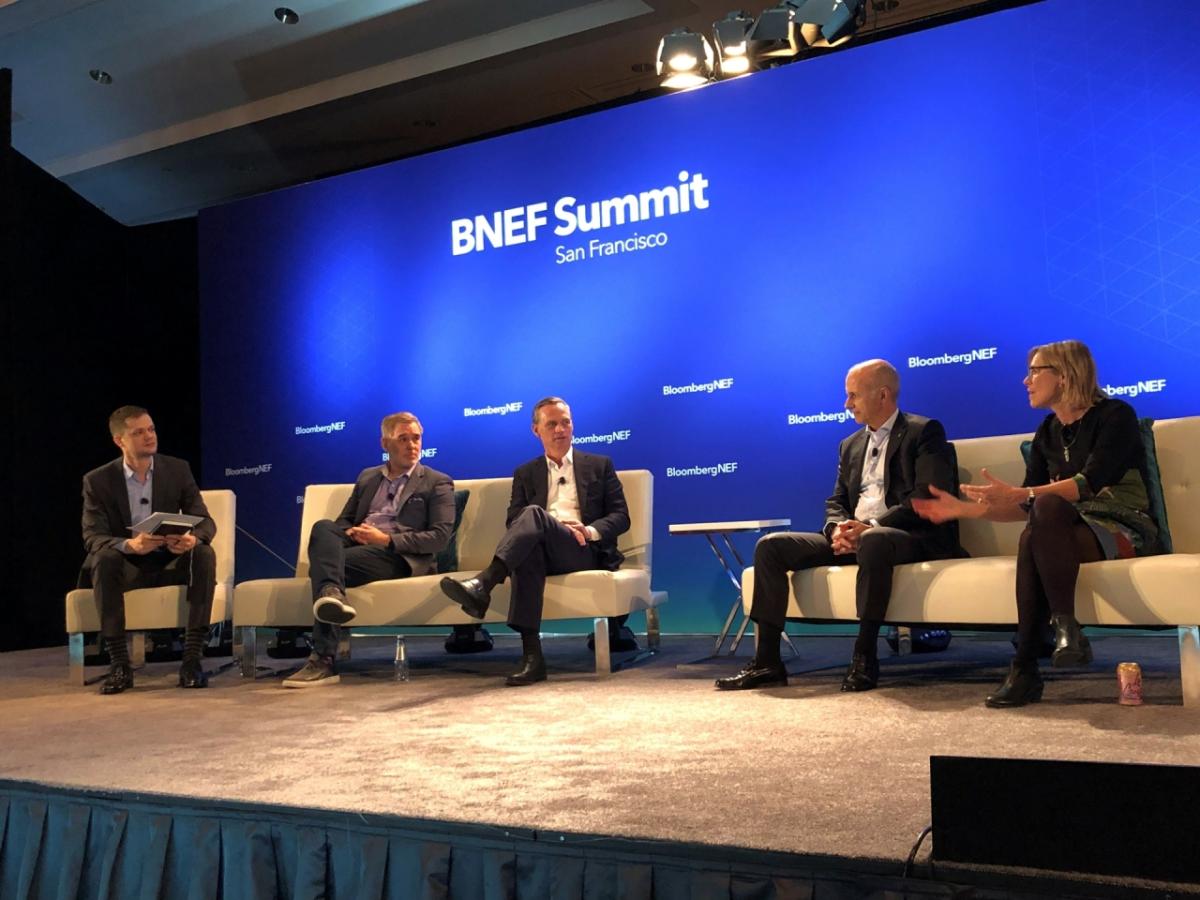 Edison International Senior VP for Strategy and Corporate Development Drew Murphy (center) discusses business models for EV charging at Bloomberg's Future of Mobility Summit in San Francisco.
Watch: BNEF Summit San Francisco 2019: One-on-One with Drew Murphy, Senior VP o…
With a growing number of companies like Tesla and electric bus manufacturer Proterra headquartered in California, it's worth exploring whether the state is becoming a hub for electric transportation.
"Is California the New Center of Gravity for Mobility in the U.S.?" was discussed recently at Bloomberg's Future of Mobility Summit in San Francisco. The session was led by Drew Murphy, Edison International's senior vice president for Strategy and Corporate Development. 
Leaders of Chanje Energy Inc., an L.A.-based medium-duty electric truck manufacturer, and Icebreaker Ventures, a San Francisco venture fund that invests in future mobility and energy, also took part in the exchange. 
"There is a lot happening in California — not only in Southern California, but also in the Silicon Valley," Murphy said. "When you take the fifth-largest economy in the world, the policies the state has enacted, the amazing amount of innovation that happens and the talent pool here, and you combine all these things, there's a real case to be made that this is the center in the U.S. for the mobility revolution." 
Ian Gardner, former president of Chanje, agreed. "California is the hub of this because there is so much talent that thinks so differently," Gardner said. "People here have a perspective, 'If there's a better and different way to do it, let's go do that.'" He contrasted the innovative local mindset toward vehicle electrification with more risk averse attitudes in other parts of the country.  
"That's actually why it works here," said Mark Platshon, founder and managing director of Icebreaker Ventures. "Here, it's OK to try 10 different things, and if they don't work, fix them and try them again."  
Later at the summit, Murphy also joined a panel discussion entitled "Business models for EV charging." His fellow panelists were executives from EVgo, a network of fast chargers, Greenlots, an EV charging software and services provider, and EV charger manufacturer Efacec.  
Regarding Edison International's involvement in building out EV charging infrastructure, Murphy said during the session that the company's utility, Southern California Edison, is working with customers to ensure wise investments are made in places that make sense. 
SCE has installed more than 1,000 charge ports during the pilot phase of its Charge Ready program for passenger EVs and has proposed scaling up the program to add 48,000 chargers throughout the utility's service area.
"We're seeing interest in electrifying fleets, starting with transit agencies in our area," Murphy said, noting that SCE will soon be launching a $356 million program for electrification of medium- and heavy-duty vehicles.
SCE's parent company, he said, is looking at charging from a broader perspective. "At Edison International, we're looking at how can we provide charging as a service, and how can we provide a solution that manages energy usage, logistics and dispatch on a more holistic basis."
More than 400 leaders from the energy and transportation communities met at the summit to share insights on electrified transportation, shared mobility, autonomous vehicles and energy.