California Fire Foundation and General Motors Team up to Donate Vehicles to California Fire Departments
Chevrolet trucks and SUVs will support frontline fire response and recovery in communities in need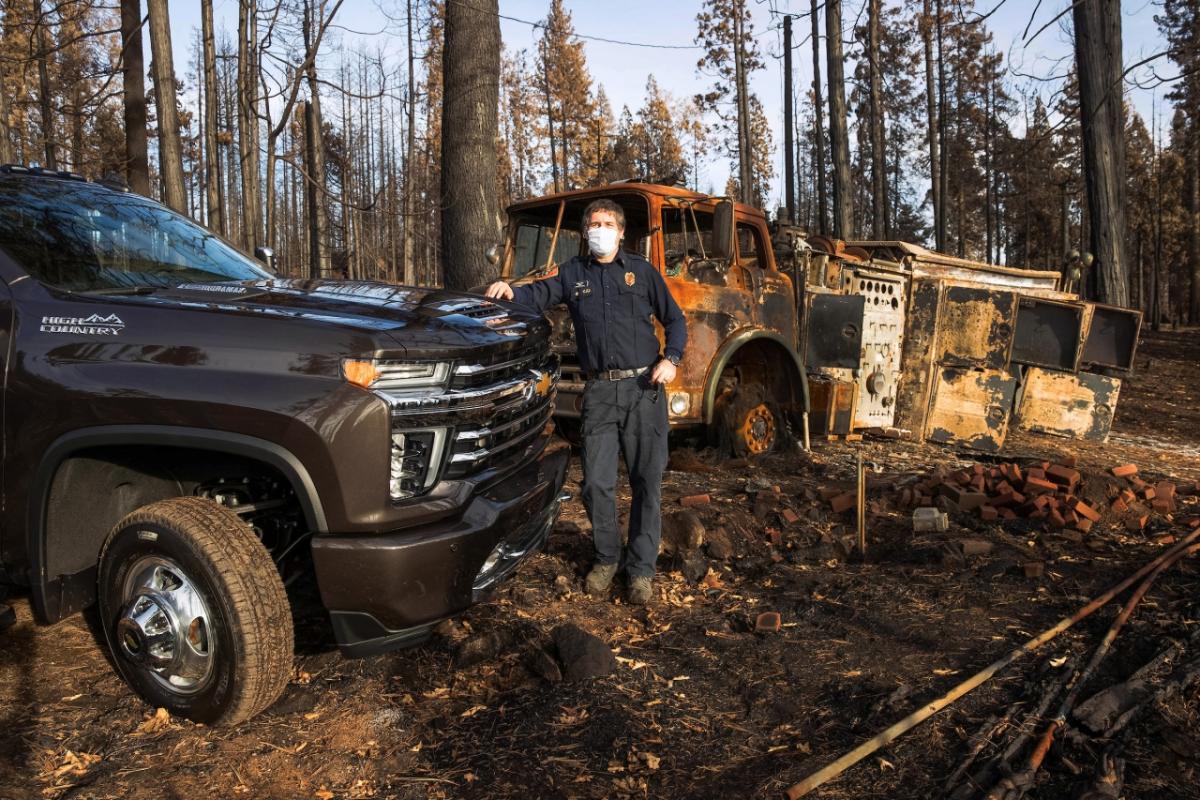 The California Fire Foundation and General Motors deliver a Chevrolet Silverado 3500 High Country truck to the Pine Ridge Volunteer Fire Department Tuesday, December 15, 2020 in Shaver Lake, California. Ten new Chevrolet trucks and SUVs will be delivered to fire departments in need after battling catastrophic wildfires during California's worst fire season in history. (Photo by Dan MacMedan for General Motors)
SACRAMENTO, Calif., December 17, 2020 /3BL Media/ – The California Fire Foundation today announced it is delivering 10 new Chevrolet trucks and SUVs donated by General Motors to local fire departments in need across the state.
"As worsening, year-round fire seasons become the new normal in California, it is critical that we provide fire departments – especially those in underserved regions – with the support they need to protect the communities they serve," said Rick Martinez, executive director of the California Fire Foundation. "This donation from General Motors allows us to provide vital aid to local fire departments in greatest need of additional firefighting resources."
The GM donation includes four Chevrolet 2500 HD Silverado trucks, three 4WD Chevrolet Tahoe SUVs, two Chevrolet 3500 Silverado trucks and one Chevrolet 4500 Silverado. These vehicles will immediately support frontline fire response and recovery with priority given to departments with a disproportionate need, such as volunteer fire departments serving as the primary line of defense in rural and more fire-prone communities.
Departments receiving the vehicle donations through the Foundation include:
Bishop Volunteer Fire Department in Bishop
Butte County Fire Department in Oroville
Fallen Leaf Lake Volunteer Fire Department in South Lake Tahoe
Huntington Lake Volunteer Fire Department in Fresno
La Habra Heights Fire Department in La Habra Heights
Mayten Fire Protection District in Montague
Milford Volunteer Fire Department in Milford
North Shore Fire Protection District in Lucerne
Pine Ridge Volunteer Fire Department in Shaver Lake
West Point Fire Protection District in West Point
Local fire departments, with support from firefighters across the West Coast, have remained on the front lines while protecting California communities from catastrophic wildfires, even as they lose their own homes. Nearly all of the volunteer firefighters with the Pine Ridge Volunteer Fire Department recently lost their homes as they defended their neighbors from the Creek Fire, one of several megafires resulting in California's worst fire season in history.
"We remain committed to protecting our communities and helping them recover, and this generous donation from General Motors and the California Fire Foundation is sorely needed and will be put to good use right away," said James Parr, fire chief with the Pine Ridge Volunteer Fire Department, which lost three fire engines during the Creek Fire. "We appreciate the outpouring of support from those within our community and beyond, which is a testament to our region's togetherness and resiliency."
General Motors worked with the California Fire Foundation to identify local fire departments and ways in which the company could help meet their needs.
"We are proud to support the brave firefighters putting their lives on the line to protect our communities from the growing threat of wildfires in California," said Terry Rhadigan, executive director, Corporate Giving at General Motors. "We hope that, with these vehicles, fire departments throughout the state will continue to have the resources they need to hold the line against these devastating fires and keep Californians safe."
To offer additional assistance to those impacted during wildfire season, especially for Californians in the wildland urban interface, GM provides access to OnStar Crisis Assist at no charge. Owners of Cadillac, Buick, GMC and Chevrolet vehicles in a crisis area can receive help from a specially trained OnStar Emergency Advisor, including routing assistance away from impacted areas, connecting with loved ones, and access to OnStar Guardian, a new mobile app that allows residents and up to seven family members to share locations and get emergency help wherever they are.
The California Fire Foundation, a non-profit 501(c)(3) organization, provides emotional and financial assistance to families of fallen firefighters, firefighters and the communities they protect. Formed in 1987 by California Professional Firefighters, the California Fire Foundation's mission includes survivor and victim assistance programs and a range of community initiatives. More information is available at www.cafirefoundation.org.
General Motors (NYSE:GM) is a global company committed to delivering safer, better and more sustainable ways for people to get around. General Motors, its subsidiaries and its joint venture entities sell vehicles under the Chevrolet, Buick, GMC, Cadillac, Baojun and Wuling brands. More information on the company and its subsidiaries, including OnStar, a global leader in vehicle safety and security services, can be found at https://www.gm.com.