Businesses Have a Unique Opportunity to Help Communities Effectively Recover from Hurricanes Harvey and Irma
By Jim Starr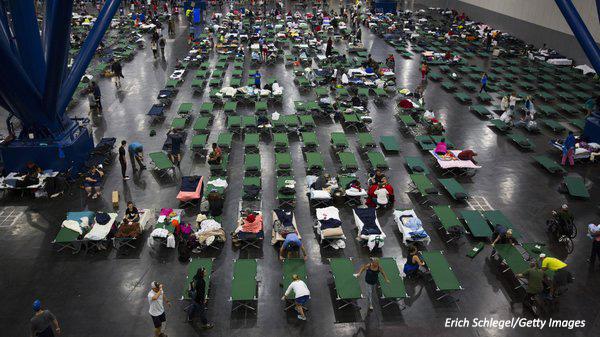 Businesses Have a Unique Opportunity to Help Communities Effectively Recover fr…
What happens when the cameras and first responders leave the Hurricane Harvey and Irma scenes? Donations dry up quickly and the media moves on to the next big story. Unfortunately, that's when the people and communities affected by these storms get the least community support, but need it most.
About 70 to 80 percent of money donated in the wake of a disaster goes to immediate relief efforts. While meeting immediate needs like food, water, and shelter is essential, ensuring long-term support is crucial to effectively helping affected communities rebuild. Fixing immediate needs without considering long-term needs is like resetting a professional athlete's broken bone, but not providing that athlete with physical therapy. Just as physical therapy helps strengthen weakened parts of the athlete's body and helps them return to optimal performance, long-term disaster relief helps cover needs down the road to help communities fully recover – things like housing, childcare, and mental health.
I can tell you from personal experience that the effects of disasters of this magnitude last for years, not days. On TV and online, we see the immediate destructive impact – homes destroyed, businesses flooded, people crammed into temporary shelter. But we don't see the long term impact.  We don't see the small business that can't reopen for business. We don't see the employees of that small business who no longer have jobs. And we don't see the personal and financial strain that puts on them and their families. This is what is missed when we only focus on the immediate relief efforts of a disaster.
During a webinar hosted by the Center for Disaster Philanthropy, FEMA representative Michael Riedy gave this back-of-the envelope estimate of what happens after a disaster: For every day of immediate relief, there are at least ten days required for mid-term recovery and at least 100 days for long-term recovery. Based on that estimate, people will be recovering from hurricanes Harvey and Irma for at least three years and probably longer. The question is, how do we ensure these impacted people, businesses, and communities get the support they need?
Funding Long-term Recovery Efforts Effectively
To fill the funding gap and generate financial support for the long-term needs of communities impacted by major disasters, America's Charities has partnered with the Center for Disaster Philanthropy (CDP).
We all instinctively give with our hearts, which means when disaster strikes, we want to give immediately and intuitively. Yet that doesn't always help in the long run, which is why we've teamed up with the Center for Disaster Philanthropy.
Through America's Charities' partnership with CDP, America's Charities sets up disaster-specific funds, designed to empower donors to donate in the immediate aftermath of a major storm, but we hold on to those donations for a 90 day period. During that time, CDP coordinates with government agencies and national and local nonprofits to find out where funding gaps are and where money will be most effective. After collecting donations for 90 days, CDP advises America's Charities on where to distribute the funds in order to provide the most effective long-term support to affected communities. Once those funds are distributed, America's Charities reports back to donors on how their donations were used.
The Power of Businesses and Matching Gifts
While anyone can donate to America's Charities' disaster funds through our website, www.charities.org, the real power of our funds comes through collaboration with employers. When a major storm hits, many employers are quick to step up with support through a big contribution from their company. However they can maximize that contribution even more by leveraging their employees' desire to help by making America's Charities' disaster funds available to employees through workplace giving programs. (Not sure what workplace giving is? Click here to learn more.) Not only is this a good way to ensure employees have a smart, effective way to contribute to a disaster, but if a company was already going to make a donation in support of the disaster, they could amplify the value of that donation through a matching gift campaign incentivizing employees to donate. While America's Charities has its own suite of workplace giving technology platforms and solutions, our disaster funds are technology-agnostic – meaning any employer can support it no matter what employee giving tool they are using.
At the end of the day, we want to ensure that communities and families impacted by these horrific storms get the long-term assistance they need to effectively address needs over time such as rebuilding homes, businesses, infrastructure, meeting the needs of young children, addressing mental health concerns, and boosting damaged agricultural sectors.
What are you waiting for? Give today and start making a long-term impact.
For more information about America's Charities' partnership with the Center for Disaster Philanthropy and to learn how you can support our disaster funds, click here.
Hold a Disaster Recovery Campaign Through Your Workplace:
Click here or email BusinessDevelopment@charities.org. To donate directly to our funds, visit www.charities.org/funds.