Building a Pipeline of Diverse Talent at Qualcomm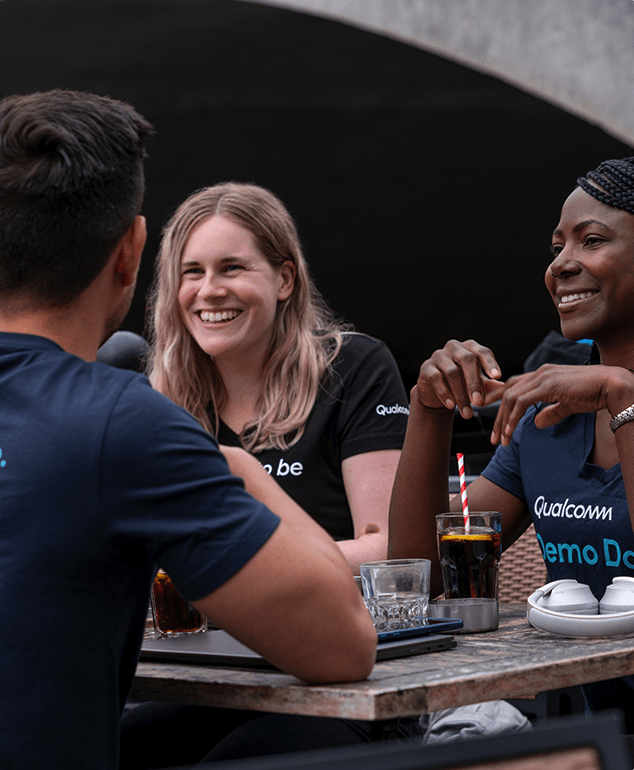 We are committed to continuously building a pipeline of diverse talent.
Qualcomm actively seeks and recruits diverse candidates for positions at the company. Diverse teams, built around different perspectives, experiences and skill sets, fuel creativity and innovation. We're developing leaders and shaping future talent pools to help us meet the needs of our diverse customers worldwide. This means we're taking a broad approach to finding diverse candidates.
Women
Qualcomm is committed to promoting gender equity in technology. Through our external partnerships we encourage young girls and women to pursue careers in tech. We have dedicated resources to organizations including Anitab.org, the National Center for Women & Information Technology and Reboot Representation to increase the number of women in STEM-related fields, particularly in electrical engineering and computer science.
African Americans
Qualcomm supports engineering initiatives, such as hackathons, panel discussions, school visits, and mentoring, centered on African Americans. We collaborate with the National Society of Black Engineers and AfroTech to provide career development opportunities for our employees, create interest in employment opportunities at Qualcomm and identify and recruit talent.
Latinx
We support various Latinx-focused events, such as guest speakers, conferences and panel discussions. We work closely with the Society of Hispanic Engineers to provide their members with opportunities for support, networking and career development.
Veterans
Military veterans hold a special place in our corporate culture. More than 800 Qualcomm employees are military veterans and we are committed to hiring more veterans and active reservists. We have participated in the Service Academy Career Conference, the only job fair exclusively for alumni of military academies. We also support LA Fleet Week and Fleet Week San Diego and have started partnering with the military-dedicated website RallyPoint to advertise Qualcomm's support and drive applications.
LGBTQ+
Qualcomm has proudly supported the LGBTQ+ community for decades. LGBTQ+ rights are encapsulated in our Code of Business Conduct, "The Qualcomm Way." We've been marching in the San Diego Pride parade every year since 1998. In 2019, more than 400 employees marched. Qualcomm actively supported the Equality Act, the federal bill that adds protections for the LGBTQ+ community. We search for top LGBTQ+ tech talent at hiring conferences, such as Out and Equal and Out in Science, Technology, Engineering and Mathematics.
Differently Abled
Ensuring that our workplace is accessible for all employees is a priority at Qualcomm and an integral part of our values. We have a robust accommodation process and constantly improve our events with services such as closed captioning and sign language interpreters . We provide training to managers and teams as needed. In collaboration with the National Foundation for Autism Research, we launched an internship program to welcome individuals with autism into our company. We are proud to be a Disability:IN Inclusion Works company, and we've adopted industry-leading best practices in hiring and retaining people with disabilities.