Brands Taking Stands on ESG Issues Is a Movement, Not a Moment, Say 82 Percent of Corporate Leaders Surveyed by 3BL Media and GlobeScan
Recruiting, Retaining Employees is Top Driver of Corporate Advocacy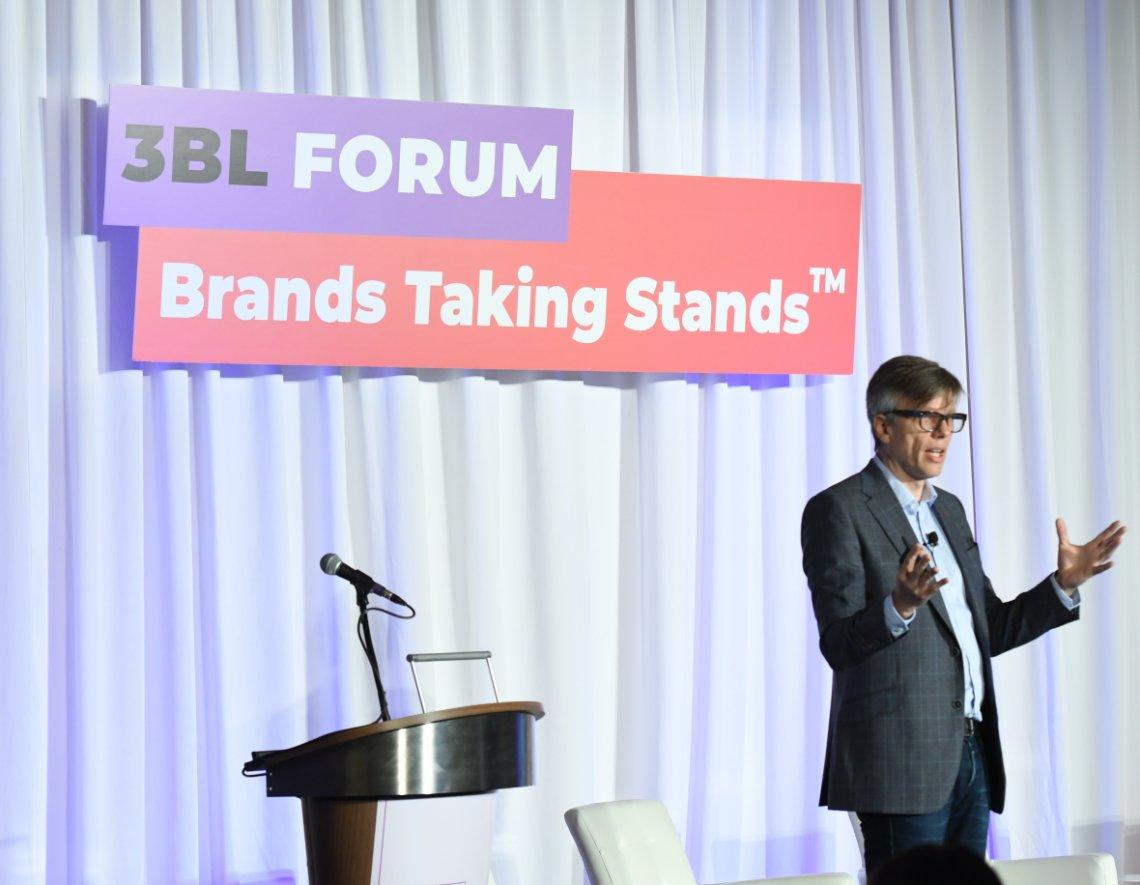 GlobeScan co-CEO Chris Coulter onstage at 3BL Forum 2018 discussing the future of business leadership.
WASHINGTON, D.C., November 26, 2018 /3BL Media/ – Eight-out-of-10 corporate leaders believe companies now have an obligation to speak out on environmental, social and governance (ESG) issues, according to new research on brand advocacy conducted by GlobeScan and 3BL Media.
The tightening labor market, specifically competitive pressure for companies to recruit and retain talent, is a key driver of the Brands Taking Stands movement, followed by efforts to protect and enhance corporate reputation.
"People want to support companies that live their values and are authentic," said Dave Armon, chief marketing officer of 3BL Media, the world's leading communications partner for purpose-driven organizations, which partnered with GlobeScan, an insights and strategy consultancy, to conduct the research. "We did this research to get the pulse of corporate responsibility and sustainability leaders on this new phase of brand activism."
Taking a cue from beloved consumer brands with a heritage of activism, a growing roster of Blue Chip companies are using their powerful voices to urge continued U.S. support of the Paris Climate Agreement, to strengthen gun control laws, to fight immigration laws that would negatively impact Dreamers, to champion diversity and inclusion, and to protect LGBTQ rights, among other hot-button and often political issues.
3BL Media made Brands Taking Stands the theme of its annual 3BL Forum in Washington, D.C. for two years running. The subscription list for 3BL Media's Brands Taking Stands weekly newsletter has surged to nearly 100,000 including Levi Strauss CEO Chip Bergh, Unilever CEO Paul Polman and fashion designer Kenneth Cole.
To learn more about the advocacy dilemma and its trajectory, GlobeScan surveyed 80 board members, business owners and corporate executives (who are readers of 3BL Media's multiple platforms) during September and early October 2018. Half of the responses came from the corporate sector. Other respondents were associated with nonprofits and NGOs, policymakers, academia and professional services providers.
Findings included:
82 percent of respondents said it is necessary for companies today to advocate for or take a stand on ESG issues. Five percent said it was unnecessary.
62 percent felt that advocacy by CEOs, rather than by the company more broadly, will increase in the next 18 months.
When asked to specify the three highest priorities for their organizations over the next 18 months, top responses were brand values, climate and environment, and diversity and inclusion, suggesting that companies will increasingly advocate for the values they stand for. Runners-up were governance policies on ethics and accountability, followed by STEM Education.
Motivators for companies to take stands on ESG topics were to 1) enhance their reputation, 2) show a commitment beyond profit, and to 3) meet employee expectations.
Benefits of speaking out are 1) personnel recruitment, 2) employee retention and 3) brand equity.
Eric Whan, a GlobeScan director who led the research team, characterized the findings as indicative of where things are going in brand advocacy.
"It's early days for this movement. Ben & Jerry's, Tom's of Maine and Patagonia and others have been doing this for a while. Now others are finding that it is in their own interest and that of their stakeholders to take a position rather than ducking." said Whan.
The implications of these findings are considerable:
Expectations: Companies should expect their stakeholders to want to know where they stand on a growing number of increasingly complex issues. Corporate cultures, governance mechanisms and operational capacities will need to adjust quickly.
Enablement: With more companies formalizing their approaches to advocacy by establishing policies and systems that guide how they execute, top executives will become more vociferous on matters that align with their company's Purpose. They will feel more comfortable speaking out and will do so with sharper focus.
Collaboration: We can expect the trend toward collective corporate advocacy (through coalitions such as Time to Vote or We Mean Business, for example) to accelerate, and the impact that they have to increase. There is comfort in numbers, especially when outcomes are clear.
About 3BL Media
3BL Media is the world's leading communications partner for purpose-driven organizations. Through content distribution, multimedia promotion and hands-on learning experiences, we connect organizations to an unrivaled audience that is passionate about sustainable business.
About GlobeScan
GlobeScan is an insights and strategy consultancy, focused on helping our clients build long-term trusting relationships with their stakeholders. Offering a suite of specialist research and advisory services, we partner with business, NGOs and governmental organizations to meet strategic objectives across reputation, sustainability and purpose. Established in 1987, GlobeScan has offices in Cape Town, Hong Kong, London, Paris, San Francisco, São Paulo and Toronto, and is a signatory to the UN Global Compact and a Certified B Corporation.
Contact:
Dave Armon, CMO, 3BL Media
darmon@3blmedia.com
1 802-444-0177