Boston Scientific Reports New Progress With Action for a Healthier, More Equitable World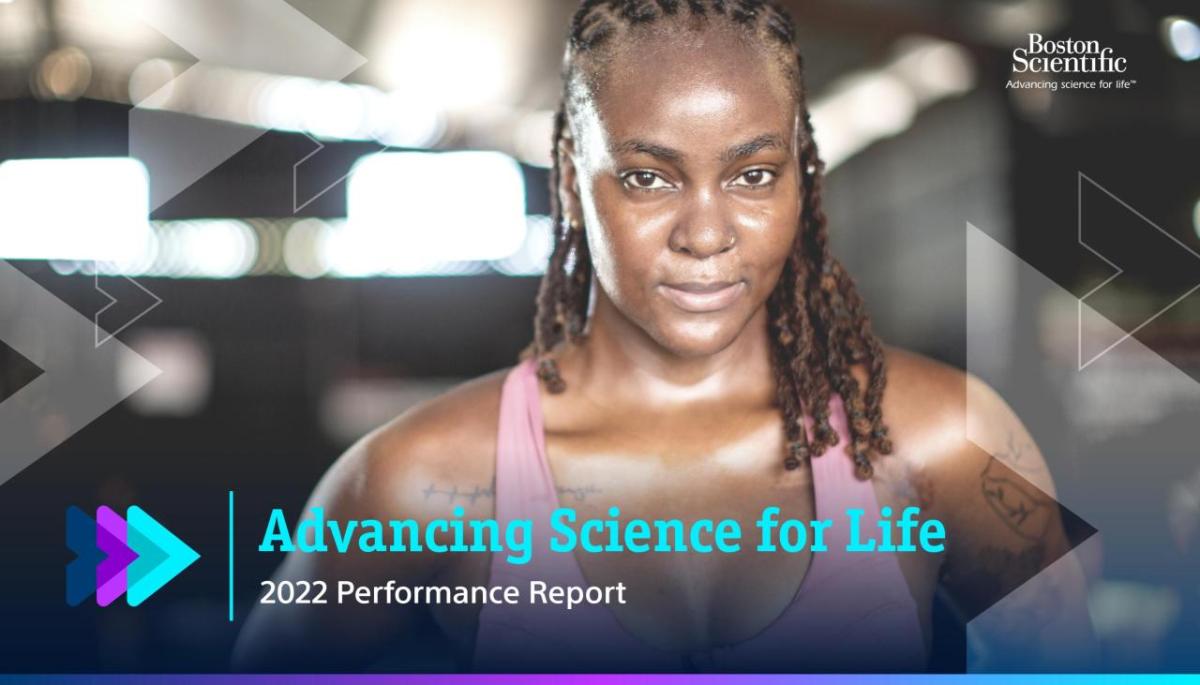 Boston Scientific Corporation (NYSE: BSX) recently released its 2022 Performance Report on the company's work to innovate with medical devices and therapies to improve patient outcomes while also prioritizing environmental, social and governance (ESG) progress.
"At Boston Scientific, we advance science by developing new solutions that help people lead healthier lives," said Mike Mahoney, chairman and chief executive officer, Boston Scientific. "This work involves building greater business value, as well as contributing to a healthier planet and addressing inequities in the world around us. We have much more to do, and thanks to the agility, commitment and talent of our more than 45,000 employees on our global team, we are making strong progress toward our goals."
In 2022, the company invested more than $1.3 billion in research and development1 and helped to improve the lives of more than 33 million patients across the world. Boston Scientific further advanced diversity, equity and inclusion in its workplace and continued to make progress toward its environmental goals. A commitment to sustainable and inclusive business practices is central to the company's work and is reinforced by an ESG scorecard that is part of the annual employee bonus program.
2022 Performance Report Highlights
The 2022 Performance Report addresses five areas of focus, including transforming care, investing in people, accelerating possibilities, protecting the environment and creating value responsibly. Boston Scientific made a measurable difference in 2022 through its business and ESG progress, including:
Became one of the first companies in its sector to have its net-zero, science-based target approved under the Science Based Targets initiative (SBTi) Net-Zero Standard, which will help guide the company's path to net-zero greenhouse gas emissions by 2050.
Achieved 76% renewable electricity2and remained on track for the company's goal of carbon neutrality (scopes 1 and 2)3 in all manufacturing and key distribution sites by 2030.
Delivered improved results on its aspirational diversity goals, with 42.6% of supervisor and manager roles now held by women globally, 22.6% by multicultural employees in the U.S., including Puerto Rico.
Increased diversity in medical research and identified more than 121,000 women and people of color in health action plans to advance equitable care in underserved U.S. communities.
Contributed 31,000+ employee volunteer hours, including science, technology, engineering and math (STEM) outreach to 70,000 students.
Contributed more than $67 million in corporate donations to fund medical research, fellowships, education and charitable organizations.
Expanded digital and operational capabilities while adding digitally and AI-enabled operational resiliency, cybersecurity and patient data privacy safeguards.
The Boston Scientific 2022 Performance Report was prepared with reference to the Global Reporting Initiative (GRI) Standards as well as alignment with the Sustainability Accounting Standards Board (SASB) standards for the Medical Equipment & Supplies industry and the Task Force on Climate-related Financial Disclosures (TCFD) recommendations.
Detailed information about the company's ESG progress is available on the company's Corporate responsibility website and ESG investor site.
All data as of December 31, 2022, unless otherwise specified.
About Boston Scientific 
Boston Scientific transforms lives through innovative medical solutions that improve the health of patients around the world. As a global medical technology leader for more than 40 years, we advance science for life by providing a broad range of high-performance solutions that address unmet patient needs and reduce the cost of healthcare. For more information, visit www.bostonscientific.com and connect on Twitter and Facebook.
Contact 
Media: Kate Haranis, 508-683-6585
1 Represents GAAP R&D expense per 2022 Annual Report on Form 10-K.
2 Purchased electricity matched with electricity from renewable sources, inclusive of all manufacturing and key distribution sites only.
3 Scope 1 emissions are direct emissions from owned or controlled sources. Scope 2 emissions are indirect emissions from the generation of purchased energy.