BoozCon Brings New Ideas to the Forefront of Cyber Strategy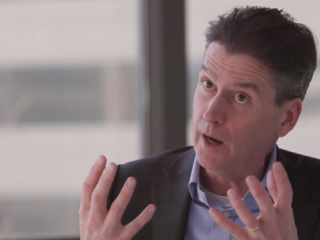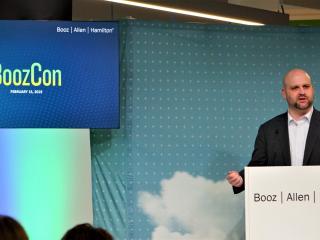 Staying relevant in cybersecurity is critical and remaining current is a moving target. To address this continual challenge and to foster a community of cyber professionals, Booz Allen Hamilton hosted a full day cybersecurity conference catered to the firm's growing cyber talent base. The event, titled "BoozCon," in a nod to external cybersecurity conference naming conventions, was developed to harness the expertise within the company for professional development and to enhance client service.
"Investing in the continual education of our cyber team is vital," says Executive Vice President Brad Medairy, Booz Allen's cyber functional service officer. "Not only do we see the benefits through a more knowledgeable team, we see a direct benefit to our clients as our team members take information learned and apply it every day."
Sixteen presentations were offered to all 865 attendees (both in-person and online from 15 offices across the United States), with smaller, in-person only learning sessions held throughout the day. In addition to enhancing employees' professional development, offering up to seven Continuing Professional Education (CPE)/Continuing Education Units (CEUs), the event was also centered on increasing cyber capabilities awareness and building opportunities for collaboration.
Executive Vice President Bill Phelps, Booz Allen's commercial market lead commented, "BoozCon was a tangible demonstration of the breadth and depth the cyber skills we provide to our clients." As a result, Booz Allen indicated that it has already seen several instances, across geographic locations and markets, where teams identified opportunities to collaborate to bring new capabilities and value to clients.
"[Booz Allen] taking the time to plan an event like this in several different cities around the country not only demonstrates our technical expertise, but also the firm's willingness to foster a nation-wide community around cyber," observed Brianna Hogan, a cloud security engineer at the firm.
In addition to training sessions, BoozCon's keynote featured a Chief Information Security Officer (CISO) from the pharmaceutical industry. The company's CISO presented on a recent cyber incident and how they addressed crisis management, recovery, and subsequent resiliency activities.
"The power of Booz Allen is fusing the best in government and commercial cybersecurity solutions," said Senior Vice President, Jason Escaravage, a leader in Booz Allen's commercial market, "BoozCon provided an additional mechanism for employees to actively participate in that process to bring the best to our clients."
Read more about Booz Allen's cybersecurity practice, here.